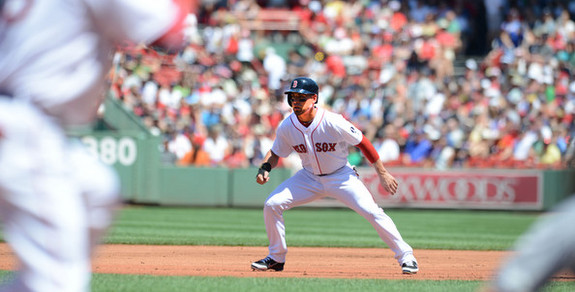 On the same day they officially announced the Brian McCann signing, the Yankees made their second huge signing of the offseason (and it wasn't Robinson Cano). New York has agreed to a seven-year contract worth $153M with former Red Sox outfielder Jacoby Ellsbury. That's a $21.9M luxury tax hit. The deal is pending a physical and includes both a club option for an eighth year that could push the total value to $169M and a full no-trade clause. Jon Heyman and Mark Feinsand originally broke the news.
Ellsbury, who turned 30 in September, is the 18th player to receive a $150M+ deal in baseball history. It's the third largest contract ever given to an outfielder, behind the identical eight-year, $160M contracts signed by Manny Ramirez and Matt Kemp prior to 2001 and 2012, respectively. The Yankees will forfeit their next highest draft pick to sign Ellsbury — either their second rounder or the compensation pick they receive when Cano, Hiroki Kuroda, or Curtis Granderson signs elsewhere. Their first rounder was already surrendered for McCann.
In 134 games and 636 plate appearances this past season, Ellsbury hit .298/.355/.426 (113 wRC+) with 31 doubles, eight triples, and nine homers. He hit 32 homers in that giant outlier of a season in 2011 but has otherwise never managed double-digit homers in a single season. The short right field porch will help Ellsbury's power output somewhat but not a ton unless he changes his approach — he's a classic speedster who hits the ball on the ground (50.8% grounders) and slashes it the other way to left field. After seeing what's happened with Mark Teixeira, let's hope those approach changes are not made. Stick what what earned him that huge contract.
Ellsbury is baseball's premier base-stealer, going 52-for-56 (!) in stolen base attempts in 2013. He provides both bulk steals and tremendous efficiency. I don't think it's unreasonable to say he figures to be the team's best base-stealing threat since Rickey Henderson. Surprisingly, Ellsbury is not all that great at taking the extra-base (first-to-third on a single, etc.), doing so only 42% of the time this past season. That's roughly league average. I suspect that's at least somewhat attributable to funky orientation of Fenway Park, especially in left field. Outfielders can play shallower and prevent runners from taking that extra base. Ellsbury has a 70-steal season to his credit (2009) but I'm not sure if that will ever happen again.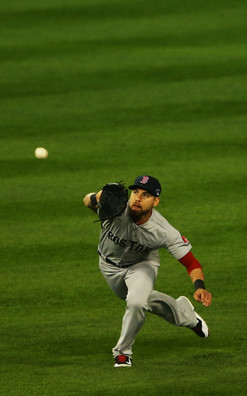 In addition to being a great base-stealer, Ellsbury is a high-end defensive center fielder who has graded out exceptionally well in UZR (+29), DRS (+23), FRAA (+18), and Total Zone (+19) over the last three seasons. His arm is awful though, legitimately Johnny Damon-esque. The Yankees will play Ellsbury in center and shift Brett Gardner back into Yankee Stadium's spacious left field while Alfonso Soriano moves to right, a position he has never played as a professional and doesn't really have the arm for. Runners are going to be going first-to-third on Soriano like crazy. Outside of Ellsbury in center, the outfield alignment is a bit of question at the moment. The team could always sign another outfielder and make Soriano the full-time DH.
Injuries have been an issue for Ellsbury over the years. He missed 144 games in 2010 with fractured ribs suffered after colliding with a teammate and then missed 88 games in 2012 with a right shoulder injury after a fielder landed on him while sliding into second. Ellsbury played through a foot fracture this past September and some kind of left hand injury in the postseason. He had an MRI after the season but I'm not sure what the tests revealed. Ellsbury has played in only 384 of 648 possible games over the last four seasons so the Yankees will really have to check him out — the ribs, shoulder, foot, hand, everything — during the physical.
Obviously, given his time with the Red Sox and as an important player on two World Series winning teams, there is no concern about how Ellsbury will handle New York. The spotlight won't be anything new to him. He's a career .301/.361/.414 (104 wRC+) hitter in 38 postseason games, in case you're wondering. The Yankees have placed a renewed emphasis on makeup and work ethic in recent years and I'm sure that is an especially serious consideration with a contract of this season. There are no concerns about Ellsbury in that department. He knows the big market/super high expectations routine by now.
The Yankees had their worst offense since 1991 this past season and have made two pretty huge upgrades in McCann and Ellsbury already this winter. McCann replaces one of the game's least productive catching situations while Ellsbury essentially replaces the mess New York had in right field last year. I have to think the signing moves Ichiro Suzuki and/or Vernon Wells that much closer to the chopping block, so hooray for addition by subtraction. Even though they still need to figure out third base and take care of the Cano situation, the Yankees need to start focusing on their pitching staff. They still need to dig up two starting pitchers and a reliever or three. Ellsbury did not exactly come at a reasonable price, but will he will be an enormous upgrade next season and should give the club another few years of high-end production in center.