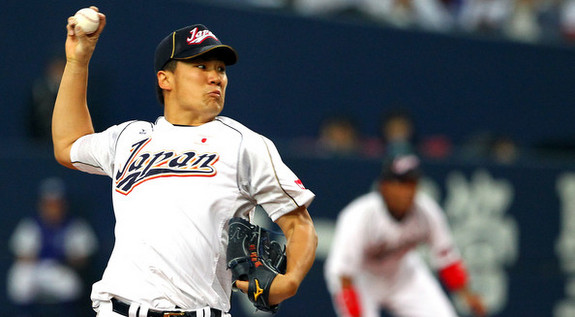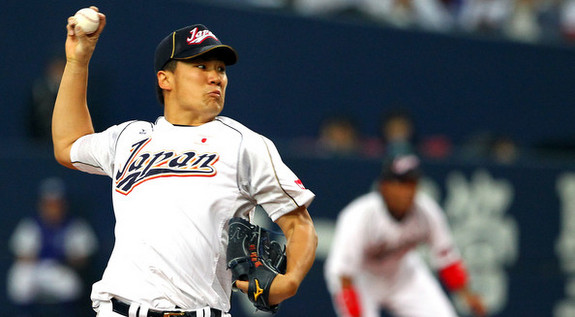 It took a few weeks, but MLB and NPB finally ratified the new posting system agreement yesterday. Instead of the old auction-based system, Japanese players will essentially become free agents with a "release fee" that serves as a tax. The release fee is set by the player's NPB team and can not exceed $20M. Whoever signs the player has to pay the release fee. Simple enough, right?
Now that the new posting system is in place, the Rakuten Golden Eagles can officially post right-hander Masahiro Tanaka. It's unclear if that will actually happen at this point but there's a chance we'll get an answer this week. Rakuten president Yozo Tachibana said he will speak to Tanaka this week before determining the next step. Needless to say, the club came into the winter expecting to receive a lot more than $20M for the best pitcher in the country.
The Yankees were reportedly ready to make a big run at Tanaka before the new posting system threw a wrench into things, but the expectation is they will still push hard if he is made available. Pitchers of this caliber at this age (25) are not available for nothing but money all that often. New York won't be the only team after Tanaka if he is posted though. The competition should be pretty fierce since every team can talk to him without having to pay the release fee. Here is a look at the Yankees' primary competition for the righty.
Rakuten Golden Eagles
Like I said, there is no guarantee Tanaka will be posted. Sponichi (translated article) reports Rakuten will try to talk their ace into returning next year, mostly because they're a championship-caliber team (they won the Japan Series a few weeks ago) and can make another revenue-generating title run with him in 2014 before posting him next winter. They would risk having an unhappy superstar but more importantly risk him getting hurt, which would lead to no release fee next winter and a missed opportunity. Tanaka won't be available until the Golden Eagles say the magic words, and my hunch is that even though they were screwed over by the new posting system, they'll make him available because the alternative is too risky.
Arizona Diamondbacks
According to Ken Rosenthal, Tanaka is the D'Backs top target as they look to add an ace. GM Kevin Towers scaled back a bit while speaking to Jack Magruder recently, saying if "for some reason he becomes posted, we'll circle back." When push comes to shove, Arizona doesn't have the ability to compete in a big time bidding war. Tanaka is likely out of their price range.
Boston Red Sox
The Red Sox already have six starters and they reportedly don't have a ton of payroll space to work with this winter, plus Alex Speier (subs. req'd) says they only view Tanaka as a number three starter at best. That could be a ruse, of course. We can't rule them out completely, but Boston seems like an unlikely suitor for the right-hander.
Chicago Cubs
Bruce Levine says the Cubs will be in on Tanaka and they have the financial wherewithal to make a serious run at him. A young, high-end starter would be quite the addition to their rebuilding club. The Cubbies would have to sell Tanaka on the idea of joining a clear non-contender who hasn't won anything in more than a century, which may not be easy if the money if their contract offer doesn't blow everyone else's out of the water.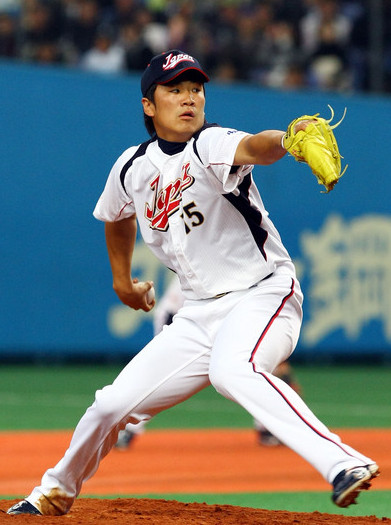 Los Angeles Angels
After coming into the winter with minimal payroll space, GM Jerry Dipoto has cleared enough cash through trades (dumping Mark Trumbo, specifically) and non-tenders to make a run at a pricey starter. Dipoto told Jerry Crasnick the team will "remain patient and abide by the rules" until Tanaka is posted (meaning they won't talk about him publicly), at which point they will have "a lot of conversation about it." The Halos have some money to spend but they've taken a more disciplined approach to this offseason after spending big in recent years. Another huge signing may not be in the cards.
Los Angeles Dodgers
Surprisingly, the Dodgers appear to be lukewarm on Tanaka — Bill Shaikin says they are interested but not at any cost. Given their super-deep pockets and desire to add another starter, we can't count them out. Not even close. Keep in mind that the team has a long history of bringing players over from Asia, most notably Hideo Nomo, Kaz Ishii, Takashi Saito, Hiroki Kuroda, and Hyun-Jin Ryu. The Dodgers have a ton of money, they're in position to win a title as soon as 2014, there's a big Japanese community in Los Angeles, and the travel back to Japan is as easy as it gets from an MLB city. There's an obvious fit if the team wants to enter the fray.
Seattle Mariners
The Mariners didn't give Robinson Cano a ten-year contract with the intention of doing nothing else this winter. They're pursuing David Price but do not want to part with top prospect Taijuan Walker, so Tanaka is an obvious alternative. The team has plenty of ties to Japan, including their ownership group (Nintendo!), former players like Ichiro Suzuki and Kenji Johjima, and current players like Hisashi Iwakuma, who was Tanaka's teammate with Rakuten from 2007-2011. Like Los Angeles, Seattle has a big Japanese community and travel back to Japan is relatively easy. After dropping all that money on Cano, we can't rule the Mariners out.
Texas Rangers
T.R. Sullivan says the Rangers will reach out to Tanaka if he is posted, but they do not expect to sign him. There is no such thing as too much pitching, but their priority right now is adding another outfield bat, not another starter.
* * *
Plenty of contending (or wannabe contending teams) need a starter like Tanaka but a bunch simply can't afford him at this point. The Orioles, Braves, Reds, Giants, Royals, Blue Jays, Indians, and Pirates fit into this group. The Tigers, Cardinals, and Nationals have not been connected to him at all this winter either. The Yankees have the ability to outspend everyone if they choose, but the competition for Tanaka is going to be stiff if he is posted. The Dodgers, Cubs, and Mariners stand out as the biggest threats.