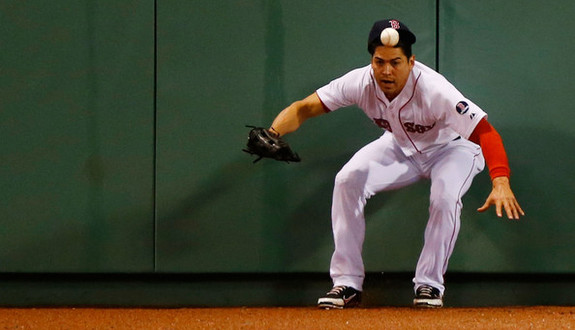 The Yankees made their second huge splash of the offseason last night, landing Jacoby Ellsbury with a seven-year contract worth $153M that could wind up paying him $169M thanks to an eighth year club option. He still has to take a physical and all that before the deal becomes official, but apparently that could happen as soon as today. Here are some thoughts while we wait for things to wrap up.
1. Might as well come right out with it: I am not a fan of the signing at all. Don't get me wrong, Ellsbury is a very good player when he's healthy and he will be an enormous upgrade next season, but the Yankees are paying him like he's an elite player and I just don't see it. His one truly elite skill is stealing bases and best base-runners in the game provide maybe one win of value with their legs (Ellsbury was at ~1.2 WAR base-running in 2013). That's nothing. His glove is very good but the net defensive upgrade from Ichiro Suzuki (who I assume is losing his starting outfield spot as a result of the signing) to Ellsbury is small. The offense isn't anything special at all, especially when you treat that 2011 season like the giant outlier it is. Ellsbury is a ~.350 OBP leadoff guy who will hit single-digit homers. That ain't elite. That's pretty good. Ellsbury is going to help the Yankees a ton in the short-term but there's no way I view him as a $150M+ player. Not even close.
2. As for Yankee Stadium boosting Ellsbury's power output, yes it will help some. There will inevitably be a fly ball or two that sneaks over the wall each summer that otherwise would have been caught for an out, just like some of those routine fly balls turned into doubles thanks to the Green Monster over the last few years. Ellsbury is not the kind of hitter who can really take advantage of the short right field porch though. He's a classic speedster, hitting the ball on the ground and using his legs. He also does most of his hitting the opposite way to left: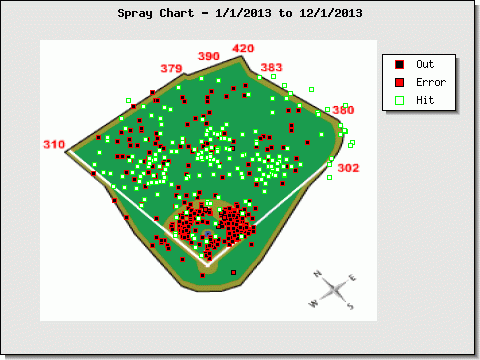 Going the other way is not a bad thing. The Yankees could use someone who can hit for a relatively high average, but be careful not to make the blanket assumption that his power output will improve just because he's a left-handed hitter moving into Yankee Stadium. Ellsbury would have to change his hitting approach to seem meaningful uptick in power and … no. Stick to what works. The idea of having two powerless hitters in the outfield full-time is not appealing at all, especially if they can't retain Robinson Cano.
3. Speaking of Cano, you know all that talk about holding a hard-line with him? Pretty worthless right now. Refusing to budge off that seven-year, $165M-ish offer after bending over backwards to give Ellsbury all that money is borderline insulting. Cano's the far superior player and he's the homegrown star. He deserves more. A lot more. Maybe his rookie agents will botch these negotiations and the Yankees can bring him back at something far below fair value, but the team set the market by giving the second best free agent that huge contract. The gap between Cano and Ellsbury is a lot bigger than the gap between Ellsbury and the third or fourth best free agent and he should look to be paid accordingly. The Yankees might be trying to put the pressure on Robbie but I think there's a chance they'll wind up pushing him away, and if they lose him after spending all this money on Ellsbury and Brian McCann … I would not be pleased. Losing an actually elite player after giving a non-elite player elite player money would really suck.
4. The plan to get under the $189M luxury tax threshold is obviously not happening. I mean, I guess it still could if Alex Rodriguez gets suspended for the entire 2014 season, but that's pretty much the only way it happens. It seems like the Yankees decided to spend as if A-Rod is getting banned for the year and if he doesn't, oh well, then they'll go over the limit. It's hard not to notice the timing —  his appeal hearing ended on a Thursday and the McCann deal was struck on Saturday. Maybe the Yankees know something is up. I guess the plummeting television ratings and overall decline in attendance could have spooked them into changing course as well. Either way, staying under the luxury tax limit almost certainly isn't going to happen after the Yankees spent the last two years making sure they had as much flexibility under the threshold as possible.
5. This is worth exploring further in a full post, but the Bombers are going to be very vulnerable against left-handed pitchers next season if Mark Teixeira and Derek Jeter don't rebound. Ellsbury and McCann have noticeable platoon splits and Brett Gardner's been up and down against lefties through the years. Their best weapon against southpaws right now is Alfonso Soriano, but it's pretty much him and him alone until Cano re-signs and Jeter and/or Teixeira show they're healthy. The AL East isn't a lefty heavy as it once was but there's still David Price, Matt Moore, Jon Lester, and maybe Felix Doubront to contend with. Another right-handed bat (Mark Reynolds?) or two is a necessity, and no, Vernon Wells doesn't count.