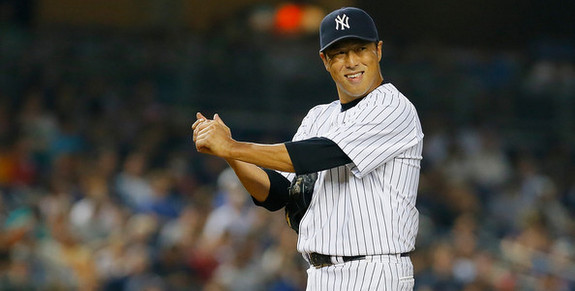 After landing two big position players in Brian McCann and Jacoby Ellsbury, the Yankees have started to address their pitching staff. Joel Sherman reports the team finalized a one-year contract worth $16M with Hiroki Kuroda on Thursday night. He will earn an extra $250k for both 190 and 210 innings pitched, plus he gets an interpreter. The Yankees won't receive a supplemental first round pick for re-signing their own player.
For the second time in three years, Kuroda is a complete afterthought on the day he signed with the Yankees because of the Mariners. When the team first brought him on board back before the 2012 season, he signed the same day they acquired Michael Pineda from Seattle. Today, Robinson Cano agreed to a ten-year, $240M contract to leave New York and join the Mariners. Flying under the radar is Kuroda's thing, apparently.
In 32 starts this past season, the 38-year-old righty pitched to a 3.31 ERA (3.56 FIP) in 201.1 innings. He was in the Cy Young conversation as late as mid-August before crashing hard late in the season, allowing 38 runs in 46.2 innings in his final eight starts. Fatigue has been an issue for Kuroda in each of the last two years — he stopped throwing his usual between starts bullpen session in September in both 2012 and 2013 — so it'll be interesting to see if the Yankees do anything to manage his workload early in 2014.
Brian Cashman said the Yankees were seeking two starters this winter and Kuroda is just one. He'll join CC Sabathia and Ivan Nova in the rotation, plus someone like David Phelps or Adam Warren or Michael Pineda figures to fill the fifth spot. Masahiro Tanaka seems like a perfect fit for the other rotation spot, but he might not even be available this winter given the unfavorable posting system changes. The team has dropped big bucks on Kuroda, McCann, and Ellsbury already this offseason, but they they still have quite a bit work to do.