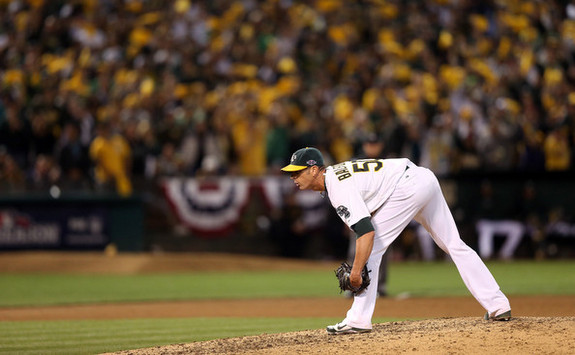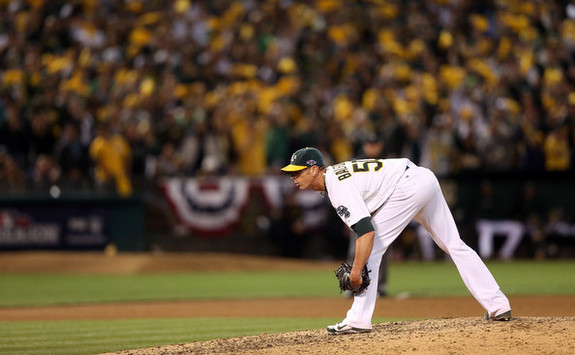 Earlier this week, the Orioles agreed to a two-year contract worth $15M with right-hander Grant Balfour. He was slated to take over as their closer after the team dumped Jim Johnson and his projected $11M salary on the Athletics. It was a nifty series of moves and a very reasonable contract considering how well Balfour has pitched the last three or four seasons.
That deal has fallen apart, however. Orioles GM Dan Duquette confirmed to reporters yesterday that the contract agreement is off after the pre-signing physical revealed an issue with his right shoulder. It's no surprise Baltimore walked away in that case. Balfour and his agent responded by insisting he is healthy, unsurprisingly. Here is the statement they released yesterday:
"Grant is completely healthy and that was told to us today by Dr. Koco Eaton, a well-respected club physician. Dr. Eaton's opinion is based upon the fact that the MRI which was taken today is the same as the MRI which was taken in 2011 as a condition of the 3-year contract that Grant signed with the A's. Dr. Tim Kremchek, another well-respected club physician, reviewed the Orioles' medical report and advised that he is remarkably impressed that there has been little change in Grant's arm for almost 10 years. Now factor into the equation that Grant was a 2013 All Star, pitched 65 games and another 3 scoreless innings in the post season with a 94-95 mph fastball. The only reasonable conclusion is that Grant is healthy and the Orioles at the last moment changed their minds.

"Grant is an ALL STAR CLOSER who has converted 55 of 58 save opportunities. Talent wins at the end of the day and if a club wants to win then they need Grant coming out of the pen in the 9th inning"
Eaton and Kremchek also spoke to Ken Rosenthal, if you're looking for direct quotes from the two doctors. "I would say with a reasonable degree of medical certainty that his shoulder would not be a problem going forward any more than it was a problem over the past three years, and there was no problem over the past three years," said Eaton.
Balfour, who turns 36 in about a week, had both his labrum and rotator cuff surgically repaired way back in September 2005. He has been relatively healthy since then, only landing on the DL with oblique strains in 2010 and 2011. Balfour did have surgery to repair a torn meniscus in his right knee back in February, but he was healthy for Opening Day and went on to have a strong season (2.59 ERA and 3.49 FIP in 62.2 innings).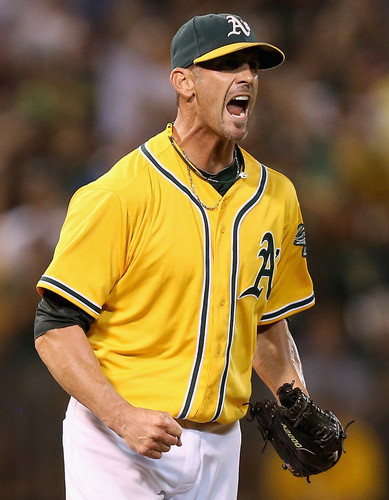 The Yankees were said to have interest in Balfour weeks ago, just like they were said to have interest in a lot of players. I assume he was looking for a chance to close and New York hasn't been offering that to anyone. All they're offering is a closer competition in Spring Training, basically. It's easy to understand why Balfour and Joe Nathan and other guys like that would gravitate to other clubs. Everyone wants that ninth inning.
Regardless of what his agent and the doctors say, Balfour's stock took a big hit yesterday. The Yankees are still looking for late-inning bullpen help are there may now be an opportunity to swoop in and land Balfour at a discounted rate. Obviously they would have to perform their own physical and thoroughly check him out, but that goes for any team that signs him. The Mariners, Rockies, White Sox, Rays, Rangers, and Astros are all looking for closers and could represent competition.
What would be an appropriate contract? I don't really know at this point. That shoulder complicates things. In a perfect world, Balfour would take an incentive-laden (based on days on the active roster?) one-year deal with a $3-4M base salary and a vesting option for 2015. If he hits all the incentives and triggers the option, the contract would be the worth the original two years and $15M he agreed to with the O's. That is the perfect world contract, right? Balfour gets fairly compensated if he is as healthy as his agent suggests while the team gets some protection in case his shoulder explodes. Makes sense for both sides, at least in theory.
Balfour was a really good fit for the Yankees heading into the offseason, but, on the other hand, the Yankees were not a good fit for Balfour because he wanted to close. The failed physical and non-deal with the Orioles has changed his market considerably. Closing might be off the table completely now and his asking price — at least in terms of guaranteed money — figures to have come down. The two sides could be more compatible now and as long as the medicals check out (not a given, obviously), the Yankees would be wise to take advantage of this opportunity. Balfour has been really good the last few years and there's a lot to like about adding a high-end reliever with a chip on his shoulder to the bullpen.