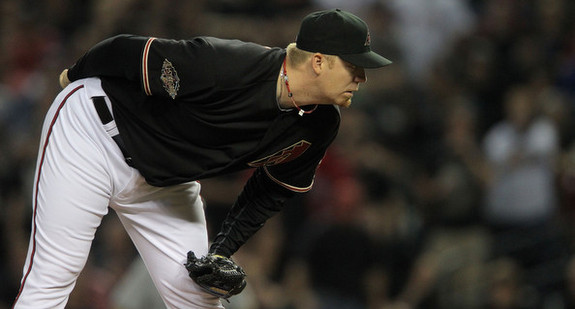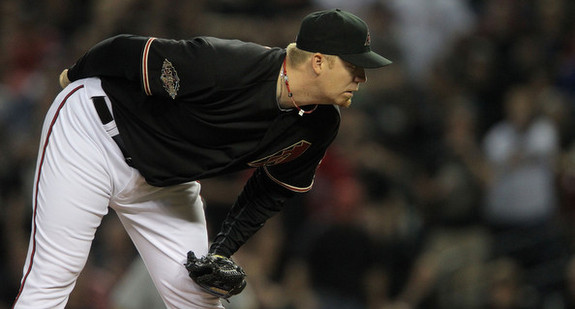 The Yankees need bullpen help and they have some extra outfielders lying around, ergo trading an outfielder for a reliever seems like an obvious move to make. It's not that easy though. It takes two teams to tango and the outfielders worth trading aren't all that appealing. Finding a trade match won't be easy. Then again, Ken Rosenthal threw this out there late Saturday night:
Don't be surprised if the Diamondbacks trade right-hander J.J. Putz following their addition of former White Sox closer Addison Reed. Putz is signed for $7 million in 2014, and the D-backs most likely would be required to accept a comparable salary in return.

Yankees outfielder Ichiro Suzuki, earning $6.5 million, could be one possibility, though it is not known whether Yankees ownership would part with Suzuki or how he would adjust to a backup role.
First things first: that's not really a rumor. It looks like speculation more than anything. Of course, it also seemed like speculation when Rosenthal said the Phillies could trade Cliff Lee to the Mariners for prospects and then acquire Roy Halladay from the Blue Jays a few years ago, so who knows. (The original Lee-Halladay story seems to be gone, sadly.) The man is well-connected and his speculation tends to be informed speculation, so maybe there are some legs to an Ichiro-Putz swap.
The Diamondbacks overhauled their roster this offseason and part of that overhaul included trading for Reed, who figures to take over as closer. Putz was shaky early last season before landing on the DL for two months with an elbow problem in early-May. He never did get his closer's job back, instead spending the rest of the year in a setup role. Putz, who will turn 37 next month, had a 2.36 ERA (3.83 FIP) in 34.1 innings in 2013. From 2010-2012, he posted a 2.60 ERA (2.48 FIP) in 166.1 innings. He was excellent.
Injuries, specifically elbow injuries, have been a big problem for Putz over the years and therein lies the risk. He's had two elbow surgeries (nerve problem in 2008 and bone chips in 2009) and dealt with various strains and inflammation (2007, 2009, 2011, 2013) throughout his career, so missing time last summer was not exactly a surprise. He's an even bigger risk now that's approaching 40, but, when he's healthy, Putz is pretty good. Certainly better than most of the guys the Yankees currently have lined up for the bullpen.
One potential obstacle standing in the way of an Ichiro-Putz trade is Arizona's outfield depth. They aren't the only team with a logjam. The D'Backs are currently slated to go into the season with Mark Trumbo in left, A.J. Pollock in center, and Cody Ross in right with Gerardo Parra the heavily used fourth outfielder. Tony Campana, who is very similar to Ichiro at this point, is the fifth outfielder. Maybe they prefer Ichiro's experience and name value to whatever Campana brings to the table.
Ichiro's role on the Yankees right now is basically pinch-runner and defensive replacement. Not exactly hard to replace. They've been shopping him in hopes of saving some money but trading him for a useful (albeit risky) bullpen arm like Putz would be even better. Their contract situations are similar — they're owed almost identical salaries in 2014 as Rosenthal pointed out, and both guys will become free agents next winter — and the Yankees would take a step towards addressing a pressing need. I don't really care how the deal would help the D'Backs, to be honest. All I know is if they're open to dealing Putz for Ichiro, the Yankees should jump all over it.