Five questions and five answers this week. If you want to send us a mailbag question, you probably know how to do it by now. (Hint: the Submit A Tip box in the sidebar.)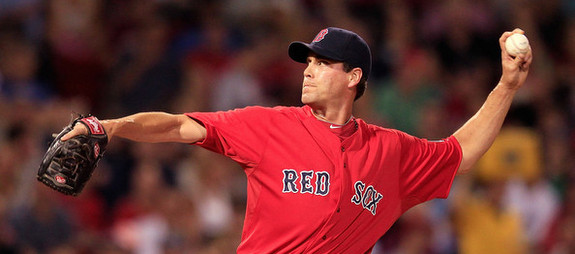 Paul asks: Are there still deals that haven't been made official yet? What's the hold-up? Is it a 40-man roster thing?
The Brian Roberts and Matt Thornton signings are still not official. I don't know why but the Yankees tend to drag these things out. I'm guessing the holidays gummed up the works as well. The 40-man roster is full so they'll have to clear up spot for both guys. They'll need to do the same if they add another starting pitcher as well, Masahiro Tanaka or otherwise. I suppose they could be working on an Ichiro Suzuki trade to open one spot, but who knows. Roberts and Thornton are the only big league contracts that are still not official yet, however.
Jake asks: Who was the better player when they signed with the Yankees, Jacoby Ellsbury or Johnny Damon?
To the table:
| | Age | Games | AVG | OBP | SLG | wRC+ | HR | SB | SB% | DRS | fWAR |
| --- | --- | --- | --- | --- | --- | --- | --- | --- | --- | --- | --- |
| 2011-13 Ellsbury | 27-29 | 366 | .303 | .356 | .469 | 123 | 45 | 105 | 82.6% | +23 | 16.3 |
| 2003-05 Damon | 29-31 | 443 | .298 | .364 | .440 | 110 | 42 | 67 | 81.7% | -17 | 9.4 |
Ellsbury was the better player overall in the three years prior to signing with the Yankees — Damon was way more durable; his ability to stay on the field was always a big part of his value — but remember that a lot of his production came during that outlier 2011 campaign. Like, 32 of the 45 homers and 9.4 of the 16.3 fWAR came that year. That season is getting further back in the rear-view mirror and I'm not all that confident Ellsbury will come close to that production again. Hopefully he proves me wrong.
I think the best way to answer this question is that Ellsbury is the more exciting player and he offered a greater upside, but Damon was more predictable and reliable. Ellsbury is a few years younger now than Damon was when he joined the Yankees and that's a big deal. The team will, at least theoretically, get more of Ellsbury's prime years. The Yankees are obviously counting on that considering the contract they gave him.
Alex asks: What about Joe Blanton as a depth signing? The Angels appear ready to release him this offseason and if the Yanks don't add Tanaka (or even if they do), there could be value in a workhorse who underperformed his peripherals. What would his upside realistically be?
I mean this is in the nicest possible way:
Blanton was the worst pitcher in baseball last year, so bad that the pitching-starved Angels dropped him from their rotation. He hasn't been even a league average pitcher since 2009 and he's underperformed his peripherals in each of the last four seasons (5.09 ERA and 4.32 FIP in 540.2 innings since 2010). I have no reason to think a righty with a below-average fastball (averages a touch over 89 mph these days) will buck that trend in a small ballpark in the AL East. I don't see Blanton as an upgrade over David Phelps, Adam Warren, or Vidal Nuno. He's not even worth a 40-man roster spot in my opinion. Easy pass, even if he comes for the minimum. The Yankees need to add good pitchers. Emphasis on good.
Nick asks: With all the talk of contract overpaying this winter, I'd like to bring up Alfonso Soriano. If the Cubs are paying $13m of the $18m he's owed in 2014, and even at age 38, couldn't he be a bit of a bargain? $5m for a .250/.310/.480 hitter with 30+homers seems reasonable no?
Oh yes, absolutely. The three projection systems at FanGraphs (ZiPS, Steamer, Oliver) work out to a combined .240/.293/.455 batting line with 25 homers and 11 steals per 500 plate appearances, and that's with Oliver expecting him to fall off a cliff (-0.1 fWAR). That is definitely worth $5M right there, especially to the Yankees given where they sit on the win curve. Soriano just turned 38 and there's a chance he will completely crash and show his age next year, but the upside is a 30-homer, 10-steal right-handed batter. Getting that for $5M is great in this market. Among the guys who are not still in their arbitration or pre-arbitration years, Soriano is probably the best dollar-for-dollar player on the roster.
Kevin asks: Am I the only one who really likes Nik Turley? I don't think he'll be more than a #4 but the Yankees need to stop walking away from these back-end starter prospects. We could really use a young guy to soak up innings, even if its not elite status.
I see Turley as another member of the Phelps, Warren, and Nuno group, just a notch below because he hasn't spend significant time in Triple-A yet. Solid enough to be a back-end starter but not exactly someone who is going to come up and make a real impact in the rotation. There is value in that, don't get me wrong. Teams need those cheap back-end types for depth and to help cover for injuries, and heck, every once in a while one will exceed expectations and turn into Doug Fister. Turley had a good year with Double-A Trenton in 2013 (3.88 ERA and 4.18 FIP in 139 innings) and as a left-hander with a good breaking ball, he'll get a million chances in this league, at worst as a reliever. I wouldn't call him untouchable but he's certainly worth keeping around. The only problem is that the Yankees have a serious 40-man roster crunch and Turley is near the bottom of the pile.