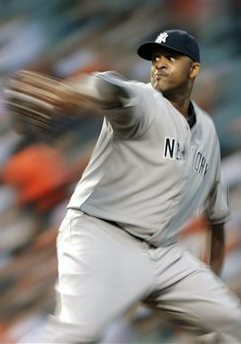 At some point in the next 80 hours or so, the Masahiro Tanaka sweepstakes will be over. He has until 5pm ET this Friday to sign with an MLB club, and that club might even be the Yankees. They reportedly made a fat nine-figure offer but so did four other clubs. There have been no serious indications about him leaning towards one team either. It's a total mystery, amazingly.
The Yankees need Tanaka if they want to contend this coming season, but he is still only one pitcher. There are four other rotation spots to consider and one of them belongs to CC Sabathia, who, up until last year, was the sure thing. During his first four years in pinstripes, the club could count on their ace left-hander to take the ball every five days and provide a ton of high-end innings. Even his bad starts were rarely disasters.
That all changed last year. Sabathia was legitimately one of the worst starters in baseball in 2013, ranking 76th out of 81 qualified starters with a 4.78 ERA and 72nd with 0.3 bWAR. His 122 runs and 112 earned runs allowed were both the most in the game. A normal Sabathia season probably would not have been enough to get the Yankees into the postseason, but his performance was a big reason why the team was stuck home in October. It was ugly.
The list of potential reasons for CC's sucky season is seemingly endless. He lost too much weight. He lost too much off his fastball. He had offseason elbow surgery. All the innings are catching up to him. Those are the most popular theories and I'm sure all four factor in somehow. I definitely think there is something to the idea of the elbow surgery throwing off his usual offseason routine, which Sabathia said he really noticed when his normal arm strength just wasn't there in mid-April. That doesn't figure to be an issue in 2014.
"I've been working out 100 percent, doing all my lifting and everything. I've felt fine," said Sabathia to Bryan Hoch recently, referring to his season-ending hamstring injury. "I've been able to throw the whole winter. Last year, I had the surgery, so I wasn't able to throw. I lost a bunch of weight all at one time. This year, it's all about just getting stronger, building my strength back up and keeping my arm loose."
Of course Sabathia was at his worst at midseason, after his velocity returned. His four-seam fastball averaged 92.3 mph during his disastrous nine-start run following the All-Star break (7.33 ERA and 4.80 FIP in 50.1 innings), velocity that was on par with his strong 2012 season (92.4 mph). There's a lot more to pitching life than fastball velocity, and this seems like a good spot to mention Sabathia's continually dropping release point (via Brooks):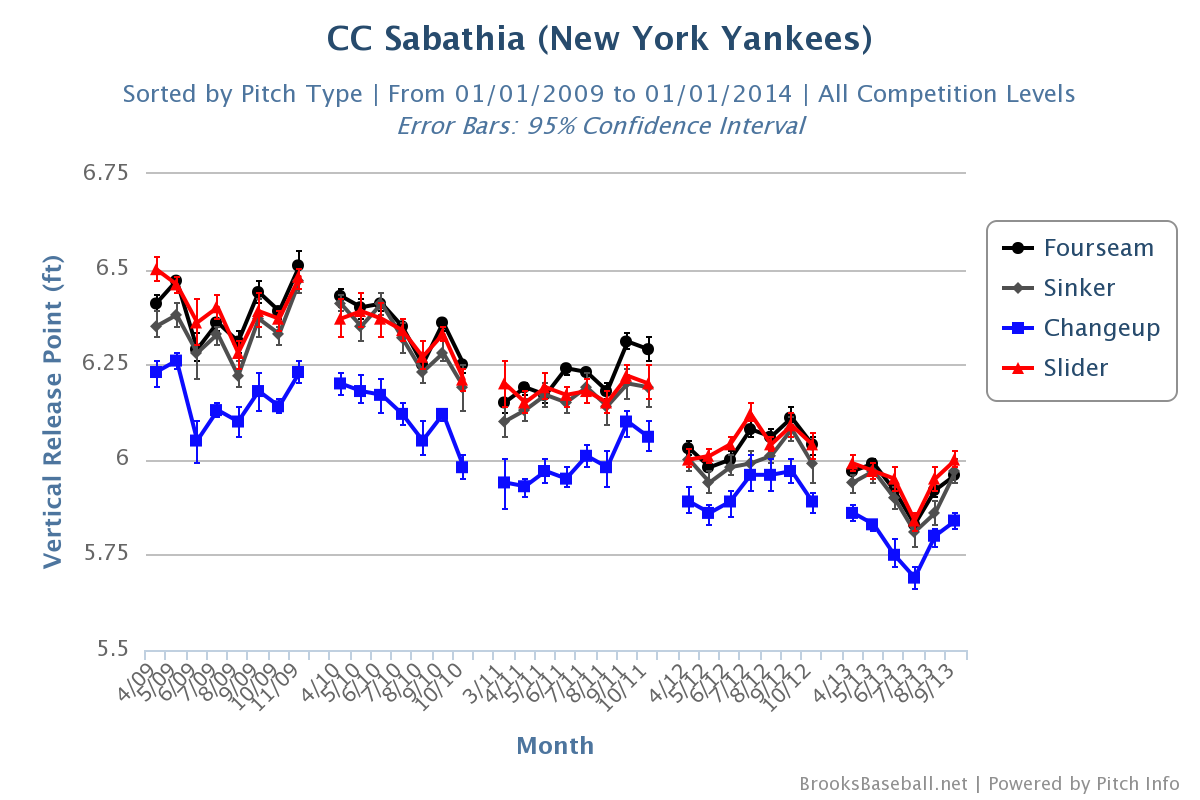 That's scary but also completely normal. Pitchers tend to drop their arms as they age because of all the wear and tear — the shoulder just isn't strong enough to maintain a high release point after a couple thousand innings. Pitching coach Larry Rothschild mentioned several times last year that Sabathia would lose his release point and his pitches would start to cut (right out over the plate, unfortunately), and the PitchFX data backs that up. I'm not sure anything can be done to reverse this trend at this point. The solution might not involve raising his arm slot, but learning how to pitch with a lower arm slot.
Anyway, Sabathia has had a normal offseason this winter, a normal offseason that will hopefully boost his velocity and maybe help a bunch of other stuff. You can tell he's been working hard these last few weeks because, well, look:
Holy crap!
That photo is from former teammate Rickie Weeks' wedding this past weekend. We've seen "CC is getting skinnier!" photos for like, three offseasons in a row now, but I think that one is the most startling. Not a bad way, just … wow. Sabathia told Ken Rosenthal he is "actually the same weight as I was last year, just a little more toned and a lot more strong," so it wasn't so much losing weight as it was turning bad weight (fat) into good weight (muscle). Still, you can't look at the photo and tell me he doesn't look way slimmer. Good for him.
"He's been going full speed since before Halloween," said trainer T.J. Lopez to Mike Puma. "This year he's going to go into Spring Training in the best shape of his life … Having the year he had last year, he's coming back really with a vengeance and he wants to prove something now, that he can do it."
That's a good thing. Everyone should want Sabathia to go out there with a chip on his shoulder and a desire to show last season was a bump in the road and not the start of a harsh decline. The Yankees need that Sabathia because the 2014 rotation will be full of question marks, with or without Tanaka. How will Tanaka or a similar pitcher handle the move into the AL East? Will Hiroki Kuroda shake off his rough finish? Will Ivan Nova find some consistency? What will David Phelps and various back-end arms contribute? It's unlikely Sabathia can get back to his dominant, Cy Young caliber form from 2007-11, but a healthy and productive above-average starter will go a long way towards improving the Yankees this summer. It's a necessity if they hope to contend.