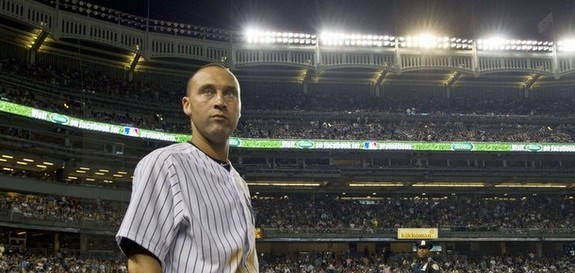 A historic era of Yankees baseball is coming to an end. Derek Jeter announced on Wednesday that he intends to retire following the 2014 season. Joel Sherman says the Yankees were not aware the announcement was coming, but Casey Close, Jeter's agent, confirmed the news. Here is the important stuff from the announcement letter:
"Last year was a tough one for me. As I suffered through a bunch of injuries, I realized that some things that always came easily to me and were always fun had started to become a struggle. The one thing I always said to myself was that when baseball started to feel more like a job, it would become time to move forward.

"So really it was months ago that I realized that this season would likely be my last. As I came to this conclusion and shared it with my friends and family, they all told me to hold off saying anything until I was absolutely 100% sure.

"And the thing is, I could not be more sure. I know it in my heart. The 2014 season will be my last year playing professional baseball."
Buried within the announcement, Jeter says he wants to start focusing on his personal life and begin a family of his own. That he managed to keep his personal life so private and his image squeaky clean over the years is truly impressive, especially in New York. Kinda weird to think about Jeter finally settling down and starting a family, isn't it? Good for him.
"Derek called me this morning to tell me that he planned to retire following the season," said Hal Steinbrenner in a statement. "In our conversation, I told him that I respected his decision because I know he put a lot of thought into it. I also let him know that I thought it was great that he was letting fans know now so they will have a chance to say goodbye to him.

"He is unquestionably one of the greatest Yankees ever. He has meant so much to fans, the organization, my father and our family. I'm glad we have this year to celebrate everything he has meant to us and all the great things he still stands to accomplish."
Jeter, who will turn 40 in June, missed all but 17 games last year due to a series of leg injuries, including the fractured ankle he suffered during Game One of the 2012 ALCS. Continued setbacks hampered him all year. He is healthy now and preparing for the season on his normal offseason schedule, so he should be able to avoid a repeat of 2013.
The Yankees drafted Jeter with the sixth overall pick in the 1992 draft, and he will retire as both the unquestioned greatest shortstop in Yankees history and as one of the top four or five shortstops in baseball history. With all due respect to Mariano Rivera, Jeter will likely be the greatest Yankee many of us ever see. He is all over the various franchise leaderboards, from hits (first) to games played (first) to batting average (seventh) to bWAR (fifth) and all sorts of other stuff. He is the only man in team history with 3,000+ hits and he also has those five World Series rings as well.
As of right now, Jeter ranks tenth all-time with 3,316 hits. He is only 99 hits away from tying Honus Wagner's record for most hits by a shortstop, and a good but not great season (117+ hits) would push him into sixth place all-time. Another 199+ hit campaign would move him into fifth all-time, behind only Pete Rose, Ty Cobb, Hank Aaron, and Stan Musial. That's some company right there. The Cap'n will retire following the 2014 season and be inducted into the Hall of Fame five years later, no doubt about it.
I assume this coming season will feature another Rivera-esque retirement tour, with mini-celebrations on the road and a massive blowout at Yankee Stadium in September. The Yankees play their final home game on Thursday, September 25th against the Orioles. Their final regular season game is scheduled for Sunday, September 28th at Fenway Park. Needless to say, they need to send this man out with a World Series championship.