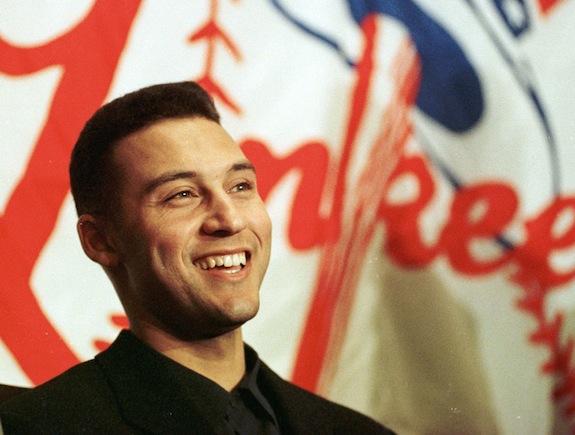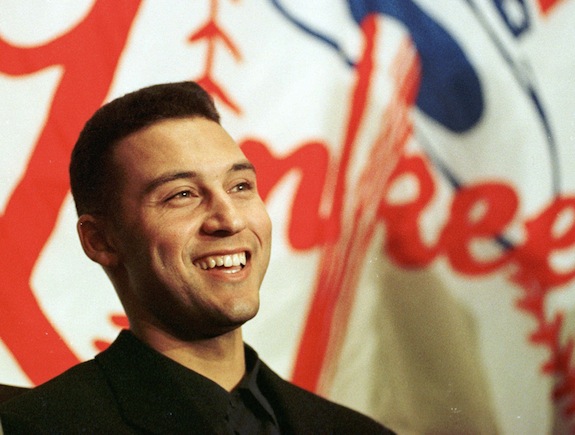 I've been watching baseball pretty much my entire life, but I think the first season I can actually remember was 1992. Before that I just watched baseball. The 1992 season when I really started following the game on a day-to-day basis, if that makes sense. That's when I started paying attention to statistics (wins and RBI, baby) and understood the pitching rotation, things like that. I certainly remember watching a ton of baseball before 1992, but that was the year it went from an interest to an obsession.
One of the things I remember most about that 1992 season was thinking the Yankees had a gem of a young shortstop in Andy Stankiewicz. He carried like a .310 batting average into July and it bothered me whenever he sat for Randy Velarde. I remember being bummed when Stankiewicz didn't win the Rookie of the Year award, even. I didn't understand what it meant that he was a 27-year-old rookie. The Yankees were bad and he was a new face, a symbol of hope going forward.
Stankiewicz obviously was far from the shortstop of the future. He didn't even make the team in 1993, and by 1994 he was playing for the Astros. Guys like Spike Owen and Mike Gallego came and went at shortstop, then in 1995 the Yankees had whatever was left of Tony Fernandez's career. Similar to how Kenny Rogers was an awesome pickup because he once threw a perfect game, I remember being glad the Yankees signed Fernandez because I had heard his name in an All-Star Game or two along the way.
* * *
The 1995 ALDS loss to the Mariners was devastating to a teenaged Mike Axisa. It was one thing to root for a bad 1992 team or a good but not good enough 1993 team — the 1994 strike sucked, but, looking back on it, I wasn't as upset as I probably should have been — but rooting for that 1995 squad was something different. I thought the season was over after a long losing streak in August, but the club reeled me back in with that insane finish (26-7!) to win the wildcard spot.
I can't really explain how I felt watching Edgar Martinez's double roll to the wall in Game Five, but I remember it. Helpless, I guess. Watching that ball roll and knowing the Yankees' season was about to end is something I'm never going to forget. The 1995 Yankees were the first postseason team of my lifetime and that series, that double, was the first time baseball ripped my heart out. I was crushed. I didn't know baseball could make me feel like that.
The relay throw on Edgar's double was the last play Tony Fernandez ever made for the Yankees. He dove for a ball in Spring Training the following year and shattered his elbow, paving the way for Derek Jeter to become the everyday shortstop. I knew nothing of prospects at the time and I remembered Jeter from his cup of coffee the year before, but nothing more. I expected the Yankees to go out and make a trade, not go with the kid. That was crazy to me.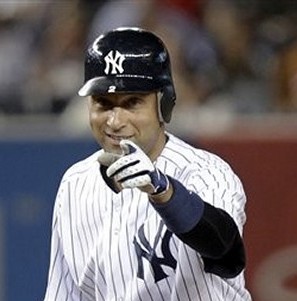 Unlike Stankiewicz, I didn't get that "shortstop of the future" vibe from Jeter, at least not right away. He hit the homer on Opening Day and had a nice two weeks to start 1996, but Jeter was pretty mediocre from mid-April through the end of May (proof!), and it was kind of a blah first impression. He tore the cover off the ball from June through the end of the season and that's when it hit me and I think a bunch of other people that hey, this kid was pretty good. The Yankees might have something here.
With Jeter's help, the Yankees went on to win the World Series that October and to this day, that is my favorite sports memory and favorite Yankees team. I think everyone feels the same way about the first championship team they witness, regardless of sport. It's a great feeling, that first title. And, to be honest, I don't think the 1996 World Series would be nearly as memorable for me had Edgar Martinez not ripped my heart out the year before. As much as it sucked, Fernandez's no-chance relay throw and the heartbreak of 1995 made 1996 that much sweeter.
* * *
Jeter was outstanding throughout the late 1990s and 2000s, though he was never my favorite player. I've always gravitated towards pitchers for whatever reason, so I enjoyed watching Mariano Rivera and Andy Pettitte more than Jeter. David Wells was a fave too. I was pretty upset when they traded him for Roger Clemens. Don't get me wrong, I didn't dislike Jeter, but he was never my favorite player the way he is for so many others. That doesn't make me weird or anything. It's just my opinion.
For a big chunk of his career, I think I took Jeter for granted. I knew I was watching a great player, but it wasn't until … I dunno … 2002? that it dawned on me I was watching a historically great player. Maybe it was because he came up at the same time as Alex Rodriguez and Nomar Garciaparra in an age of super shortstops. I hadn't suffered through enough Stankiewiczes and Gallegos to grasp how special Jeter was. There was not enough of a scar to make me fully appreciate his greatness, no Edgar Martinez double of shortstops to better put things into perspective.
Year after year, Jeter put up great seasons and the Yankees won, but not like they won when he first came up. The roster had turned over as it tends to do, but Jeter was the mainstay. Pettitte only pitched once every five days. Rivera only pitched when the game was close in the ninth inning. Jeter played everyday, batted in every first inning. There was comfort in that. The Yankees had changed over the years but they were still Derek Jeter's Yankees. To borrow a phrase, he was the straw that stirred the drink.
Jeter has been a constant for so long, putting up the same great numbers every year and playing every day. Looking back, it's really remarkable he stayed so healthy for as long as he did. His only significant injury from 1996-2010 was a fluke play, when he slid into Ken Huckaby at third base in 2003. Other than that, he was out there every game. These last four years have been rockier though, both with injuries and poor performance. Seeing Jeter battle baseball mortality has been … weird. Not sure how else to describe it.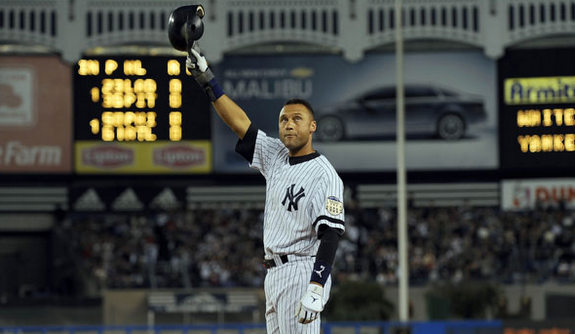 I wasn't terribly surprised when Jeter announced his plan to retire a few weeks ago. The announcement itself was surprising, but the idea that he would soon walk away was not exactly unexpected. At age 39 and after what he called a "nightmare" injury-plagued season in 2013, retirement had to cross his mind. How could it not? This is a guy who has accomplished everything imaginable in baseball and the game wasn't coming as easily as it once did.
In a weird way, I think last season helped me prepare for life with Jeter. The same was true with Mariano Rivera when he got hurt in 2012. He was not around on a daily basis anymore, which was a new experience. This year, not seeing Rivera come out of the bullpen will be different but not unfamiliar. That same will be true at shortstop next season. Last year did a good job of showing everyone how the Yankees will look without Jeter.
We watched Don Mattingly walk away back in the day, and more recently we've watched guys like Bernie Williams and Jorge Posada and Pettitte (twice) and Rivera retire. All were great and beloved but none were as great and beloved as Jeter. Only Rivera is close. Jeter is on another level in every way, both on the field and off the field. It's possible if not likely he will be the greatest Yankee of my lifetime, which is amazing to sit back and think about. You and I may never see another player of this caliber in pinstripes again. It's cliche, but you know we'll all be sitting around as grumpy old people in 50 years saying "yeah he's good, but he's no Jeter."
I have absolutely no idea what to expect out of the Captain in his final season. I thought 2008 was a sign he was slipping, then he was an MVP candidate in 2009. I thought he was done after 2010-11, then he rebounded to hit like his old self in 2012. What happens after all the leg injuries? Who knows. He's an important part of the team and the Yankees need him to produce, but at his age and after what amount to a year away from the game, he's a real question mark. Maybe his body will be refreshed following the year off. Maybe his bat speed is beyond the point of return. We'll find out soon enough.
All I know is that I plan to make an extra effort to sit back and appreciate Jeter this year, something I did not do enough over the years. Appreciate him for the player he's been, for the leader and ambassador he is and has been, and for being the final tie to that 1996 club. Jeter is last remnant of this remarkable stretch in franchise history; the Yankees didn't feel the same without him in 2013 and once he retires after the season, they won't ever feel the same to me again.