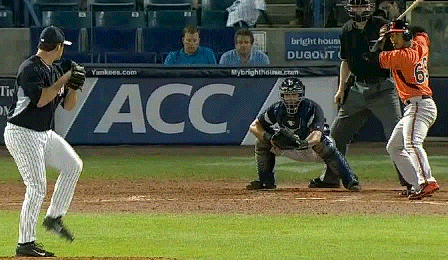 The totally meaningless Grapefruit League winning streak is over at four; the Orioles beat the Yankees 3-2 on Tuesday night. Here's the box score. David Phelps was in "bend but don't break" mode, getting knocked around pretty hard (five hits in 2.2 innings) but only surrendering one run. He escaped two on, no outs jams in both the first and second innings. Matt Thornton made his spring debut, throwing one pitch and retiring a lefty with a ground ball.
At the plate, both Jacoby Ellsbury and Derek Jeter went hitless in two at-bats. Ellsbury did draw a walk though, his fifth of the spring (only one strikeout). Carlos Beltran went 0-for-2 with a walk and a whiff. Frankie Cervelli opened the scoring with a solo tater and Spring Training superhero Yangervis Solarte plated another run with a single. Scott Sizemore went 1-for-2 in his spring debut and made a nifty diving stop at second base. Here's the rest of the day's news from Tampa.
The Yankees are on the road to play the Rays tomorrow afternoon, but that game will not be televised. Masahiro Tanaka will make his first start and second appearance of the spring on Thursday (CC Sabathia will throw a simulated game that day) while Michael Pineda will make his debut (in relief of Hiroki Kuroda) on Friday. Thursday's game will be on television, Friday's will not. For shame.