Six questions and six answers this week. The best way to send us anything is with the Submit A Tip box in the sidebar.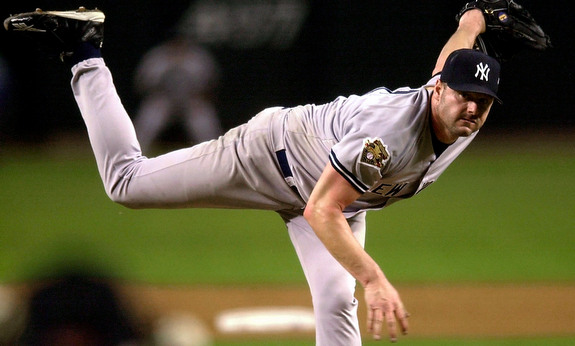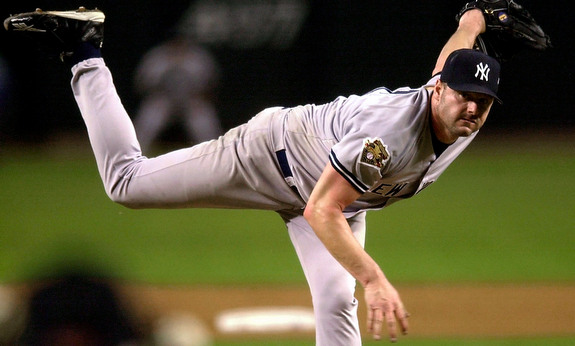 Mark asks: After seeing the Giants end their brief mini-divorce with Barry Bonds this spring, do you think the Yankees should break the ice with Roger Clemens and invite him to an Old Timers' Day? I would ask about inviting him to Spring Training as an instructor as well, but that looks to be impossible as long as he's employed by the Astros.
I think these two situations are a little different. Bonds and the Giants were never on bad terms; he was at the ballpark all the time these last few years, and they've had him throw out the ceremonial first pitch and stuff like that. This spring is the first time he rejoined the team in an official capacity (special hitting instructor), but it's far from the first time he's been around the club since he was forced into retirement. Bonds still is and always has been beloved in San Francisco.
The Yankees have kept their distance from Clemens for whatever reason, maybe due to all the performance-enhancing drug stuff that went down after his career (which forced Andy Pettitte to testify). There was never any tension between the two sides, right? Maybe something happened that we don't know about. I would like to see the team invite Clemens back for Old Timers' Day — he did win two World Series, four pennants, and a Cy Young in pinstripes, after all — but it seems like he has been intentionally cast aside. I don't get it. Am I forgetting something obvious? This feels like something that should have happened a while ago.
Dan asks: How aggressive are the Yankees being in moving Ichiro Suzuki? He's a decent 4th outfielder, but it honestly seems like Zoilo Almonte is better at this point (and maybe you want to see if he can be an everyday player in the next few years). Would they be willing to eat more than half of Ichiro's contract to move him? Or in the alternative, move him for a similarly overpriced, underperforming player in a position of need?
The Yankees have been shopping Ichiro for weeks but I don't know how aggressively they've been pushing him. We've heard they were open a trade involving a player making a similar salary (J.J. Putz, most notably) and I assume they'd be willing to eat part of his salary to facilitate a trade. Saving a few million bucks that could be put towards a reliever or a midseason pickup would be a net gain.
I think Almonte could step right in and do a comparable job to Ichiro, perhaps providing less on the bases and in the field but a little more at the plate (wouldn't having a switch-hitter available off the bench be nice?). If Zoilo doesn't cut it, maybe Russ Canzler or Dean Anna would. The Yankees have some options. Some team is going to lose an outfielder to injury at some point this spring (Cameron Maybin and Andy Dirks are already hurt) and that could result in more interest in Ichiro. At this point, I think they're stuck starting the season with him on the bench.
Paul asks: The Yankees are hoping Michael Pineda gets the 5th starter spot. Let's assume he does. Does that make the bullpen David Robertson, Matt Thornton, Shawn Kelley, David Phelps, Adam Warren, Vidal Nuno, Preston Claiborne? Maybe Nuno stays stretched out in AAA and Dellin Betances makes the team (though that leaves only one lefty in the 'pen)? Any other potential BP arms I'm missing?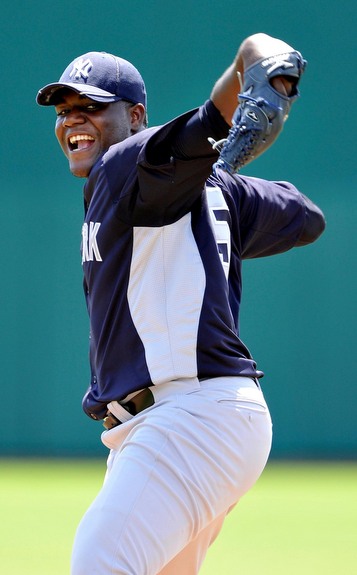 Joe Girardi has already confirmed both Phelps and Warren will make the team in some capacity, so if Pineda wins the fifth starter's job, those two will be in the bullpen. In that case, I would think Nuno would go to Triple-A to remain stretched out as the sixth starter. Girardi has said they're open to keeping him (and everyone else) as a reliever though. If Nuno goes to the minors, it would clear the path for Betances, Cesar Cabral, Matt Daley, Manny Banuelos, or whoever else in addition to Claiborne. Betances has performed well in camp so far but we still have more than three weeks to go before the last few spots in the bullpen need to be finalized. A lot can change.
T.J. asks: I know it is early, but with the close of Spring Training, there will be an inevitable roster crunch. Do you see some trades taking place for some relief, or do you think we will just have to risk losing some middle-tier prospects? No pun intended, but that relief, will probably turn out to be spots in the bullpen for non-roster pitchers.
The 40-man roster is really tight right now. Short of a trade that sends Ichiro or one of the catchers (Austin Romine? John Ryan Murphy?) away for a non-40-man piece, the Yankees are going to have cut someone who is potentially useful to clear a roster spot. Right now, the most likely candidates to me are Nik Turley, Ramon Flores, and Anna. That's really it. There are no 60-day DL candidates right now either. The Yankees might have to clear 40-man spots for Scott Sizemore, Daley, or Canzler if they make the team, but otherwise they have enough 40-man pieces to fill out the roster. Eduardo Nunez could sit on the bench while Betances, Cabral, and/or Claiborne fill out the bullpen.
Spencer asks: Why did the Yankees not express interest in Chien-Ming Wang earlier before he signed with the Reds?
The Yankees had Wang in Triple-A for a few months last season, so they got a first hand look at him. He wasn't very good (7.67 ERA and 5.42 FIP in 27 innings) with the Blue Jays after being released, and this winter he had to take yet another minor league contract. CMW will be 34 later this month and he has not been an effective pitcher since hurting his foot in Houston back in June 2008. Injuries completely ruined him. The Yankees gave him a shot last year but he proved not to be worth it. Time to move on, that's all.
Bill asks: I've seen a lot of ink saying Masahiro Tanaka should be the third starter. Assuming CC Sabathia is 1 and Hiroki Kuroda is 2, shouldn't the Yanks put someone between Tanaka and Kuroda because of the similarity of their pitching styles?
I honestly don't think this is that big of the deal. The rotation will be thrown out of whack by off-days and rain outs and whatnot at some point in April, so it's only a matter of time before Kuroda and Tanaka get separated. I think the whole "their style is too similar to pitch back-to-back" is a bigger deal within an individual game (replacing a fastball-slider pitcher with another fastball-slider pitcher, for example) and not necessarily day after day. Maybe it would be beneficial to split Kuroda and Tanaka up in the rotation, but I think that will happen organically at some point early in the season anyway. To be honest, I'm more focused on having Tanaka start one of the first three games of the season because I'd like to see him get off to a good start, which he is more likely to do against the terrible Astros than the slightly less terrible Blue Jays.