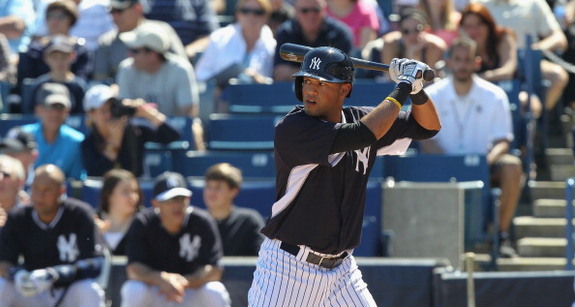 Early on in Spring Training, it was obvious the Yankees were showcasing their young catchers for trades. Gary Sanchez, John Ryan Murphy and Austin Romine were (and still are) playing just about every game, either behind the plate, at DH, or off the bench. It's no secret the Yankees need infield and bullpen help, and when you sign Brian McCann to an $85M contract, trading a spare backstop for help elsewhere makes sense.
We know at least two teams (Brewers and White Sox), have been scouting the Yankees' catchers, so all that showcasing is not going to naught. Someone is out there watching and that's exactly what the Yankees want. They can force anyone to make a trade. The young catchers are not the only guys out there being put on display though. The Yankees are also showcasing their extra outfielders this spring after signing both Jacoby Ellsbury and Brett Gardner long-term, as well as sinking big money into Carlos Beltran on a shorter term deal.
Both Ramon Flores and Mason Williams have played in nine of the team's first dozen Grapefruit League games so far, more than every outfielder in camp other than Adonis Garcia and Antoan Richardson, who have played in ten games each. Flores is second to Ellsbury in plate appearances among outfielders, and he's played all three outfield spots as well. Williams has played both his usual center field as well as right, where he has zero career games in the minors. Even Ichiro Suzuki, who was shopped all winter, has started a game at each of the three outfield spots this spring as the Yankees continue to look for a taker.
Now, part of the reason why Flores and Williams are playing so much is injury. Had Slade Heathcott (knee) and Tyler Austin (wrist) been healthy this spring, they surely would have grabbed some at-bats and games in the outfield. For the purposes of showcasing their young outfielders — Flores and Williams are the team's most tradeable outfield prospects in my opinion, though none of these guys are close to untouchable — the injuries allow the Yankees to give Flores and Williams (and even Ichiro) all that playing time. No team will trade for a player based on how he looks in Spring Training, but the extended looks give them a chance to update their internal evaluations. That can be a bad thing in some cases.
As with the catchers, the Yankees have a decent amount of outfield depth in the minors. They have a better (but more injury prone) version of Williams in Heathcott, who is also one level closer to the big leagues. Flores had an okay year in Double-A last season but he and Austin are similar players, though they bat from different sides of the plate. Holding onto every prospect isn't a good idea no matter how badly you need homegrown players. Not at all. Some of them are going to flame out through normal attrition and knowing when to cut bait is just as important as knowing who the keep*.
* The Cardinals are great player development organization and it's not just because of the guys they produce. When a Brett Wallace (2008 first round) or Zach Cox (2010 first round) goes bad, they get rid of them quickly (for Matt Holliday in 2009 and Edward Mujica in 2012, respectively). The Yankees did this with C.J. Henry (2005 first rounder, for Bobby Abreu in 2006) back in the day. Knowing your own players and being honest about their ability is super important.
What could the Yankees get for Flores or Williams? Who knows. A scout recently told Peter Gammons the Yankees "could be a player" for Astros third baseman Matt Dominguez, who fits their need for a young infielder. The 24-year-old Dominguez is a top notch defender with some power (21 homers in 2013) but a questionable bat in general. Would I trade Williams for five years of Dominguez? Yeah, I probably would. Double-A prospect for a young guy who can step right into the MLB lineup to fill a position of need? What else should are they supposed to trade him for? That's just one example of a potential trade match that, as far as we know, isn't actually on the table.
Anyway, the point is that the Yankees have some extra young outfielders and are giving teams an opportunity to scout them this spring. They're doing the same for their extra young catchers. Given the obvious needs on the infield (and also in the bullpen, but less so) and the team's depth in the outfield and behind the plate, showcasing these guys makes all the sense in the world. It's due diligence, only the other way around. Instead of asking about guys, they're letting other teams see their players. This is the time of year to showcase people, and so far the Yankees have done a lot of it.