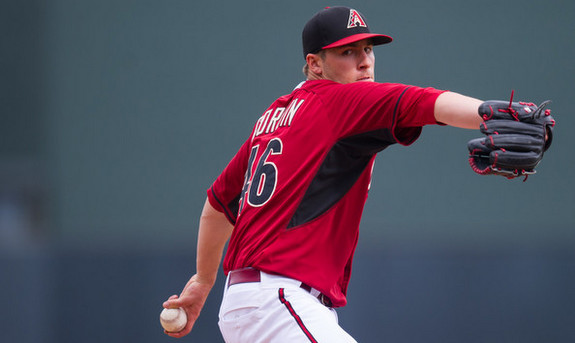 As of right now, with a little less than two weeks to go before Opening Day in Houston, the Yankees have not tipped their hand about the fifth starter's spot. One some days it seems Michael Pineda is the frontrunner, on others it seems to be David Phelps. Then Vidal Nuno chucks four one-hit innings against the Orioles' mostly-regular lineup to re-enter the conversation. Adam Warren has allowed two runs while striking out nine in 8.2 innings this spring. No one has pitched themselves out of consideration yet.
Having four possible starters for one rotation spot is one of those "good problems" people like to talk about. It's not really a problem of course, pitching depth is a wonderful thing to have. The baseball gods have taken it upon themselves to remind teams and fans of that the (very) hard way over the last week or so. Look at this recent run of pitching injuries:
Sunday, March 9th: Kris Medlen of the Braves left his start holding his elbow. After getting a second opinion, he is having his second Tommy John surgery in the last four years this morning.
Monday, March 10th: Medlen's teammate Brandon Beachy left his start with what is called biceps tightness. Tests show ligament damage and he is likely headed for his second Tommy John surgery in the last three years.
Friday, March 14th: Jarrod Parker of the Athletics was scratched from his start with a forearm issue. A visit to Dr. James Andrews revealed a torn ligament. He needs a second Tommy John procedure after having his first in 2009.
Saturday, March 15th: Diamondbacks' ace and native New Yorker Patrick Corbin left his start with elbow pain and is currently deciding between Tommy John surgery and rehab, the latter of which never seems to work.
Four the game's best young pitcher are out for the season and it happened in the span of a week. It doesn't end there though. Luke Hochevar blew out his elbow two weeks ago. The Padres lost lefty Cory Luebke to his second Tommy John surgery last month and are on the verge of losing prospect Joe Wieland to the same fate. Mike Minor's shoulder is acting up (the Braves signed Ervin Santana because they had so many injuries), Jon Niese has been dealing with shoulder and elbow problems, Cole Hamels has yet to appear in a game because of a shoulder issue, on and on it goes. Pitchers get hurt, we know this, but this recent rash of injuries around the league has been something else.
Last season the Yankees were the ones hit hard by injuries, though most of them hit the position players. The pitching staff has remained healthy this spring, knock on wood, but that tells us nothing about future durability. CC Sabathia has a ton of innings on his arm, Hiroki Kuroda is approaching 40, Michael Pineda is coming off two lost years following shoulder surgery … it wouldn't be a surprise if any of those guys missed time in 2014. That and all these pitching injuries around the league are a reminder that the Yankees' pitching depth — Phelps, Warren, Nuno, etc. — is not really expendable. The Yankees have not gotten through a non-strike season using fewer than eight starters since 1975, so all of those guys figure to be needed at some point this year.
It's easy for us to starting thinking about a trade whenever the team has an extra something, be it pitchers or catchers or whatever. Heck, just last week I wrote about the possibility of the Yankees trading one of their spare arms to the Braves in the wake of their injuries, thinking it would be one way to improve the infield. Pitching, especially potential starters, have to be treated differently though. You know you're going to need several extras throughout the season, moreso than any other position, so dealing away a spare arm is always risky. I don't think we needed all the recent injuries to drive the point home, but it's pretty clear the Yankees are best off holding onto guys like Phelps, Warren, and Nuno. They will come in handy at some point, probably sooner rather than later.