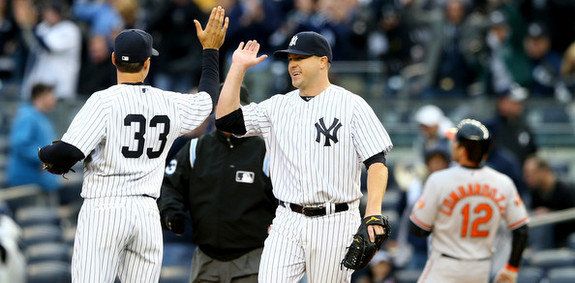 Outside of signing lefty specialist Matt Thornton to a two-year contract, the Yankees spent no money on their bullpen this winter. They didn't bring in a late-inning arm to replace Mariano Rivera, instead bumping everyone up a notch on the depth chart and hoping a youngster like Dellin Betances can fill the void. I can't say it was the ideal offseason for the bullpen, but it is what it is.
The Yankees lost their anchor the other day as David Robertson went down with a Grade I groin strain. He said he expects to be back after the minimum 15 days because of course he does. Just about every player thinks that when they get hurt. Shawn Kelley went from seventh inning guy last year to closer now, Adam Warren from swingman last year to setup man now. Thornton, Betances, and David Phelps are there to fill in the gaps.
"(Robertson) started off great, and he's our best pitcher," said Kelley to Chad Jennings following Monday's game. "It forces all of us to throw another inning later, so obviously that's not good for the whole pen, but injuries are part of it and we've got to overcome it. You saw today what we're capable of, and hopefully we can string it together until he gets back."
The first game without Robertson went fine as Warren and Kelley preserved a two-run lead in the eighth and ninth innings, respectively. Vidal Nuno took a pounding in mop-up duty yesterday, but that's what he's there for. Ivan Nova failed to get out of the fourth inning and someone had to take one for the team. Robertson's injury doesn't necessarily push someone like Nuno into a bigger role; the last bullguy in the pen tends to stay the last guy in the bullpen. The injury tests the late-inning guys, and right now Thornton is the only one with any kind of meaningful late-inning experience.
Of course, experience doesn't mean a whole lot in the bullpen. Does it help? Sure. But relievers come out of nowhere every year to dominate. Experience is preferred but far from a requirement. The ability to miss bats and the willingness to be aggressive are more important, and, for the most part, guys like Kelley, Warren, and Phelps have that. (Being aggressive doesn't automatically mean throwing strikes. Throwing strikes is hard, remember.) Until Robertson comes back, those guys will do the heavy bullpen lifting.
To me, Joe Girardi is the key while Robertson is out. He can't control what someone does on the mound, but he can control when and how his relievers are used, something he is very good at based on what we've seen the last six years. Girardi knows Thornton is only a lefty specialist at this point of his career and he knows Warren is at his best in one-inning bursts, so that's how he's using them. He doesn't ask his pitchers to fill a role they are not equipped to fill unless he has absolutely no choice.
Kelley, Warren, and especially Betances have big opportunities with Robertson out. This is a chance for all three to show they are up to the task of being go-to late-inning arms, which would benefit both themselves and the team. Girardi's responsibility of putting these guys in the best possible position to succeed — it would be nice if the offense gave the staff some breathing room once in a while — while be even greater these next few weeks. A Rivera and Robertson-less bullpen is scary, so this will be a great test of the relievers left standing.