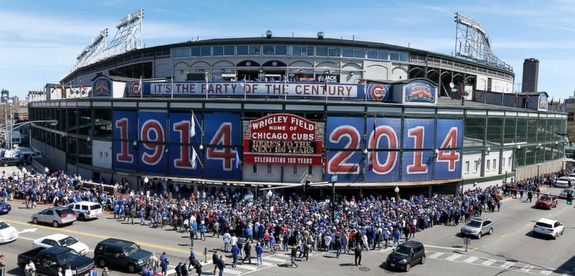 For the fourth series in a row, the Yankees are playing a National League team. This time they're on Chicago's north side for two games against the Cubs. These clubs played two games at Yankee Stadium last month and the Yankees didn't just win both games — the first game was rained out, so they played a doubleheader the next day — they shut the Cubs out both times. It was pretty great. Alfonso Soriano is returning to Wrigley Field for the first time since being traded back to New York last July, so it'll be interesting to see the reception.
What Have They Done Lately?
The Lovable Losers took two of three from the Brewers over the weekend, winning both Saturday and Sunday. They dropped three straight and ten of 12 before that. The Cubs have lost 90+ games in each of the last three seasons and they are again terrible in 2014, coming into today with a 15-27 record and a -3 run differential. That is the very worst win-loss record in baseball despite a decidedly average run differential.
Offense
The Cubs average 3.95 runs per game and have a team 82 wRC+, so they are well-below-average offensively. They are missing two outfielders in OF Justin Ruggiano (80 wRC+) and OF Ryan Sweeney (36 wRC+), both of whom are on the 15-day DL with hamstring problems. Ruggiano started a minor league rehab assignment yesterday, so I suppose he could be activated at some point during this series. Sweeney is out long-term.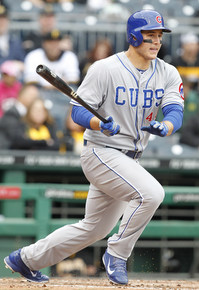 Rookie manager Rick Renteria has two above-average bats in his lineup in 1B Anthony Rizzo (134 wRC+) and SS Starlin Castro (126 wRC+). Rizzo has bunted to beat the shift several times this year, including once against the Yankees, so expect them to pull the third baseman a little closer to the line. Castro has rebounded quite well following a brutal 2013 season. IF Luis Valbuena (114 wRC+) plays just about everyday, either at second or third. OF Junior Lake (103 wRC+) has been solid in left field.
OF Emilio Bonifacio (89 wRC+) got off to a ridiculously hot start but has cooled down considerably. He leads the team with eleven steals and is their only serious threat to run. 3B Mike Olt (89 wRC+) has hit a bunch of homers (nine) but also has a .254 OBP and a 31.6% strikeout rate. C Welington Castillo (94 wRC+) has been good by catcher standards. Everyone else on the active roster — OF Nate Schierholtz (33 wRC+), OF Ryan Kalish (69 wRC+), UTIL Chris Coghlan (-6 wRC+), IF Darwin Barney (38 wRC+), and C John Baker (-46 wRC+) — has not hit at all.
Pitching Matchups
The Yankees are in serious need of rotation help following the CC Sabathia and Ivan Nova injuries, and it just so happens two prime pieces of trade bait will be on the mound for the Cubs this series. They aren't shy about being terrible for the sake of accumulating prospects with an eye towards a future that may never come. Consider this a chance to do some advance scouting.
Tuesday: RHP Masahiro Tanaka (vs. CHC) vs. RHP Jason Hammel (vs. NYY) (Pitcher GIFs)
Hammel, 31, took a one-year "I know you're going to trade me but hey, money" contract from the Cubs over the winter and has a 3.06 ERA (3.36 FIP) in eight starts and 53 innings so far this season. His strikeout (7.30 K/9 and 21.2 K%), homer (0.85 HR/9 and 8.5% HR/FB), and ground ball (43.9%) rates are alright, his walk rate (2.04 BB/9 and 5.9 BB%) very good. Lefties (.303 wOBA) have hit him much harder than righties (.207 wOBA), and his still ridiculously low BABIP (.217) has recently started to correct. Hammel has been throwing his low-90s two-seamer way more than ever before this year while cutting back on his mid-to-upper-70s curveball. A hard low-to-mid-80s slider is now his top breaking ball. He also throws the occasional mid-80s changeup. Hammel held the Yankees to three runs in seven innings a few weeks ago.
It's worth noting tonight's game will be the first time Tanaka faces a team for the second time this season, so the element of surprise will theoretically be gone. He held them to two singles and a walk with ten strikeouts in eight scoreless innings last month, and I'm not sure the Cubs will be the best litmus test for how Tanaka will pitch the second time around the league because they aren't a great offensive team.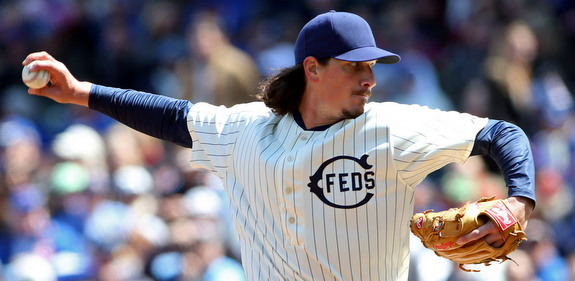 Wednesday: RHP Chase Whitley (No vs. CHC) vs. RHP Jeff Samardzija (vs. NYY) (GIFs)
Some pitchers get undeservingly raised to ace status for some reason, and the 29-year-old Samardzija is one of those guys. He's been excellent so far this year — 1.62 ERA (2.86 FIP) in nine starts and 61 innings, and prepare yourself for a lengthy discussion about his 0-4 record — but there's also nothing in his track record as a starter to suggest his homer rate (0.30 HR/9 and 4.2% HR/FB) is close to sustainable. Samardzija's strikeout rate (7.50 K/9 and 20.7 K%) has fallen off big time this year while his walk (2.80 BB/9 and 7.7 BB%) and ground ball (50.3%) numbers are right in line with the last two seasons. Like Hammel, he's been getting knocked around by lefties (.308 wOBA) but not righties (.228 wOBA). I mean, don't get me wrong, he's very good. Let's pump the breaks on the ace talk for a bit though. Samardzija sits in the low-to-mid-90s with his running two-seam fastball and a couple ticks lower with his cutter. A low-80s slider is his top offspeed pitch, and he'll use a mid-80s splitter as a changeup. The Yankees did not see Samardzija in the Bronx earlier this year.
Bullpen Status
The Cubs are carrying eight relievers for the time being, presumably until Ruggiano is ready to come off the DL. Former Yankee RHP Jose Veras (10.03 FIP) just came off the DL himself and is being eased back into things right now. Renteria has been using RHP Hector Rondon (1.60 FIP) as his closer even though he's stopped short of declaring him the guy. RHP Pedro Strop (4.65 FIP) and former Yankees property RHP Brian Schlitter (3.45 FIP) have been seeing most of the setup time. Schlitter never actually pitched for the Yankees; he was briefly with the team between waiver claims in 2011.
LHP Wesley Wright (3.46 FIP) and LHP James Russell (5.77 FIP) are Renteria's two lefties, and both are specialists more than anything. RHP Justin Grimm (3.66 FIP) and RHP Neil Ramirez (1.89 FIP) fill out the rest of the bullpen. The Cubs were off yesterday, so their bullpen is nice and fresh. The same is true for the Yankees. Check out our Bullpen Workload page for details on the recent reliever usage, then check out Bleacher Nation for whatever you need to know about the Cubbies.