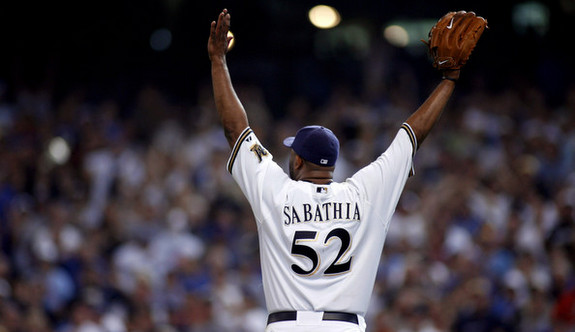 Before he wore pinstripes, CC Sabathia helped the Brewers to their first postseason berth in a quarter-century. Milwaukee acquired him from the Indians at the 2008 trade deadline and rode his left arm to October, starting him on three days' rest in each of his final four starts of the regular season, then again for his first postseason start. Here's that stretch of games:
That four starts, 28.2 innings, and 434 pitches in a 12-day stretch. That September 28th game was a must win against the Cubs, which clinched the club's spot in the playoffs.
Sabathia was a monster during his half-season with the Brewers (1.65 ERA, 2.44 FIP, seven complete games, 17 starts) and he's beloved in Milwaukee because of it. Robinson Cano was booed mercilessly when he returned to New York, but that won't be the case tonight. Sabathia is going to get a huge ovation for something that happened six years ago, and that's pretty neat. Here is the Brewers lineup and here is the Yankees lineup:
CF Jacoby Ellsbury
LF Brett Gardner
RF Carlos Beltran
1B Mark Teixeira
C Brian McCann
3B Yangervis Solarte
2B Brian Roberts
SS Brendan Ryan
LHP CC Sabathia
It is cool and a little cloudy tonight, so I bet the Miller Park roof will be open again. Last night was actually the first time it was open for a game this season. First pitch is scheduled for 7:10pm ET and you can watch on YES. Enjoy.
Shawn Kelley Update: Joe Girardi said Kelley (back) needs another day to rest, but expects him to be available for tomorrow's series finale.