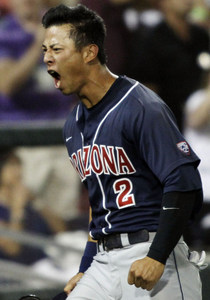 Robinson Cano returned to the Bronx as a visiting player for the first time Tuesday night. It was kinda weird. When he defected to the Mariners over the winter, it left the Yankees with a blank canvas at second base. I mean a really, really blank canvas. The team did not have a big league ready second base prospect to step into the lineup, hence the Brian Roberts, Scott Sizemore, and Dean Anna pickups. Those guys are the definition of stopgaps. They were added to play second base because the rules say someone has to do it.
True second base prospects are not all that common — most big league second basemen are failed shortstops. Cano is a failed shortstop, as are Roberts and Dustin Pedroia and Aaron Hill and pretty much every other second baseman. It's the least-premium premium position, if that makes sense. The Yankees came into the season with two good but not great second base prospects, with the most notable being Gosuke Katoh following his huge pro debut last summer. This year has not been so kind to him, however.
The other good second base prospect is 23-year-old Rob Refsnyder, the team's fifth round pick in 2012. I ranked him as their 27th best prospect back in February after he hit .293/.413/.413 (~143 wRC+) with 32 doubles, 23 steals, and more walks (84) than strikeouts (82) in 573 plate appearances split between Low-A Charleston and High-A Tampa last season. Refsnyder got off to a brutally slow start at Double-A Trenton this year (5-for-35 with 15 strikeouts), but he has gone 18-for-51 (.353) with seven walks and five strikeouts in 14 games since. His season batting line now sits at .267/.344/.384 (109 wRC+), and, according to Baseball Reference, he is 1.6 years younger than the average Double-A player.
Refsnyder's backstory alone makes him pretty interesting. He was born in South Korea and adopted by a family in Orange County when he was only three months old. He played second base in high school, moved to the outfield at the University of Arizona, and was named the Most Outstanding Player of the College World Series en route to helping the Wildcats win the 2012 National Championship. Pretty neat. Baseball America ranked Refsnyder as the 29th best prospect in New York's system in their 2014 Prospect Handbook, and here is a snippet of their scouting report:
Refsnyder has enough athleticism to become an average defender at the position in time, but he needs plenty of repetitions. He's a smart, above-average runner, but not a burner … He's an extremely patient hitter (who) recognizes spin well and knows when and how to go with a pitch. Refsnyder sprays line drives all over the field and has the ability to keep the head of the bat in the zone for a long time. He doesn't get much lift, so he's not going to hit more than 10-12 home runs going forth.
We aren't talking about the next Cano here. Cano was a second year big leaguer when he was Refsnyder's age, not a first year Double-A player. Refsnyder's strengths are a potentially solid glove, his knowledge of the strike zone, his ability to differentiate pitches, and his ability drive the ball to all fields. Here is his 2013-14 spray chart, if you need a visual. (MLB Farm is a truly excellent site, by the way.) That is a pretty promising skillset even if it doesn't make for the sexiest prospect ever.
Any time a player gets to the Double-A level and has success, especially a player drafted out of a major college program, he puts himself on the map for a potential big league role. Obviously the season is very young and Refsnyder still has another 120-something games left in his season, but I'm encouraged he shook off the really poor start and has started to hit like he did last year. The Double-A level has always been something of a separator between actual potential big leaguers and regular ol' prospects. You know what I mean. Refsnyder is starting to separate himself a bit.
The perfect world scenario would see Refsnyder dominate Double-A these next few weeks, earn a midseason promotion, dominate Triple-A, and open 2015 as the team's regular second baseman, but I don't know how realistic that is. It's a tad aggressive. The Cardinals had a top notch second base prospect in Kolten Wong ready to take over this year and they still added a veteran backup plan in Mark Ellis over the winter. (Wong hasn't hit a lick and was just demoted to Triple-A, but that's besides the point.) Copying the Cardinals is not a bad idea. Signing another stopgap veteran and letting Refsnyder force his way into the lineup seems like reasonable 2015 plan to me.
Thanks to that blank canvas Cano left behind, the Yankees have a very clear opening for Refsnyder in the near future. The potential is there for him to be a solid and cheap bottom of the lineup option, something others like David Adams and Corban Joseph failed to become for different reasons. I hesitate to use Brett Gardner as a comparison for Refsnyder because Gardner turned into one hell of a player, but the idea is similar. An unheralded mid-round pick who comes up through the system and develops into a strong complementary player. I'd take that from Refsnyder in a heartbeat, and he isn't all that far away from entering the big league second base picture.