The Yankees were off yesterday but there was still some rather large news delivered. Brian Cashman confirmed CC Sabathia will miss at least six weeks following the stem cell treatment on his twice surgically repaired right knee, meaning the team has lost its six-time Opening Day starter until at least July. If the stem cell treatment doesn't work, Sabathia will presumably have surgery and miss even more time. That's not good. Here are some miscellaneous thoughts.
1. Losing Sabathia for what is essentially two months — when you include the time he has already spent on the disabled list — really sucks. I have been an unabashed optimist about his ability to adjust to reduced velocity as he grew older, perhaps foolishly, but this injury means he will lose a lot of the time necessary to make those adjustments and learn how to pitch with his new arsenal. We'll probably never truly find out, but I'm very curious to know how long the knee has been bothering him. Maybe the injury has contributed to his struggles these last few weeks — at least the location issues since it his landing knee — and man I really hope that is the case because at least then we'd have an explanation. It would be really great if Sabathia came out on the other end of this injury and pitched effectively, even as like a 4.00 ERA innings eater, but I think the odds of that happening are on the small side. This really bites.
2. So obviously now we're going to be talking about the Yankees trading for a starter nonstop, with Cliff Lee and Jeff Samardzija the two big names. Lee might not even available, the Phillies are weird like that, but we all Samardzija will be out there. The Cubs are in a perpetual rebuilding process. Do the Yankees have the young pitching — Chicago has a ton of position player prospects and has been targeting arms in trades the last year or two — to swing a deal for him? Not unless the Cubs are open to a bunch of Single-A guys like Luis Severino and Rafael DePaula. Outside of Manny Banuelos and Shane Greene, the Yankees don't have any upper level prospect arms to offer. If they did, they'd probably be in the big league rotation right now. Jason Hammel would cost considerably less to acquire and might be the more realistic trade target just based on the likely asking price and available trade chips.
3. As for some other possible trade targets, guys like Justin Masterson and Brandon McCarthy jump out because they're due to become free agents this offseason and their teams are terrible. Masterson has lost nearly three miles an hour off his trademark sinker this year and besides, he's an extreme ground ball pitcher (61.6% in 2014 and 56.1% from 2011-13). A pitcher who relies on his infield that much is a very bad fit for the Yankees given their current roster. I mean, yeah, you can play Brendan Ryan at short on days he starts, but that would only help so much. McCarthy, on the other hand, is another ground ball heavy guy (54.1% in 2014 and 45.6% from 2011-13), except he has a long history of injury problems. He's visited the disabled list at least once with a shoulder injury every year from 2009-13. It's only a matter of time until he gets hurt this year. The Yankees need to add some reliability to the rotation, someone with a track record of durability who can miss bats and won't live and die by the infield defense. That's the perfect world scenario. Does that pitcher exist? I don't know.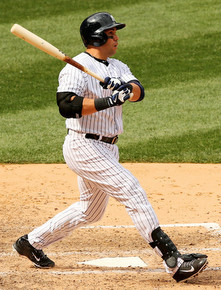 4. Anyway, let's shift gears to another potentially devastating injury, the bone spur in Carlos Beltran's elbow. He received a second cortisone injection a few weeks ago and that's bad news — cortisone shots are supposed to provide instant relief and the need for a second shot indicates the first isn't working. Beltran is scheduled to see Dr. James Andrews today and it seems more and more likely he is destined for surgery, which would keep him out either 6-8 or 8-12 weeks, depending on who you ask. Either way, it'll be a while. Given the state of the rotation, the Yankees are basically going to have to out-hit their pitching staff this summer to contend, and that will be very difficult without the best all-around hitter on the roster. I know Beltran was in a big slump before he got hurt, but I think it was only a matter of time before he snapped out of it and started to hit like he did earlier this season. Between him potentially missing so much time and the shaky non-Masahiro Tanaka starters, extended winning streaks will be very tough to put together.
5. That said, if Beltran does need surgery and will have to miss so much time, the Yankees have to sign either Stephen Drew or Kendrys Morales in my opinion. Joe made the case for signing both and while that would be neat, I don't think it'll happen. Both guys have something to offer but squeezing Drew into the lineup to full take advantage of what he has to offer (specifically his defense) will be tough until the Yankees commit to playing Derek Jeter at DH on a near full-time basis. Considering they played him at short and moved Ryan to first base (!!!) on Sunday, I'm guessing there's close to zero chance of that happening. Morales, meanwhile, would more or less replace Beltran's switch-hitting bat and he could slot right in as the regular DH. Alfonso Soriano would have to play right field everyday, and while that isn't ideal defensively, he has said he prefers playing the field than sitting around for innings on end as the DH. The small sample numbers back that up. Signing Morales to replace Beltran would be the bigger upgrade in my opinion and give the Yankees a better chance to out-hit their pitching staff, so to speak.
6. I think Drew is going to sign with the Tigers almost immediately after the draft. Like, literally the day after. I remember reading somewhere that the earliest he and Morales could sign without requiring the signing team to forfeit a draft pick was the day after the first day of the draft, so Friday, June 6th. I think he'll be a Tiger that day. Detroit's shortstops have been atrocious (29 wRC+) and they are so very clearly in win now mode. Max Scherzer, Victor Martinez, and Torii Hunter are all free agents after this season and others like Miguel Cabrera, Justin Verlander, Ian Kinsler, Joe Nathan, and Anibal Sanchez aren't getting any younger. The window could not possibly get any more open. GM Dave Dombrowski tends to be decisive when addressing the team's needs and owner Mike Ilitch has certainly not been shy about opening his wallet to improve the team. Many teams we see deals that are so obvious and such great fits not happen for whatever reason. I think this is an exception. Drew to the Tigers feels inevitable.