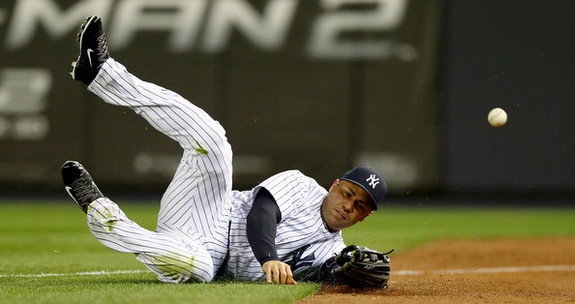 Last season was forgettable in more ways than one, but one thing I did not forget is the way it was written off almost universally as bad luck. They had too many injuries to overcome and really, who could see them coming? Joe Girardi and Brian Cashman and Randy Levine told anyone who would listen how proud they were of the guys for hanging in right until the very end. We heard it at every press conference this winter.
The problem with that whole idea was that many of the injuries weren't bad luck. Curtis Granderson having bones broken by pitches not once, but twice? Yeah that's bad luck. Derek Jeter having a series of leg issues after coming back from a fractured ankle? That's not bad luck at all. Kevin Youkilis' back? Travis Hafner's shoulder? As predictable as injuries get given their histories. Mark Teixeira's initial wrist injury was not expected, but the fact that he eventually needed surgery surprised no one. There was much more than bad luck at play.
This season, the Yankees are going through almost the same thing right now. Michael Pineda has a shoulder injury after missing two years following shoulder surgery. CC Sabathia is on the DL for the third time in four years because his twice surgically repaired knee is acting up. Teixeira's wrist has been fine, but his legs have been giving him trouble, as they did in 2010 (blown hamstring) and 2012 (calf strain). Carlos Beltran's elbow is an issue and, wouldn't you know it, Frankie Cervelli is hurt again. The only surprise injuries this year are Ivan Nova's blown out elbow and Shawn Kelley's back, though Kelley landing on the DL is not surprising in and of itself. He has a long history of elbow problems.
The Yankees made their bed with potential injuries this year, and the same is true defensively. By far the most consistent aspect of the team is the defense. It is consistently bad and it hurts them in some way every single game. It's remarkable, really. They never get away with a mistake. Beltran and Jeter have been poor defenders for years, presumed third baseman Kelly Johnson had only a handful of experience at the position before being relegated to the bench by Yangervis Solarte, who has his own defensive issues. Brian Roberts? The guy barely played the last four years and the rust has been evident, especially when it comes to throwing. The only defensive surprise has been Teixeira's issues.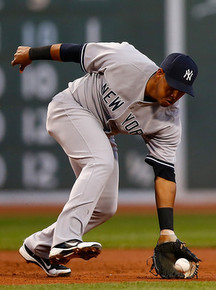 When Cashman & Co. sought to fix last year's roster over the winter, it seems like the focus was simply adding the best players available. That's good, don't get me wrong. But there didn't seem to be much regard for actual needs. The Yankees already had a top notch center field defender and leadoff man in Brett Gardner, yet they added another one in Jacoby Ellsbury. With Gardner and Ellsbury joined by slugger Alfonso Soriano in the outfield, they added another slugging outfielder in Beltran. The lack of power and on base skills still exists. Among the four big offseason pickups, only Brian McCann and Masahiro Tanaka filled actual positional needs.
The roster puzzle pieces don't fit well together. The Yankees built an amazing outfield defense with Ellsbury and Gardner while more or less punting glovework on the infield. That unit is supposed to support a pitching staff that focuses on ground balls because Yankee Stadium is tiny and they don't want to give up many homers. Do you see the problem here? It's backwards. Either the infield needed to be the strongest part of the defense or the pitching staff had to start allowing the ball to be hit in the air. The Yankees have tried to compensate for the infield defense with shifts, but Mark Simon recently noted they have been hurt by the shift more than any other team in baseball. (Part of that is just how often they use them, more shifts means more chances to get burned.)
I don't mean for this to come off as complaining, but I guess it sounds like that anyway. The point I'm trying to make is that all the injuries and shaky defense are not bad luck problems, they're roster design problems. There was this sense of "let's get the best players we can and figure out how it all works later" throughout the offseason. The roster is prone to injury because there are so many older and/or injury prone players, and it's prone to bad defense because pitching staff is emphasizing the bad defenders. You need good players to succeed and the Yankees acquired several good players this winter. They were just good players who didn't address the team's biggest weaknesses.