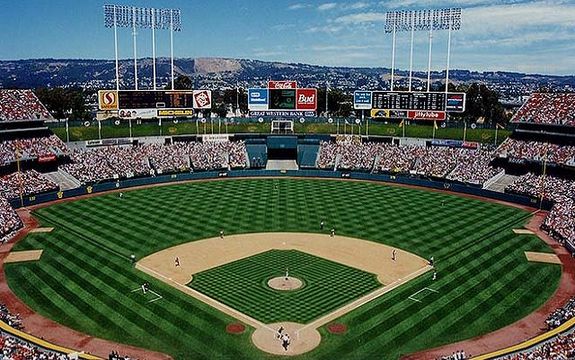 The Yankees are coming off a pretty awesome three-game sweep of the Mariners in Seattle, and now they head down to the Bay Area for three games against the AL-best Athletics. These are the Yankees' final three West Coast games of the regular season. Oakland won two of three in the Bronx last week.
What Have They Done Lately?
Since that series in Yankee Stadium, the A's took two of three from the Orioles and lost two of three to the Angels. They still own the very best record in the league at 40-26, and their +130 run differential is the best in baseball by a mile. The Giants have the next highest at +59. That's what happens when you score the most runs (336) and allow the fewest runs (206) in the game. The A's are a powerhouse.
Offense
Like I said, Oakland leads baseball in runs scored. They're excellent on a rate basis as well, averaging 5.09 runs per game with a team 111 wRC+. Manager Bob Melvin is currently without OF Josh Reddick (75 wRC+), who is on the disabled list with a knee injury. He is not eligible to be activated this weekend. Other than that, the A's are healthy.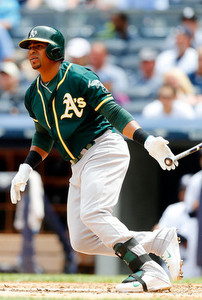 OF Yoenis Cespedes (125 wRC+) is the team's biggest name player, but 3B Josh Donaldson (140 wRC+) and 1B/OF Brandon Moss (155 wRC+) are their most productive regulars by a rather large margin. Donaldson does come into the series riding a 1-for-28 (.036) slump, but for some reason that doesn't make me feel any better about facing him this weekend. The catcher platoon of C John Jaso (133 wRC+) and C Derek Norris (151 wRC+) is insanely productive. You can run on them though — runners are 41-for-47 (87%) in stolen base attempts against the duo.
OF Coco Crisp (129 wRC+) and SS Jed Lowrie (92 wRC+) are pretty much the club's only two other regular players. The rest of the lineup is based on platoons and matchups. OF Craig Gentry (81 wRC+), C/OF Stephen Vogt (113 wRC+ in limited time), 1B Kyle Blanks (155 wRC+ in limited time), and IF Alberto Callaspo (78 wRC+) are all useful when used properly. IF Nick Punto (99 wRC+) has been solid, IF Eric Sogard (44 wRC+) less so. As we saw last week, this lineup is rather relentless. If nothing else, they make the pitcher really work for his outs.
Pitching Matchups
Friday: RHP David Phelps (vs. OAK) vs. RHP Sonny Gray (vs. NYY)
Believe it or not, the Athletics have only two homegrown players on their entire roster. The 24-year-old Gray is one of them. He has emerged as the staff ace since making his debut late last year, and this season he owns a 2.83 ERA (3.47 FIP) in 13 starts and 86 innings. His strikeout (7.53 K/9 and 20.3 K%) and walk (3.24 BB/9 and 8.8 BB%) numbers are not eye-popping, though he does excel at getting ground balls (55.3%) and keeping the ball in the park (0.63 HR/9 and 9.4 HR/FB%). He doesn't have a platoon split either. Gray works in the low-to-mid-90s with his two and four-seam fastballs, and will occasionally mix in an upper-80s cutter. A power low-80s curveball is his moneymaker. It's nasty. He'll also throw some mid-80s sliders and changeups per start. The Yankees did not face Gray in New York last week.
Saturday: RHP Hiroki Kuroda (vs. OAK) vs. LHP Scott Kazmir (vs. NYY)
Kazmir, 30, has brought his career back from the dead these last two years following all sorts of arm problems and a stint in an independent league. He has a 2.20 ERA (2.94 FIP) in 13 starts and 82 innings with solid to excellent peripherals across the board: 7.68 K/9 (21.9 K%), 1.87 BB/9 (5.3 BB%), 0.55 HR/9 (6.3 HR/FB), and 49.3% grounders. It's worth noting that while his platoon split is kinda small, Kazmir has been quite a bit better at home (.237 wOBA) than on the road (.268 wOBA). The O.co Coliseum is a good place to pitch. Kazmir sits in the low-90s with his sinking two-seamer and will occasionally hump it up to 94-95. We saw a little of that last week. He still throws his low-80s slider but has since added an upper-70s changeup and mid-70s curveball to his repertoire. Kazmir struck out ten and held the Yankees to two runs in 6.1 innings a week ago.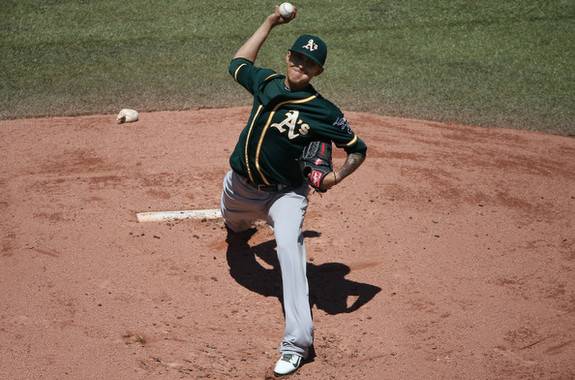 Sunday: LHP Vidal Nuno (vs. OAK) vs. RHP Jesse Chavez (vs. NYY)
The Athletics have a knack for finding productive pitchers in weird places. Chavez, 30, was literally purchased from the Blue Jays two years ago, and he's since gone from long man to starter because of the injuries to Jarrod Parker and A.J. Griffin. Through 13 starts and 80 innings, he has a 3.04 ERA (3.59 FIP) with very good strikeout (8.33 K/9 and 22.0 K%) and walk (2.36 BB/9 and 6.3 BB%) rates. The ground ball (44.9%) and homer (1.01 HR/9 and 11.3 HR/FB%) numbers are a bit less impressive. Chavez does not have a big home/road split like Kazmir, but lefties (.339 wOBA) have had much more success against him that righties (.247 wOBA). As a starter, Chavez sits in the low-90s with his two and four-seam fastballs, and a tick below that with his cutter. A low-80s changeup and mid-70s curveball are his two secondary pitches. The Yankees managed to push across four runs in six innings against Chavez last week.
Bullpen Status
Melvin's bullpen is led by closer LHP Sean Doolittle (1.18 FIP), who has 44 strikeouts and one walk in 31 innings. That is kinda nuts, especially since he was a first baseman as recently as early 2012. (Doolittle is the other homegrown player.) RHP Luke Gregerson (2.54 FIP) handles most of the setup work now that RHP Jim Johnson (4.04 FIP) has flopped. Former Yankees property RHP Dan Otero (3.39 FIP) will also see high-leverage innings. New York had him for about three days between waiver claims last spring.
The rest of the bullpen includes LHP Fernando Abad (2.42 FIP), RHP Ryan Cook (4.27 FIP), and long man LHP Jeff Francis (5.05 FIP). The Athletics were off yesterday, so their bullpen is as fresh as can be in mid-June. Masahiro Tanaka and Chase Whitley took the ball deep into the game the last two nights, so the Yankees' bullpen is decently rested as well. Check out our Bullpen Workload page for recent reliever usage, then head over to Athletics Nation and Beaneball for the latest and greatest on the best team in the game.