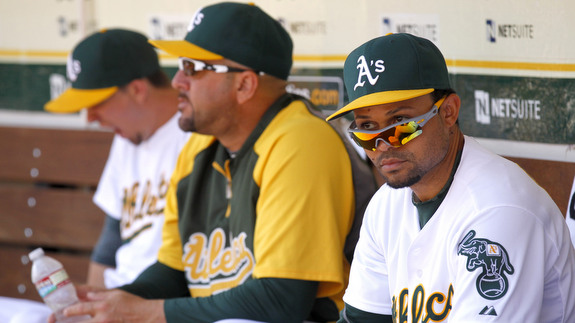 The soft part of the schedule is over. The Yankees had their fun with the Mets and Pirates and Cubs and White Sox and Twins of the world (8-8 in 16 games, great job!) these last few weeks, and now it's time to deal with the elite. The Athletics are in the Bronx for the final three games of the homestand and they bring the best record in the league with them.
What Have They Done Lately?
Like I said, Oakland has the best record in the AL at 35-22. Their +115 run differential is just about double the next best in baseball. Seriously. That's what happens when you score the most runs (296) and allow the fewest runs in baseball (181). Some combination, huh? The A's just swept a three-game series from the Angels, but before that they actually lost six of eight.
Offense
Again, the Athletics have scored the most runs in baseball (5.19 per game), and their team 115 wRC+ is obviously sky high. Manager Bob Melvin's lineup is mostly healthy, though 1B/OF Brandon Moss (160 wRC+) and OF Josh Reddick (75 wRC+) are a little banged up with nagging calf and knee injuries, respectively. They sat a few games this weekend and are expected to return to the lineup soon.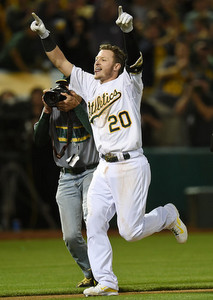 OF Yoenis Cespedes (116 wRC+) is Oakland's big name on offense, but 3B Josh Donaldson (161 wRC+) is their best all-around player by a rather large margin. The catching platoon of C John Jaso and C Derek Norris (both 149 wRC+) is unfairly productive, and SS Jed Lowrie (110 wRC+) hits enough to make up for his occasionally sketchy defense. Oh, and OF Coco Crisp (115 wRC+) is one of the best leadoff hitters in baseball.
The A's have an incredibly deep bench loaded with platoon options, including OF Craig Gentry (93 wRC+), 1B Kyle Blanks (144 wRC+ in limited time), IF Alberto Callaspo (96 wRC+), and IF Nick Punto (93 wRC+). IF Eric Sogard (52 wRC+) is the weak link. He's been losing playing time at second to Callaspo and Punto. C Stephen Vogt was just called up and allows Melvin to pinch-hit liberally for Jaso and Norris to get the platoon matchup. They hit homers, they steal bases, and they draw walks. It's brutally effective.
Pitching Matchups
Tuesday: RHP Hiroki Kuroda (vs. OAK) vs. LHP Scott Kazmir (vs. NYY)
Kazmir, 30, turned his successful comeback attempt with the Indians into a two-year, $22M contract with the Athletics over the winter. He has a 2.36 ERA (3.02 FIP) in eleven starts and 68.2 innings this year, though his strikeout rate (6.85 K/9 and 19.9 K%) is way down compared to even last season. His walk (1.70 BB/9 and 4.9 BB%) and homerun (0.52 HR/9 and 5.6 HR/FB%) rates are way down and his ground ball (49.2%) rate is way up. Kazmir has a reverse split so far — righties have a .248 wOBA while lefties are at .290 — and he's been much better in the spacious O.co Coliseum (.237 wOBA) than on the road (.275 wOBA). No longer the mid-to-high-90s flamethrower he was with the (Devil) Rays, Kazmir now operates right around 90 mph with his sinking two-seam fastball, and he still throws that nasty low-80s slider. He is still throwing his upper-70s dead fish changeup and has added a mid-70s curveball to his repertoire this season. It's hard to believe that after all those arm injuries, Kazmir is not only back in the show, but he's back and is damn good too.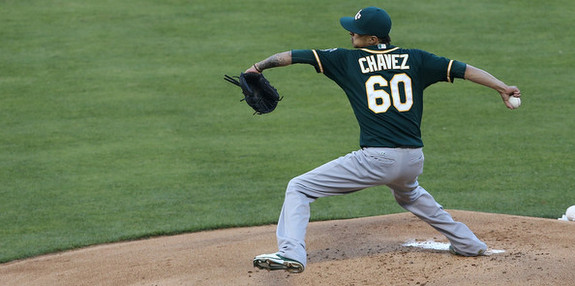 Wednesday: LHP Vidal Nuno (No vs. OAK) vs. RHP Jesse Chavez (vs. NYY)
When the A's lost Jarrod Parker and A.J. Griffin to Tommy John surgery in Spring Training, the pulled the 30-year-old Chavez out of the bullpen and stuck him in the rotation. The result? A 2.78 ERA (3.55 FIP) in eleven starts and 68 innings. Only the A's, man. Chavez gives up some more homers than his teammates (1.06 HR/9 and 12.9 HR/FB%), but otherwise his strikeout (8.47 K/9 and 22.7 K%), walk (2.38 BB/9 and 6.4 BB%), and ground ball (47.0%) numbers are all very good. Lefties (.327 wOBA) have hit him much, much harder than righties (.246 wOBA). As a starter, Chavez sits in the low-90s with his two and four-seam fastballs, and a tick below that with his cutter. A low-80s changeup and mid-70s curveball are his two secondary pitches. Chavez bounced around the league for a few years — he was the guy the Rays traded to the Braves for Rafael Soriano back in the day — but after joining the Athletics he dropped a ton of weight and took his career more seriously. Now he's in a contender's rotation. Baseball, man.
Thursday: RHP Masahiro Tanaka (No vs. OAK) vs. LHP Drew Pomeranz (vs. NYY)
Pomeranz, 25, was the fifth overall pick in the 2010 draft, and he has since been traded for Ubaldo Jimenez and Brett Anderson. He opened the season as a long reliever, but moved into the rotation a few weeks ago because Dan Straily was really, really bad. Pomeranz has a 2.37 ERA (4.28 FIP) in 38 innings spread across five starts and nine relief appearances so far this season. His strikeout (8.29 K/9 and 22.7 K%) and ground ball (49.0%) rates are very good, his walk (4.03 BB/9 and 11.0 BB%) and homer (1.18 HR/9 and 13.5 HR/FB%) rates a little too high. He has absolutely crushed lefty batters (.236 wOBA) while righties have been a bit more successful (.292 wOBA). Pomeranz also has a massive home (.219 wOBA)/road (.340 wOBA) split. As a starter, he'll sit right around 90 with four and two-seam fastballs, which he throws almost 80% of the time combined. An upper-70s/low-80s curveball is his top secondary pitch, and he'll mix in a few show-me mid-80s changeups per start. Pomeranz went from Coors Field to the O.co Coliseum, which is like a hitter going from Citi Field to Yankee Stadium. Just a much friendlier environment.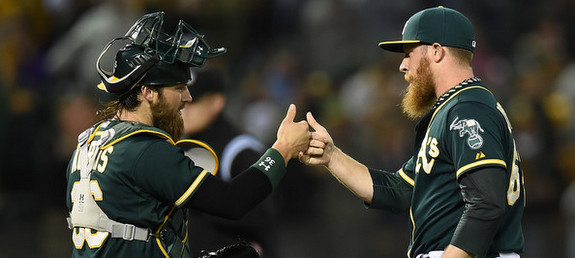 Bullpen Status
In a very out of character move, the Athletics traded for a big money closer in RHP Jim Johnson (3.66 FIP), and he has been a total bust (6.55 ERA). LHP Sean Doolittle (1.26 FIP) has taken over as closer with RHP Luke Gregerson (2.63 FIP) as the primary setup man. RHP Dan Otero (3.54 FIP), who was Yankees' property for about three days between waiver claims last spring , also gets some high leverage work.
Believe it or not, the A's are only carrying eleven pitchers right now, so the only guys in the bullpen are LHP Fernando Abad (2.23 FIP) and LHP Jeff Francis (4.06 FIP in limited time). RHP Ryan Cook (3.88 FIP) is expected to come off the disabled list very soon, and I assume that will put an end to the five-man bench/six-man bullpen experiment. Vogt seems most likely to go down. Oakland was off yesterday, so their bullpen is rested. Check out our Bullpen Workload page for the status of the Yankees' bullpen, then check out Athletics Nation and Beaneball for everything you need to know about New York's opponent for the next three days.
Update: The A's activated Cook and placed Reddick on the 15-day DL with a hyper-extended knee this afternoon.