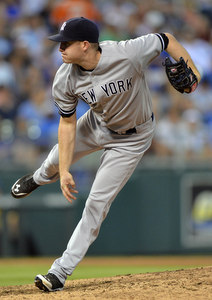 One of the many reasons the Yankees failed to reach the postseason last year was the lack of help from the farm system. Outside of Adam Warren, who was a low-leverage swingman, no one came up from the minors and was able to contribute when the opportunity for playing time presented itself. David Adams and Austin Romine didn't hit, and others like Zoilo Almonte and Vidal Nuno quickly went down with injuries.
This season has been a little different, thankfully. Dellin Betances has emerged as one of the very best relievers in baseball and a key late-inning piece in Joe Girardi's bullpen. John Ryan Murphy had a successful stint as Frankie Cervelli's injury replacement and Jose Ramirez is being a given a chance to contribute out of the bullpen right now. Others like Rob Refsnyder and Jose Pirela could get looks in the coming weeks.
Given all the pitching injuries, I think you could argue Chase Whitley has had the most impact out of the team's homegrown players in 2014. It's either him or Betances, though the rotation would be in much worse shape without Whitley than the bullpen would be without Betances. That's what I think. Either way, both guys have been a big help and this is the type of production the Yankees weren't getting from their system a year ago.
Whitley, 25, has a 2.51 ERA (2.58 FIP) in 33.2 innings and six starts this season, the 15th through 21st starts of his five-year career. It's a really small sample, yeah, but I think it's remarkable he's done so well in a starting role (in MLB!) after being a reliever just about his entire life. Girardi has been careful with Whitley, limiting how often he's faced the lineup a third time and keeping his pitch count tight after so many years in the bullpen, which can be annoying but is understandable.
Now, with all due respect to Whitley and the job he's done, I think it's important to add some context to his performance. He's made six starts and the best lineup he's faced has been the Twins and their team 99 wRC+. That was also the only start Whitley has made at home in hitter-friendly Yankee Stadium. (He held Minnesota to one run in five innings.) The Cardinals have a 92 wRC+ while the Mets, Cubs, Royals, and Mariners are bottom six offenses (81-87 wRC+ range).
Whitley's two best starts have been his last two starts, when he held the Royals and Mariners to two runs in seven innings and 7.2 innings, respectively. As a team, the Royals have an 83 wRC+ in Kansas City while the Mariners boast an MLB worst 73 wRC+ at home in Seattle. Those are some favorable pitching conditions and Whitley did exactly what he was supposed to do in those games. I don't want to take anything away from him, pitching is hard, it's just important to fully understand what's been going on.
The Yankees open a three-game series with the Blue Jays tomorrow night and Whitley is scheduled to start the second game. Toronto will be, by far, the best lineup he has faced in his short time as a big leaguer. They lead baseball with 92 homers — Whitley's allowed just one dinger this year, a no-doubter by Logan Morrison last time out — and have a team 112 wRC+, also the best in baseball. Jose Bautista and Edwin Encarnacion are elite sluggers, Jose Reyes and Melky Cabrera high-end contributors, and Adam Lind is in the middle of his best season in forever. It's a tough assignment.
Now here's the thing: Whitley will face the Blue Jays on Wednesday, then he's scheduled to face them again in Toronto next Monday. The Jays have a 116 wRC+ as a team at home, so it's more or less a lineup full of David Ortizes (117 wRC+) whenever they're in Rogers Centre. The Man in White has been putting in some overtime this season, I guess. Whitley is not only going to face the best hitting team in baseball next time out, he's going to face them in back-to-back starts. It'll be the first time a team sees him twice.
Whitley has effectively replaced Michael Pineda, giving the Yankees high-end performance in short, workload-controlled starts. He's done it against a favorable schedule so far, but you can only pitch against who the schedule says you have to face. These next two starts against the Blue Jays will be the toughest test of Whitley's brief career and, given where they sit in the standings, the Yankees need him to be sharp so they can climb back into the division race. The cakewalk against the Mariners, Mets, Royals, et al is over. Whitley's about to be introduced to AL East baseball.