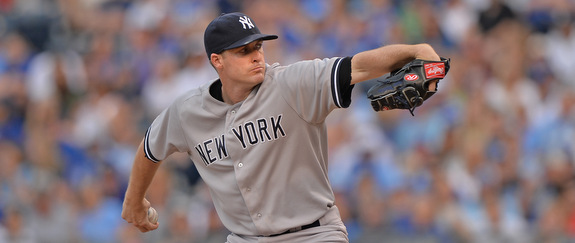 In the span of three weeks from late-April through mid-May, the Yankees lost three-fifths of their Opening Day rotation to serious injury. Ivan Nova is done for the year following Tommy John surgery, CC Sabathia is out for at least another few weeks with a degenerative knee condition, and Michael Pineda has already suffered a setback while battling a muscle problem in his shoulder. The Yankees will be lucky to get either Sabathia or Pineda back before the All-Star break at this point.
The injuries have forced the team to dip deep into their pitching reserves. With Adam Warren entrenched as a late-inning setup man, the Yankees pulled both Vidal Nuno and David Phelps out of the bullpen and called up converted reliever Chase Whitley. Those three plus Masahiro Tanaka and Hiroki Kuroda have made up the Yankees' rotation for about a month now. Needless to say, Nuno being third on the team in innings pitched (58) through 63 games was not part of the plan.
And yet, despite some ugly bumps in the road, the three replacement starters have actually done a pretty good job for the Yankees. At least on a rate basis. Here's how the three have fared since moving into the rotation:
| | Starts | Innings | IP per Start | ERA | FIP | K% | BB% | Opp. OPS |
| --- | --- | --- | --- | --- | --- | --- | --- | --- |
| Nuno | 10 | 53.2 | 5.1 | 4.19 | 4.45 | 17.4% | 7.1% | 0.753 |
| Phelps | 7 | 40 | 5.2 | 5.18 | 3.35 | 16.7% | 8.3% | 0.791 |
| Whitley | 5 | 26 | 5.1 | 2.42 | 2.27 | 17.0% | 2.8% | 0.649 |
| Total | 22 | 119.2 | 5.1 | 4.13 | 3.56 | 17.1% | 6.7% | 0.742 |
Phelps has taken a pounding his last three starts (18 runs in 17.2 innings), but, even with that, the three replacement starters have a 4.13 ERA and 3.56 FIP in 119.2 innings. That's pretty good. The average AL starter has a 4.08 ERA and 3.92 FIP this season, so these guys are in the neighborhood of league average. League average is good! Especially when taking about a team's sixth, seventh, and eighth starters.
The issue isn't necessarily their performance on a rate basis. The problem is the third column in the table, their innings per start. (I guess that's technically the fourth column. Whatever.) These three are barely averaging 5.1 innings per start, which is a total drain on the bullpen. In their 22 combined starts, they've failed complete six innings 14 times. They've failed to complete five innings six innings. On average, Joe Girardi has had to ask his bullpen to get 11 outs whenever these guys pitch. That's too much. We're talking about three rotation spots here.
The Yankees have gotten 343 innings out of their starters this season, ninth most out of 15 AL teams. Their relievers have thrown the fifth most innings at 191.2, primarily because these three are not taking the ball deep into the game. Part of that is simple ineffectiveness, part of it is getting stretched out (Nuno and Phelps had to build up their pitch count when they first moving into the rotation), and part of it is Girardi's reluctance to let them face the opposing lineup a third time. It's all understandable, but it doesn't lessen the demand on the bullpen.
I've said this before but it's worth repeating: with three five-and-fly starters in the rotation, the Yankees need a veteran long man Girardi can abuse. Someone he can use for 40 pitches one night, 25 the next, and 55 two nights after that. Alfredo Aceves was that guy for a little while, but he stunk and now it's Wade LeBlanc. I love Jose Ramirez and want to see him get a chance as much as the next guy, but not under those circumstances. Let someone who doesn't have a future in the organization deal with that workload. It sounds cruel, but that's baseball. Aceves and LeBlanc aren't stupid, they know this might be their last chance to stay in MLB, so they'll take the ball whenever asked.
The Yankees have gotten generally solid work from Whitley, Phelps, and Nuno, and, more than anything, the best way the team can help them is by scoring more runs. Score some more runs and Girardi will probably be more open to letting them face the lineup a third time, sparing the bullpen a bit. (Remember, the team handled Pineda careful early in the season, so he won't exactly soak up innings whenever he gets healthy.) It would be nice if these three guys could start recording another two or three outs per start, but, considering the circumstances, they've been solid. The rotation situation could have really spun out of control following the injuries. These guys didn't let it.