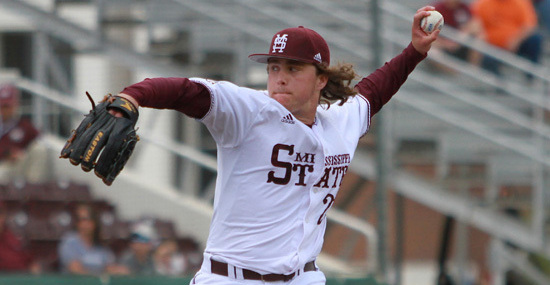 With their first pick in the 2014 amateur draft (second round, 55th overall), the Yankees selected Mississippi State LHP Jacob Lindgren. They did not have a first round pick after signing all those free agents over the winter. Here is what I wrote about Lindgren a few weeks ago and here is the obligatory video:
"Jacob has two Major League pitches that are above average and possess swing-and-miss quality. He has been extended for multiple innings and holds his stuff consistently," said scouting director Damon Oppenheimer in a statement. "Jacob has been very successful in a tough conference and has produced exceptional strikeout numbers. We are very happy to have selected him."
Lindgren, 21, was a full-time reliever this spring after trying out the rotation last year. He pitched to a 0.81 ERA with a 100/25 K/BB ratio in 55.1 innings this year, and his 16.27 K/9 would have been by far the highest in the country if he had enough innings to quality. As @collegesplits notes, Lindgren also had the second highest ground ball rate in Division I at approximately 79%.
Here is what the big three scouting publications have to say about the 5-foot-11, 205 lb. southpaw:
Baseball America (ranked 50th best prospect in the draft):
He regularly reaches 93-94 mph with his fastball with heavy life and arm-side run. He's tabled his curve and changeup in a relief role, sticking to the heater and his hard, plus slider in the low to mid 80s. His stiff delivery likely leads him to a future relief role as well, and his 16.8 strikeouts per nine indicate he can dominate in that job. Lindgren lacks command, and his control usually is just enough.
MLB.com (51st):
He has overmatched hitters more than ever in shorter stints, making it unlikely that he'll last past the second round of the Draft. His best pitch is a wipeout slider that arrives at 82-84 mph with late bite. His fastball has jumped from 87-91 mph as a starter to 91-95 as a reliever … Because Lindgren has a sinking changeup and throws strikes, a pro team could be tempted to develop him as a starter. But his stuff plays up as a reliever, and he could reach the Majors very quickly in the role. He has closer upside.
Keith Law (67th):
His fastball sat in the 88-90 mph range as a starter, but that has shot up to the 92-94 range in relief. That velocity plays up even more because of his slider, which flashes plus-plus with outstanding late tilt that is practically unhittable for left-handed hitters … Someone might be tempted to see if Lindgren's two plus pitches can play in the rotation, but more than likely he's a high-leverage reliever who can be death to left-handed hitters and hold his own against right-handers as well.
I am not at all joking when I say Lindgren might be better than Matt Thornton right now. Unless the Yankees try him in the rotation — always a possibility, but I think it's unlikely — Lindgren should fly through the system and become a big league bullpen option very soon. There's a chance he can pitch in the show later this season, a la Paco Rodriguez for the Dodgers two years ago. It's really a question of whether the Yankees will let him more than anything.
New York is reportedly planning to spend a ton of money internationally this summer, upwards of $30M between bonuses and penalties, so that is where they're going to add the high-ceiling prospects this year. They opted to use their top draft pick to add a player who can help the MLB club in short order. It's a reasonable strategy given their low draft slot and upcoming international spending spree. Plus they've stunk at player development lately and Lindgren doesn't need much work. The Yankees have plenty of power righty relievers in the system and he helps balance things out.
Slot money for the 55th overall pick is $1,018,700 and there are no concerns about Lindgren's signability. Mississippi State's season ended earlier this week, so he is free to sign at any time. I would expect it to happen soon. The Yankees didn't take a reliever with their top draft pick to wait around. They want to get his career started as quickly as possible.