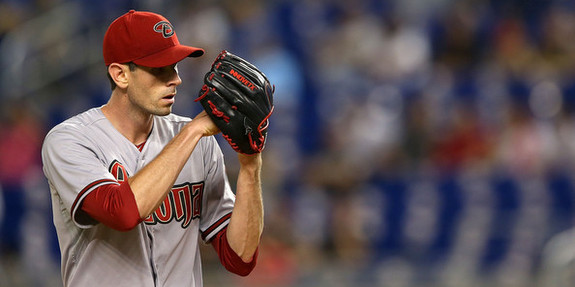 The Yankees were dealt a rather significant blow this afternoon when Masahiro Tanaka's barking elbow forced the team to place their ace on the 15-day DL. The All-Star break is next week, so the best case scenario means he will miss only two starts. Still, I'd rather not see him miss any.
Tanaka's injury comes a few days after the Yankees swung a deal for Brandon McCarthy, who will make his debut for the team tonight. I think he might be their ace right now. Boy things really fell apart in a hurry, huh? Hopefully McCarthy makes a strong first impression and the Yankees can get back in the win column following last night's loss. Here is the Indians lineup and here is the Yankees lineup:
CF Jacoby Ellsbury
DH Derek Jeter
C Brian McCann
1B Mark Teixeira
2B Brian Roberts
RF Ichiro Suzuki
LF Zoilo Almonte
3B Zelous Wheeler
SS Brendan Ryan
RHP Brandon McCarthy
It is cloudy and cool in Cleveland, but there is no rain in the forecast. Shouldn't be any trouble getting this game in. First pitch is scheduled for 7:05pm ET and can be seen on YES. Enjoy.
Injury Updates: Brett Gardner is day-to-day with a lower abdominal strain and is day-to-day. Tests confirmed it is not a hernia and he hopes to play tomorrow … Carlos Beltran was scratched from tonight's lineup after a ball ricocheted off the cage and hit him below the eye during the batting practice. I'm not joking.
Roster Updates: Almonte was called up to take Tanaka's spot on the roster … the Yankees have not yet announced who will start Sunday's game in Tanaka's place. I assume it depends on whether Chase Whitley is needed in relief these next few days.