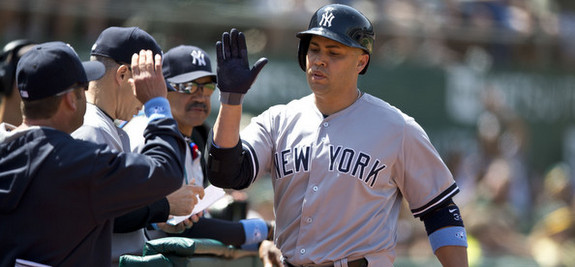 After taking full batting practice on the field before the game, Mark Teixeira came off the bench as a pinch-hitter last night. That's a pretty good indication he's over his mild lat strain and will return to the starting lineup tonight. Here are some more injury updates, courtesy of Bryan Hoch, Chad Jennings, and George King.
Masahiro Tanaka (elbow) is still in New York and continues to receive treatment. Apparently three weeks out from the platelet-rich plasma injection has some sort of importance as far as knowing whether it's working. Tanaka received his injection two weeks ago yesterday, so another six days to go. "Nothing's really going to change until the three-week mark. He's staying back and doing treatment every day. He feels better and better. You just kind of wait to see where you are after three weeks," said Joe Girardi.
Michael Pineda (shoulder) is scheduled to throw 45-50 pitches in three simulated innings down in Tampa today. If that goes well, they'll continue stretching him out, and eventually he'll head out on an official minor league rehab assignment. "As long as he feels good and is throwing the ball well, there'd be no reason not to bring him back. It's the same as Spring Training. You build them up, when they're ready to go, you send them," said Girardi.
Carlos Beltran (elbow) is already throwing from 100-120 feet as part of his throwing program. He has not had any problems or discomfort, and there is a chance he can return to the outfield as early as next week, when the team returns home. Beltran isn't good defensively, but not being married to the DH spot will give Girardi some more lineup flexibility.