Got ten questions and nine answers for you this week. The best way to send us anything is through the Submit A Tip box in the sidebar. We get a ton of questions each week, so don't take it personally if we don't get to yours.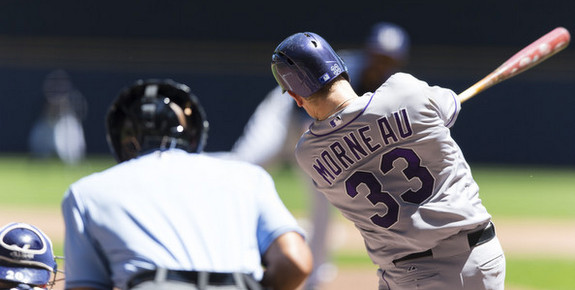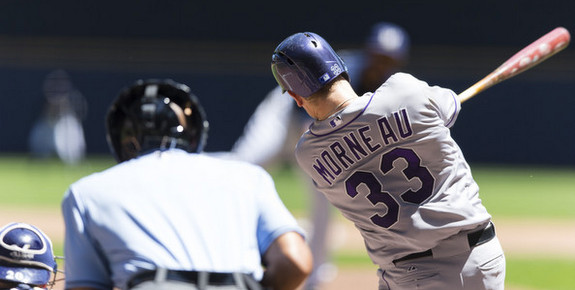 Vinny asks: Obviously he'd have to get his at-bats at DH at the expense of Carlos Beltran, but would you target Justin Morneau at the trade deadline? What would it take to get him?
Morneau, 33, is hitting .312/.345/.502 (119 wRC+) with 13 homers this year, his first with the Rockies. He's actually hit better on the road (127 wRC+) than at Coors Field (109 wRC+). Morneau has big left-handed pull power and he'd fit wonderfully in Yankee Stadium, plus he's always been a high contact hitter (10.6 K% this year). The Yankees need righty power more than lefty power at this point, but you take what you can get. The issue is Morneau's contract — he's signed for $6.75M next year and I'm not sure where they'd play him unless Beltran or Mark Teixeira went down with long-term injury. It took an okay big leaguer (Nate Schierholtz) and two prospects to get a year and half of Hunter Pence, which seems like a decent trade comp for Morneau. I'm just not sure where the Yankees would play him (unless Beltran has his elbow surgery).
Paul asks: Does St. Louis have any spare pieces the Yankees could deal for since they will need a catcher with Yadier Molina on the shelf for a while?
The Cardinals have a really deep farm system and lots to give up for a interim catcher, whether it be a stopgap like Frankie Cervelli or more of a long-term solution like John Ryan Murphy. Cervelli's trade value is tiny as an injury prone out of options catcher. George Kottaras is roughly as valuable overall and he's on waivers every other week (St. Louis actually claimed him right after the Molina injury). Murphy for someone like Randal Grichuk or Steven Piscotty would make a ton of sense for the Yankees since they could stick either player in right field immediately, but I'm guessing the Cardinals would balk, definitely on Piscotty. I get the sense the Cards will just ride this one out with what they have, maybe swing a nothing for a Cervelli type trade. Nothing more.
Jeb asks: Assuming the Yankees fold, would a trade of Jacoby Ellsbury to the Mariners be out of the question? If not, what would you guess the trade would look like?
I don't think the Yankees would trade him, but, even if they were open to it, a deal like this would hinge entirely on Seattle's financials and their willingness to take on that contract. This isn't a salary dump in my opinion, Ellsbury is too good of a player to eat money to move him in a trade. The Yankees would be trading an impact two-way player, someone who is a standout center field defender and top notch leadoff man, so the return would be pretty big. I'd ask for Taijuan Walker, Nick Franklin, and a very good prospect as a third piece. I don't even like Franklin all that much (Danny Espinosa without the defense!) and Walker has been battling shoulder issues all season, so that package might even be a little light. An Ellsbury trade doesn't seem likely at all.
Danny asks: Do you know if Luis Severino has an innings limit this year? At the time of his AA promotion, he's at 88.1 IP for the year, which is double what he pitched last year.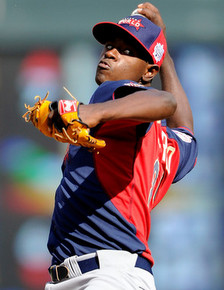 I'm sure he does. He is only 20, after all. Severino threw 64.1 innings in the Dominican Summer League in 2012 and 44 official innings last year. That doesn't include all the time he spent in Extended Spring Training, however. (He made his official season debut in late-June, so he was in ExST for a while.) I have absolutely no idea how many innings he could have thrown there, but he "real" innings total for last season might be closer to 80-90. If so, that would put him in line for 120 or so this year. So he's got another month or so before being shut down, more or less.
Joe asks: With the lack of any impact talent from the draft and Mason Williams, Slade Heathcott, Rafael DePaula, Manny Banuelos and Tyler Austin regressing (although I still think Austin ends up a solid ML player) and the Eric Jagielo, Jose Campos, and Abi Avelino injuries, would you say the system is having another down year or do you like the progress of others enough to offset this? Is this a top 15 or 20 system?
Nah, I don't think this is another down year. Williams and Austin have disappointed and Heathcott and Campos have serious injuries, sure, but the Jagielo (oblique) and Avelino (quad) injuries were just muscle strains. Nothing structural like Heathcott's shoulder/knee. Aaron Judge and Severino have emerged as top 50-ish prospects while Jagielo, Ian Clarkin, and Gary Sanchez are having good years. Dante Bichette Jr. has rebounded well, Jake Cave has built on last year's breakout, and guys like Jorge Mateo, Alex Palma, and Leonardo Molina all make their domestic debuts. Has it been a great year? No. But I don't think this is a down year. If anything, it's a normal year. Some good, some bad, lots in the middle. I think the system is in the 11-20 range among the 30 teams right now, probably closer to 13-17 if you want a tighter range.
Ryan asks: Would best case scenario for Peter O'Brien be Mark Trumbo? With offense in short supply around the league, there has to be a spot for him somewhere if he continues to hit for this kind of power.
Yeah, that sounds about right. It is worth noting that when Trumbo was O'Brien's age, he was hitting .299/.366/.575 (133 wRC+) with 36 homers at Triple-A, with better strikeout (21.2%) and walk (9.2%) rates than O'Brien has now (24.5% and 4.6%, respectively) in Double-A. O'Brien's right-handed power is very real — I seem to remember Keith Law rating it a 70 on the 20-80 scale recently and 70 power is no joke, but I can't find the link — but I'm not going to lie to you, I am very skeptical about whether O'Brien will be able to tap into that power at the big league level given the holes in his swing and his general lack of plate discipline. Keep giving him chances, of course. Everyone should be thrilled if he turns into Trumbo.
Mark asks: At what point do we know if Shane Greene is the real deal? I know two starts is a ridiculously small sample, but he sure would be a nice find in a bleak (to this point) season. Thanks in advance.
The stuff is the legit, right? You can see that from watching him. PitchFX says Greene has averaged 93.9 mph with his sinker and 87.8 mph with his slider, which will play anywhere. The only question is whether he will continue to command it well enough to be successful. I don't think we can put a number on this, X starts or Y innings before knowing if he's the real deal. Greene is going to hit a rough patch at some point, it's inevitable, and his ability to adjust will determine if he's the real deal. I will say that I feel far better about his chances of remaining in the rotation long-term because of the quality of his stuff than I did Chase Whitley, with all due respect. Whitley did have a nice little run there and that shouldn't be forgotten. Greene's stuff is more built to last.


Tom asks: With Masahiro Tanaka out for a while, could they flip Brandon McCarthy prior to the deadline if they fall further back (another good start or two and I'd think they could end up with something even better than Vidal Nuno)? Is there a restriction on trading a player recently acquired? (time limit? player approval?)
Darrin asks: With the health of CC Sabathia and Michael Pineda in indefinite question and Hiroki Kuroda's retirement coming sooner rather than later, if McCarthy pitches well would you be in favor of the Yankees signing him to a short term deal (1 year+option, 2 years) this offseason? He would cost less than some of the high dollar FA guys, although I wouldn't mind another elite pitcher as well. Yanks need to fill several rotation spots.
Going to lump these two together. The Yankees could flip McCarthy at the deadline, there are no restrictions. The Red Sox acquired Adam LaRoche just before the 2009 trade deadline and traded him away nine days later. I don't think they would get anything more than Nuno in return, however. There are a ton of teams looking for another starter and no one bit on McCarthy when he was with the Diamondbacks. If anything, they'd get a player similar to Nuno in return, nothing better.
As for re-signing McCarthy, that depends on how he performs in the second half, obviously. His long history of shoulder trouble is scary, so that will have to be considered. If McCarthy pitches well down the stretch and he's open to a short-term contract, then sure, bring him back. The Yankees are going to need pitching and he's a solid option for the middle to back of the rotation. As we've seen this year, there is no such thing as too much pitching. There will always been room for him. McCarthy is on a two-year, $15.5M contract right now and I wouldn't go any higher than that after the season. Maybe even offer less since he's two years older and not as good as he was the last time he was a free agent. Two years and $12M instead?
Austin asks: I'm glad to see that Bernie Williams is going to be honored with a plaque in Monument Park next year, but I think he deserves a larger footnote to the 'Core Four' discussion. From 1995 – 2002 he slashed .321/.406/.531 and averaged 5.2 bWAR. How does Bernie stack up with center fielders of his era?
I hate the Core Four (the term, not the players) because it completely ignores Bernie for no other reason than because Core Five doesn't rhyme. It is pretty disrespectful to the guy who was the best all-around hitter on the team during the dynasty years. Anyway, Bernie's peak was basically 1994-2002, so a strong nine years. Let's stretch it out and call his era 1990-2005. I'm not sure where else to cut it off. Here is the center field WAR leaderboard during that period (full list):
No, WAR isn't perfect, but it's fine for an exercise like this. Plus it's easy to search. Griffey being at the top should be no surprise. It's definitely Griffey (big gap) Lofton (moderate gap) everyone else among center fielders of the era. There's a decent-sized gap between Bernie and the number six player, Steve Finley (43.7 WAR and 107 OPS+). You could argue that, offensively, Williams was the third best center fielder behind Junior and Edmonds. His defense lagged behind the other guys and that costs him, but I don't see any shame in being the fifth best overall center fielder in an era with Griffey, Lofton, Edmonds, and Andruw. All five of those guys are borderline Hall of Famers at worst.