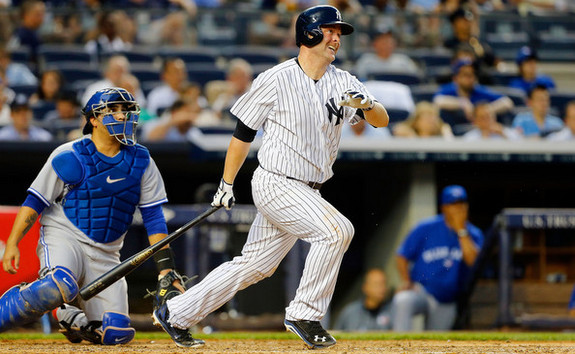 As we discussed in our Midseason Grades post earlier today, Brian McCann has been a huge disappointment in his first half-season as a Yankee. He is hitting only .239/.294/.377 (83 wRC+) overall despite a strong road trip (13-for-39) heading into the All-Star break. The Yankees didn't guarantee this guy $85M over five years to hit like that. They expected him to do damage and he has not done that.
In the middle of the road trip we learned McCann had made some changes to his stance and swing mechanics with the help of hitting coach Kevin Long. Minor changes, of course, no one is going to overhaul a seven-time All-Star after a bad half-season, but changes nonetheless. When you struggle for 80-something games, it's time to start tinkering.
"I'm no longer toe-tapping," explained McCann to Erik Boland last week. "I've gotten wider, I've gotten more into my base and basically I've been doing four or five unnecessary movements to get to the baseball."
So, first things first, here is the side-by-side comparison of McCann with the toe-tap (left) and McCann without the toe-tap. I'm not the most tech savvy person, but I did my best to sync the GIFs at the moment his front foot hits the ground: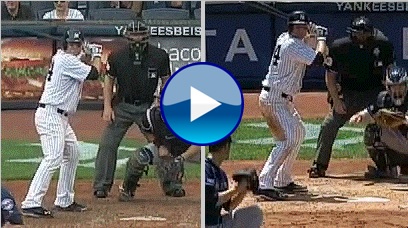 The toe-tap is pretty noticeable. It also looks like his stance is a little more closed and he isn't jerking his hands towards his body before his swing, but I'm not sure if that's something he's worked to change or if it's just something that happened on this one swing. The toe-tap is there on the left (game on June 20th) and gone on the right (July 2nd) though, that's clear and McCann confirmed it was intentional.
Thanks to the magic of MLB.tv, I went back through the archives and found that McCann's first game without the toe-tap was June 27th, the first game of the home series against the Red Sox, when Vidal Nuno unexpectedly pulled 5.2 scoreless innings out of his behind. McCann did not play on the 26th (team off-day) and he did not play on the 25th either (personal off-day), so he had two consecutive days off and was probably working with Long on these mechanical changes.
"I made some big changes in my swing," added McCann while talking to Jorge Castillo yesterday. "I just broke down film. I finally got to the point where things that I've been doing in the past weren't working. Long kind of hit the reset button and basically broke down my swing and showed me what I was doing wrong, and I've been simplifying my swing."
McCann actually went 2-for-4 with a double on June 24th, but he went into that game in an 0-for-9 and 4-for-27 (.148) slump. His batting line sat at .223/.284/.360 (76 wRC+) through 268 plate appearances following that game, he took the next two days off, and has hit .310/.339/.448 (115 wRC+) in 68 plate appearances without the toe-tap since. That's the guy the Yankees thought they were signing, more or less.
Now, courtesy of the amazing Baseball Savant, here are McCann's spray chart heat maps with (left) and without (right) the toe-tap: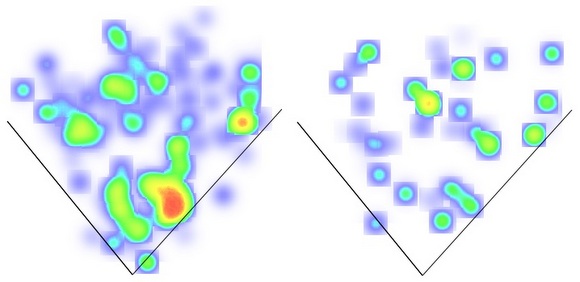 He's pulling the ball more! Well, kinda. I know everyone wants McCann to hit the ball the other way because it's aesthetically pleasing and it beats the shift — McCann already has 20 opposite field hits this year, more than he did in each of the last three seasons — but he's much more effective when he pulls the ball. He was losing hits to the shift even when he was focused on going the opposite field anyway. Might as well just stick to his strengths and try to yank the ball down the line to right. That's who he is. Embrace it.
I don't really know how the toe-tap helps McCann but I assume it's a timing thing. Get your front foot down earlier and you'll be better able to see the ball and have a better base underneath you for you swing. That sounds like something that might be right, right? Who knows. All I know is that McCann and Long worked to eliminate that toe-tap and he's been much more productive since. It might be anything more than a coincidence. I hope it's not. McCann was very good on the road trip and getting him back to being the guy he was all those years in Atlanta would be the best possible offensive upgrade the Yankees could make in the second half.