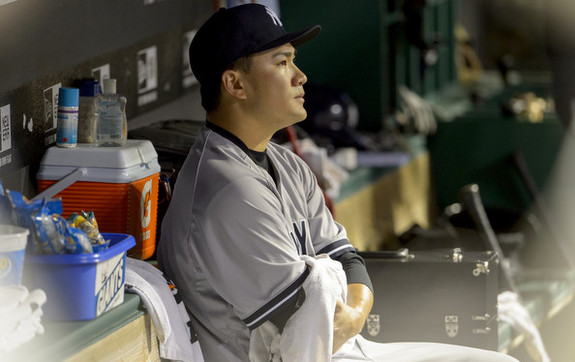 5:01pm: The Yankees have placed Tanaka on the 15-day disabled list with elbow inflammation, Joe Girardi told reporters. He had the MRI earlier today but the team doctors have yet to review the results. "I'm not saying it's a significant injury, but there's soreness," said the manager. "It's not how you draw it up, but injuries are a part of the game."
3:28pm: Masahiro Tanaka has left the Yankees to travel to New York for an MRI on his right elbow, according to George King. Jon Heyman says Tanaka told the team he was dealing with some discomfort following last night's start, so hopefully this is nothing more than a precaution.
The Indians roughed Tanaka up for five runs on ten hits in 6.2 innings last night, though after the game he told reporters he "didn't feel that bad." Last time out the Twins got to him for four runs on nine hits in seven innings. That had been his worst start of the season up until that point. It's worth noting Tanaka's fastball velocity has wavered in his last few starts, but last night he actually had his highest average fastball velocity of the season at 92.46 mph.
Here's the obligatory velocity graph from Brooks Baseball: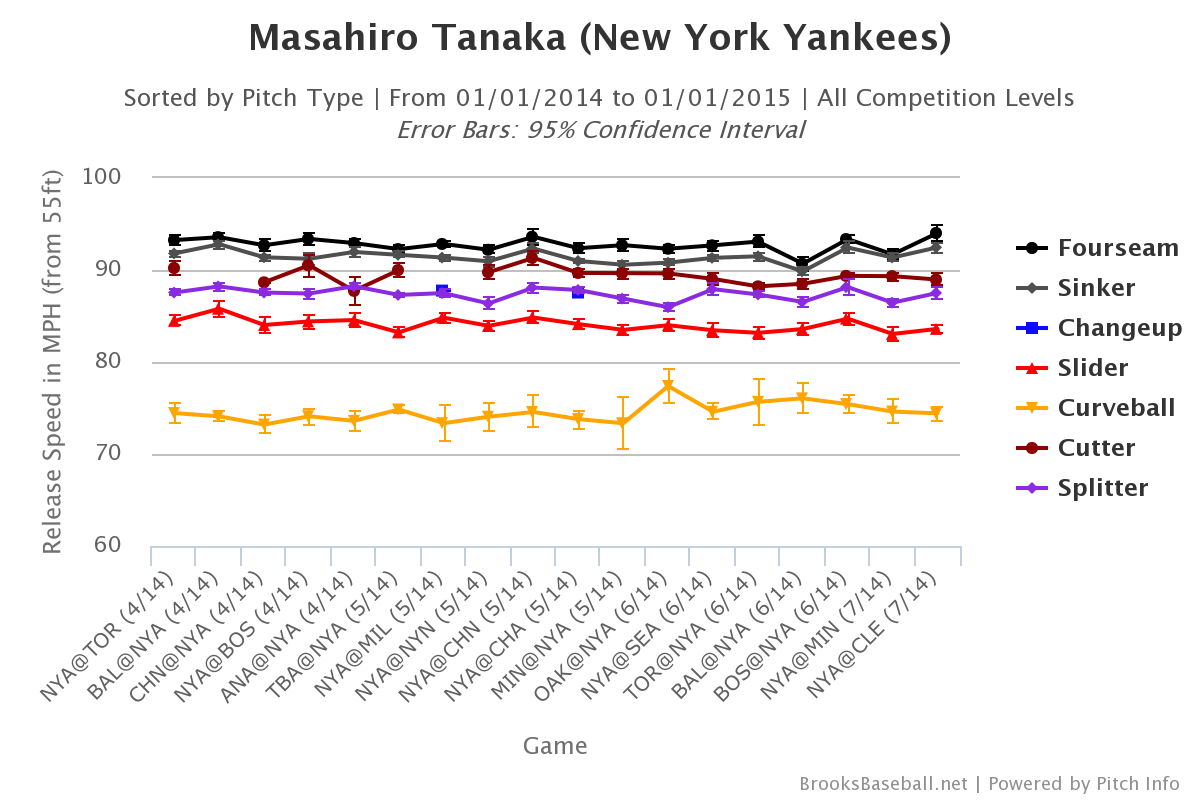 Tanaka has been relatively healthy throughout his career, though he did miss about a month with shoulder inflammation during the spring of 2012 while with the Rakuten Golden Eagles. His workload in Japan was a hot topic over the winter — Tanaka had thrown more than 1,300 innings before his 25th birthday, a number only Felix Hernandez has approached among MLB pitchers in recent years.
The Yankees have made sure to give Tanaka extra rest whenever possible this season — ten of his 18 starts this year have come with at least one extra day of rest — and only four times did he throw more than 110 pitches. They've been pretty careful with him as he transitioned from a seven-day schedule to a five-day schedule, no doubt about it.
Even if the MRI comes back perfectly clean, I would put money on Tanaka not making his scheduled start in Baltimore on Sunday. It's the final day of the first half and the Yankees have an opportunity to give him a nice extended rest during the All-Star break. No reason not to take advantage of it at this point. It goes without saying that losing Tanaka for any length of time would be devastating.