A win! Those are always fun. Two rookies (technically!) helped the Yankees snap their five-game losing streak with a 7-4 win over the Twins on Thursday night. The Bombers are now 14-3 all-time at Target Field and 42-42 on the season.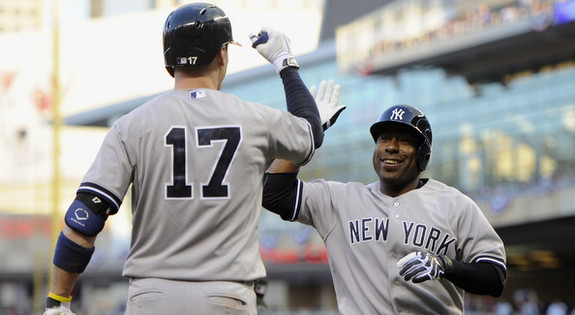 Zelous Makes Everyone Jealous With Strong Debut
It's amazing. The Yankees dropped an unproductive player from their roster and replaced him with someone who was hitting very well in Triple-A, and it improved the offense for at least one night. Zelous Wheeler's first day as a big leaguer went very well thanks mostly to a fifth inning solo homer off Phil Hughes. It's always neat when a guy hits a homer in his first MLB game. Wheeler singled in the seventh inning to help set up another run as well.
The solo homer was not the big blow of the night. Far from it. The Yankees fell behind 2-0 early on but broke out for four runs in the fifth, three on Carlos Beltran's three-run homerun. It's fun being on the other end of Phil's #obligatoryhomer, isn't it? Mark Teixeira and Brian McCann both singled to right to set up Beltran's homer. Nothing fancy, Hughes just left a pitch out over the plate and it went a long way. This game had a very "here we go again" vibe early after the Twins scored, but the four-run fifth inning was just what the team needed. Hooray dingers. Hooray runs.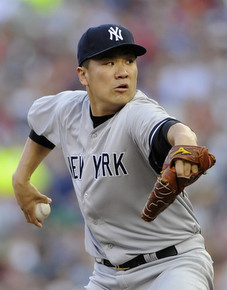 Not Quality
By almost any measure, this was Masahiro Tanaka's worst start as a big leaguer. He allowed a career-high four earned runs on a career-high nine hits while striking out a career-low three batters. Three of the nine hits were doubles to the wall. It was his first non-quality start of the season. Tanaka only threw 85 pitches in his seven innings of work, so there was plenty left in the tank, but he wasn't sharp and he's going to close out the first half with three straight starts on normal rest. Not at all a bad move by Joe Girardi to get his ace out of there with a comfortable lead.
Tack-On Runs
The four-run fifth inning was great but it was not going to be enough. The Yankees rallied for three more runs in the seventh thanks to a walk (Ichiro Suzuki), a single (Wheeler), a one-run double (Brendan Ryan), a one-run single (Brett Gardner), and a one-run fielder's choice (Derek Jeter). Four straight batters reached base to end Hughes' night. He allowed a season-high seven runs.
With the big-ish lead and Tanaka not sharp, Joe Girardi handed the ball to the rested Dellin Betances and David Robertson for the final six outs. Betances struck out two in a perfect eighth and Robertson struck out the side while walking one in the ninth. Betances now has a 14.33 K/9 (42.6 K%) while Robertson is at 16.01 K/9 (44.3 K%). Those two are some kind of weapon at the end of games. They don't even let the other team put the ball in play. It's so awesome.

Leftovers
The Yankees managed to record a 9-4-2-5-7 putout in the first inning. Chris Parmelee doubled to right and, long story short, he was caught in a rundown trying to advance to third on the play. It ended with Gardner tagging him out near the shortstop position. Not every day you see an outfielder apply a tag for an out near second base.
Teixeira, Ichiro, and Wheeler all had two hits while Gardner, McCann, Beltran, and Ryan had one apiece. Ichiro drew the only walk — the Yankees have drawn no more than two walks in six of their last seven games — and the only players who failed to safely reach base at least once were Jeter and Jacoby Ellsbury. Ryan's double was his first extra-base hit of the year. I know he was hurt for a while and is a rarely used backup infielder, but geez.
Scary moment in the fifth inning, when McCann came up limping on his single to right. There didn't appear to be any kind of misstep or anything like that, he just reached for his left foot/ankle after getting to first. He remained in the game and afterwards Joe Girardi said McCann was sore and would likely sit on Friday. It's a day game after a night game anyway.
Box Score, WPA Graph & Standings
MLB.com has the box score and standings, FanGraphs some additional stats, and ESPN the updated standings. The Blue Jays lost and the Orioles won, so they are now tied atop the AL East. The Yankees are 3.5 games back of both the division lead and the second wildcard spot.

Source: FanGraphs
Up Next
It's a Fourth of July matinee. These two teams will play the second game of this four-game set on Friday afternoon, when Chase Whitley gets the ball against Kyle Gibson.