Heading into the trade deadline, it was clear the Yankees needed to upgrade their lineup and their rotation. The pitching help never came, at least not in the form of something other than a scrap heap pickup, but the team did add three position players at the deadline. Chase Headley was acquired to shore up third base, and, about a week later, Stephen Drew and Martin Prado were brought in for second base and right field, respectively.
The Yankees were getting close to nothing from those three positions before the trade deadline. The team's third basemen hit .224/.321/.301 from June 1st through the Headley trade while their second basemen and right fielders hit .204/.259/.319 and .228/.254/.290, respectively, in June and July before the Drew and Prado trades. That's pretty awful. The Yankees had (at least) three dead spots in the lineup for a two-month stretch and something had to be done. That couldn't continue.
Headley, Drew, and Prado stepped right into the lineup and immediately improved the team's defense even though the latter two were playing out of position. Surely the focus was on upgrading the offense, but improve the defense was also important and the Yankees accomplished that with the trades. The offensive production has not been there yet, at least not from Drew and Prado. Headley is hitting .250/.354/.382 (110 wRC+) in pinstripes and it would be unfair to lump him in with the other two. He hasn't been great with the bat but he hasn't been part of the problem either.
Drew and Prado, however, has been totally unproductive in their limited time with the Yankees. Drew is hitting .154/.195/.231 (12 wRC+) in 41 plate appearances so far, and two of his three hits (!) came in his first two games with the team. He's gone 1-for-28 with no walks since. He has consistently had long at-bats (4.12 pitches per plate appearance) but, as we saw with Brian Roberts, that is close to meaningless if those at-bats don't turn into times on base. He's been very good defensively in my opinion, especially since he's playing a new position, but that hasn't been enough.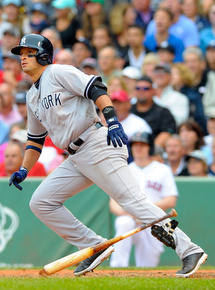 Prado, on the other hand, is hitting .189/.250/.297 (51 wRC+) with a homer in 40 plate appearances with the Yankees. He took David Price deep a week ago and has three singles with no walks since. Prado wasn't hitting much with the Diamondbacks before the trade (89 wRC+), though he was trending in the right direction, with a .282/.326/.411 (103 wRC+) batting line in the two months prior to coming to New York, but he has not sustained that success in pinstripes. I don't think anyone was expecting peak Prado, when he was consistently a 117+ wRC+ player with the Braves, but I think we were all hoping for something better than this.
Now, both Drew and Prado are playing new positions and that could be hurting their offense. Drew didn't have a proper Spring Training and Prado is also changing leagues. If nothing else, those are reasons to hope they will improve going forward. Not hitting since joining the Yankees doesn't mean they will not hit forever, but these last eleven games or so happened. They're in the books and neither player has helped the struggling offense. The Bombers averaged 4.01 runs per game before the trade deadline and they're at 3.82 runs per game since. Obviously facing Corey Kluber and Detroit's staff last week will skew the numbers a bit, but Bud Norris? Carlos Carrasco? Anthony Ranaudo?
The Yankees lack a bonafide number three or four hitter in the wake of Robinson Cano's departure and that type of hitter simply wasn't available at the trade deadline. The team was going to have to get by with smaller upgrades to add depth to the lineup, and the Drew and Prado additions theoretically did that. They have yet to hit though, failing to meet the low "better than Roberts and Ichiro" standard this far. The Yankees don't have the pitching or the impact hitters at other positions to continue carrying multiple dead spots in the lineup. Drew and Prado have to start producing for the team to have any hope of climbing back into the postseason race.