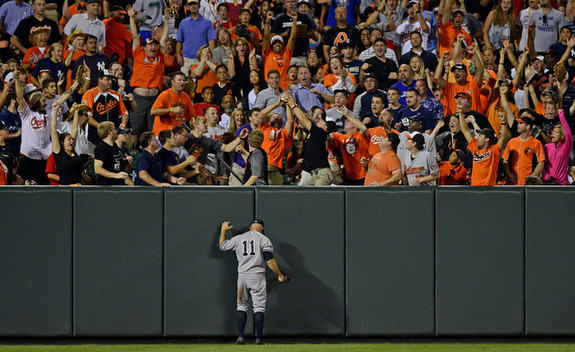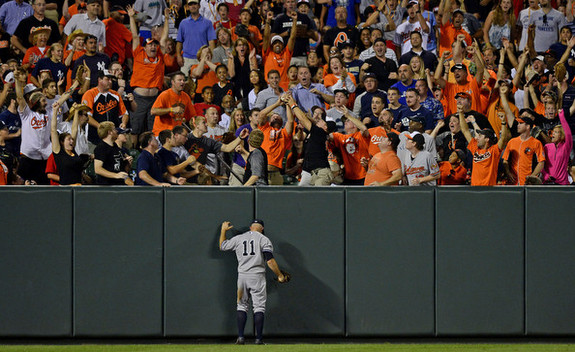 I know it doesn't come across on RAB and especially on my Twitter feed, but I try to be optimistic when it comes to the Yankees' postseason chances each year. Go ahead and laugh, but as long as they're still mathematically in it, then they have something to play for and I have a reason to remain invested in the season. We've been very lucky as a fanbase because we haven't seen a whole lot of truly meaningless baseball over the years.
The Yankees lost a heartbreaker to the Orioles last night, again failing to protect a small lead and losing ground in both the AL East and wildcard races. They are essentially out of the division race now — eight games back with 43 to play isn't insurmountable but it might as well be, and last night several Yankees even conceded it was time to focus on the wildcard — and will instead have to hope they can sneak into the second wildcard spot for the right to play a winner-take-all game with a trip to the ALDS on the line. That's better than not making the postseason in my book.
These Yankees though … man. They have given me very little reason to believe they are capable of making the type of run they need to make to get into that second wildcard spot. If the Tigers and Mariners go only 22-22 the rest of the way, the Yankees need to go 25-18 just to tie. That isn't taking the Royals and Blue Jays (and Indians) into consideration either. Their best 43-game stretch this year was 24-19 done twice, from Games 3-45 and then again from Games 60-102. That's when they had Masahiro Tanaka taking the ball every fifth day and an effective Adam Warren alongside Dellin Betances and David Robertson in the bullpen.
Now though, the Yankees don't have Tanaka and don't have an effective Warren. The offense's performance has also been flat out unacceptable — "We put a lot of money into the offense, and they have been, as a whole, inconsistent. It's been a problem. And it needs to change," said Hal Steinbrenner to Dan Barbarisi yesterday — but outside of Brian McCann, I'm not sure you can say anyone in the lineup is having a shockingly bad season. Carlos Beltran putting up a 99 wRC+ a year after having a 131 wRC+ may be unexpected, but it's not totally surprising at age 37. Jacoby Ellsbury has a 108 wRC+ in 2014 and a 109 wRC+ for his career. Mark Teixeira? Derek Jeter? Disappointing but not outside of what we could have guessed before the season.
Warren looks like he's out of gas, Shawn Kelley looked good for a few weeks but has been roughed up big time in two of his last three outings, and others like Chase Whitley and David Huff are not guys anyone wants to see in a big spot. The bullpen ran into a similar wall at the same time last year and it's probably because the Yankees played so many close games earlier in the season and forced these guys to throw a lot of intense innings. Betances seems to have avoided burn out (last night's solo homer notwithstanding) but others aren't so lucky. Playing catch-up in a postseason race with only two reliable relievers and a patchwork rotation is a bad, bad combination.
The Yankees aren't hitting and they aren't pitching well either right now, plus they don't even control their own destiny anymore. They'll need help from some other teams these next few weeks to sneak into that second wildcard spot. To quote Joe Girardi, it's not what you want. They dug this hole for themselves by letting too many winnable games slip away, mostly because of the offense and the utter lack of an impact hitter, and with each game that passes, they look less and less like a contender.
I really want the Yankees to get to postseason in Derek Jeter's final season, especially since they didn't get there in Mariano Rivera's final season dammit, but this team doesn't look like they have what it takes to make that run at all. They're technically still in it, yeah, but they've given me little reason to believe. It really, really sucks.