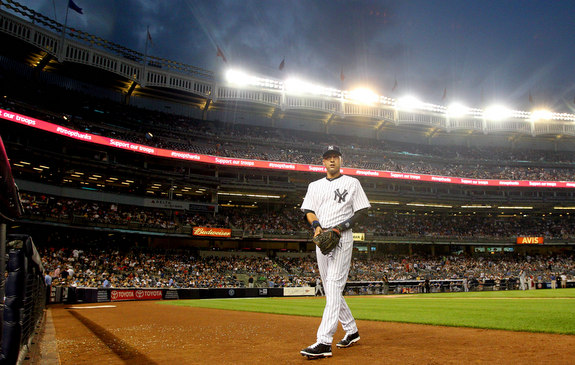 So this is it. If the Yankees are going to make a run at the second wildcard spot –they are 4.5 games back with three teams ahead of them — it has to start today. There are 23 games remaining and I'd say they need to go at least 17-6 to have a shot at the postseason. Does this team have a 17-6 run in it? It's hard to believe having watched them all year but stranger things have happened. The 1995 Yankees went 19-4 in their last 23 games to sneak into the postseason, remember. Here is the Royals lineup and here is the Yankees lineup:
CF Jacoby Ellsbury
DH Derek Jeter
2B Martin Prado
1B Mark Teixeira
RF Carlos Beltran
3B Chase Headley
LF Zelous Wheeler
SS Brendan Ryan
C John Ryan Murphy
RHP Brandon McCarthy
It's hot and cloudy in New York, and there are scattered storms in the forecast just about all afternoon and evening. Who really knows with the weather, but it sure looks like it could impact the game at some point today. First pitch is scheduled for a bit after 4pm ET and you can watch only on Fox Sports1. There is no YES broadcast. Here are the Fox Sports1 television listings. Enjoy the game.
Updates: In case you missed it earlier, Masahiro Tanaka (elbow) threw his bullpen session as scheduled and everything went fine … Joe Girardi said Frankie Cervelli is dealing with migraines unrelated to his concussion history. Austin Romine was officially called up.