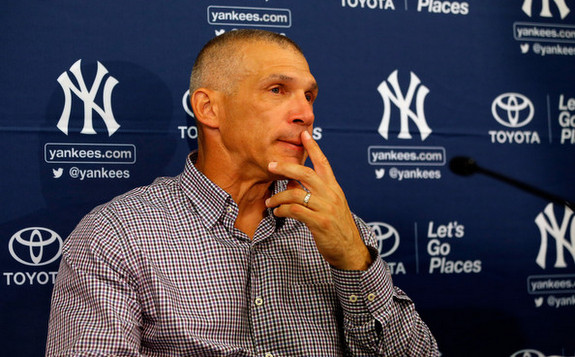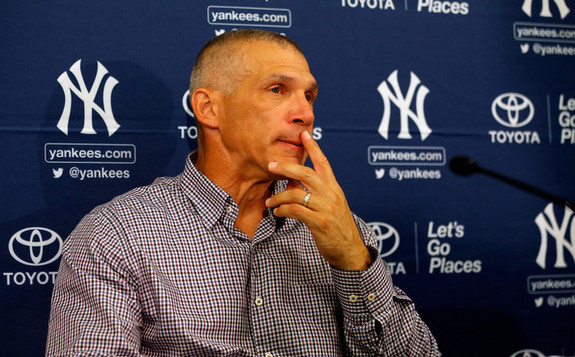 The Yankees wasted no time jumping into the offseason this year. Joe Girardi held his annual end-of-season press conference on Monday afternoon, the day after the team closed out its regular season. Usually they wait two or three days. Not this year though.
There was no major news announced during Monday's televised press conference — no coaching staff changes or surprise injuries, etc. — though Girardi did talk at length about all sorts of stuff. Especially Alex Rodriguez. People love talking about A-Rod. Here's a recap of Girardi's state of the team address.
On A-Rod
"We've gotta see where he's at. That's the thing we have to do," said the skipper when asked what he expects from Alex next year. "We have to see where he's physically at. If he can play the field, how many days will he DH, play the field … I don't think any of us know about him until we get him in games in Spring Training."
"I thought our guys handled it pretty well (when A-Rod returned in 2013)," added Girardi while acknowledging the first few days of Spring Training will be hectic. "Will there be a number of new guys in there? I'm sure … We'll do everything we can to make sure it's not a distraction, but until we get into it we don't really know. My personal opinion is it won't be."
"I have a good relationship with Alex. Our team enjoys Alex (in the clubhouse)," said Girardi. "I don't think that will be an issue. Will he have to deal with some angry fans? Yeah, but we'll help him get through that." (Girardi also joked that fans have been hating on A-Rod for years and he's used to it by now.)
Girardi said the Yankees "absolutely" expect Rodriguez to be on the team next year. "He hasn't played in a year. That's not easy to do, to sit out a year … Do we expect him to be a player on our team? Absolutely."
Girardi also confirmed they have not discussed having A-Rod work out at first base. "We expect him to be our third baseman," he said. They've stayed in touch via text message over the summer.
On The Coaching Staff
Girardi was asked if he expects his coaching staff to return and whether he wants them all back. His response: "We haven't had a chance to sit down and talk about it. They worked extremely hard for me and we'll sit down and talk … This happens every year whether we win or lose. We're just 20 hours removed (from the final game) and I haven't had a chance to talk to (Brian Cashman)."
"I don't see really anything different," said Girardi when asked about hitting coach Kevin Long. "For me, he's always working with guys with their swings, he's always looking at tape. As I said, we're all be evaluated. We missed the playoffs two years in a row."
How do you evaluate coaches? "Philosophy. Work ethic. Preparation. Helping the players prepare for the game. You can do all those things right and as a team you may not have as much success as you want. That's part of the game. That's why we're constantly being evaluated as coaches and players."
"We're all evaluated on what we do. Our coaches work their tails off for me. Obviously I have a close relationship with all of them," said Girardi. I get that the season just ended and they haven't have time to do much of everything yet, but Girardi's tone made me think they will seriously consider some changes. That's just me though.
Girardi was asked to self-evaluate. His response: "We didn't get to where we want, so I will always shoulder the responsibility … I don't really think too long and hard — I've always said this, what people say about me I don't really worry about much — but I gave my best effort on a day in and day out basis. If that's not good enough — and I saw at times that wasn't good enough as a player — that's just part of being in the world. I can accept that."
On The Upcoming Offseason
When asked about the biggest questions the team is facing this winter, Girardi said: "I think our infield, there are some questions there. You don't where Alex is going to be physically, how many games he can play. (Martin Prado) gives you a lot of flexibility. You have your first baseman, shortstop is something — we have Brendan Ryan — I'm sure we'll talk about that well. I don't think you can ever have too much pitching. You can't. We'll look at that."
"Those are decisions that are made upstairs. Obviously I'll put my input in," said Girardi when asked about re-signing David Robertson. "David Robertson had a tremendous job. Did he have some hiccups? Yep, but (so do all other closers) … I'm very fond of Robbie and what he's done here. I've loved having Robbie the whole time he's been here."
Anything new on Hiroki Kuroda? "No. The only thing I got from him is that he's going home for the offseason … I've always said it's not fair to ask a player (about retirement) until about a month after the season because guys are physically and emotional spent (immediately after the season) … I did not ask him and I don't really have any idea."
"I can't remember the last time the Yankees didn't add a piece (over the winter). We know how important the fans are to us and our success, and we're going to do everything we can to get better," said Girardi. He said they have yet to discuss any potential offseason moves, etc.
On The Farm System & Getting Younger
"At times we ran out four guys, five guys over 35 years old. I don't think that will happen next year," said Girardi. "I think we all (look forward to young players). I think we all want to get an idea of — without certain individuals who have been here a long time — what's it going to look like? Who is going to be the next great Yankee people latch onto? I'm anxious to see some kids in the minor leagues come up and have some tremendous years. Maybe you establish a new core. Hopefully it's a Core Eight."
Who will be the next impact homegrown Yankee? "That's hard to say because sometimes guys move very quickly. We've seen that in our organization. We've seen a Joba Chamberlain come up and move very quickly … Are there a lot of guys who could effect next year? I don't know. There's left-handed relievers, there's starters, there's catchers, there's talk about a lot of our top prospects at catcher, (Luis) Severino, some outfielders — Aaron Judge is a name we hear a lot, (Rob) Refsnyder is name we hear a lot — until they go through it, you don't know."
"We believe there is talent in a minor league system. Will we see a lot of next year? I don't know, but it's exciting," added Girardi. He said he also looks forward to seeing young players in big league Spring Training, both the first time to see how they react and the second/third time to see how comfortable they are.
On Improving Execution (i.e. RISPFAIL)
"We just didn't get a lot of hits. Your opportunities were fairly limited," said Girardi when asked about not hitting well with runners in scoring position. "I do believe that driving in runs for a lot of people is a skill. It's more of a mental skill than a physical skill … I do believe it is a skill. As a club overall, can you predict one year to the next? No. I think there is an art to it. I do."
How do you improve your execution? "You just continue to work on it. You work on it in Spring Training. You talk about execution in a lot of different areas — pitching, hitting base-running, defense — and we need to get better and what we did this year wasn't good enough."
Girardi said that "as a club, we need to get better at base-running" while noting there is only so much they do because some of their players are really slow. He also explicitly said beating the shift will be something they work on in Spring Training. Girardi made it sound like they will work on a lot of nuances in camp.
On Replacing Derek Jeter's Leadership
"People have talked a lot about who will step up as the leader in the clubhouse," said Girardi. "I was on four teams here and there wasn't one particular leader … They'll be guys that step up in there. I have no doubt. (Carlos Beltran) has been a guy who has been through a lot. His voice is respected highly in that clubhouse."
"There have been a number of guys who have had that (leadership ability) and moved on, and a number of guys who have taken over after players move on," added Girardi. "When I was here the guys we looked up were Paul O'Neill and David Cone, then the Posadas and Pettittes and Riveras developed. It's ever-changing in sports. Can you ever replace certain people? No, but you can have characteristics in your clubhouse that represent what they represented."
Miscellany
On Masahiro Tanaka: "We expect him to have a good year next year. We expect him to make 32 starts. I thought he had a very good year for us this year. It's unfortunate it was interrupted. I feel pretty good moving forward but, as I said, injuries are hard to predict. I think he learned a lot. We enjoyed his presence. I think he'll be more comfortable coming into Spring Training because he's been through it."
On Michael Pineda: "I don't think you can look at many people and say 'he's going to have a sub-2.00 ERA.' Maybe a Clayton Kershaw, maybe a King Felix … (Pineda) was really good, probably better than what we thought we would get. I did say in Spring Training he looked different, the ball was coming out different … I'm excited about his year next year and I told him that. You look at the way he did it with movement and efficiency, he was a treat to have and I look forward to having him in 2015."
On Brett Gardner not stealing as many bases the last two years: "I think part of the reason he has run less is injuries he has played with. He played with the strained abdomen since July and it affected him." Girardi also said he won't hesitate to bat Jacoby Ellsbury and Gardner in a one-two spots next year.
On injuries possibly being the result of poor conditioning: "Let's just take the injuries we've had. Tommy John? Kinda hard to predict. Sheath in a wrist? Kinda hard to predict. (Curtis Granderson's) two broken hands? Hard to predict. Bone spur that reared it's ugly head after being in there for a number of years? Kinda hard to predict. To me these weren't conditioning injuries. They just happen. Why do they happen? I don't know. We didn't really have those conditioning injuries — hamstring, ribcage, etc. — we had bones and ligaments. To me those aren't conditioning injuries."
And finally, on having a sense of urgency going into next year: "For me, the sense of urgency is every year … Will there be more pressure on me? It won't change who I am. The pressure I feel is from within. Is there more pressure on the club? I hope they feel the same way I do within that room … Your expectation every year should be to win the World Series."