Boy did that turn around in the hurry. The Yankees grabbed victory from the jaws of defeat on Thursday night, rallying in the ninth inning to turn a 4-3 deficit into a 5-4 walk-off win. That win was much, much needed.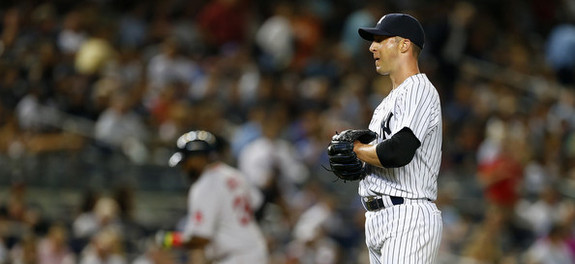 Cap'd The Bed
The Chris Capuano magic is starting to wear off. The team's 12th starter served up three homers — including two moonshots to David Ortiz — in 4.1 innings of work on Thursday night after allowing four homers total in his first 42.2 innings in pinstripes. Capuano has now surrendered 18 runs in 28 innings across his last five starts, which is no bueno. He did get off to a nice little start with the Yankees but he's returning to Earth and pitching exactly how you'd expect a scrap heap finesse guy to pitch in Yankee Stadium.
The final damage on Thursday was four runs on six hits and one walk in those 4.1 innings. Capuano struck out two and did get eight of his 13 outs on the infield. Boston's lefties were 3-for-5 with those three homers against him — Brock Holt hit a Yankee Stadium cheapie out to right, which may or may not have been catchable (I say not) — while their righties were 3-for-14 (.214) with three singles. The Yankees really don't have much to lose by continuing to run Capuano out there at this point, but should Masahiro Tanaka's elbow hold up and allow him to actually pitch against this season, it's pretty clear whose rotation spot he should take over.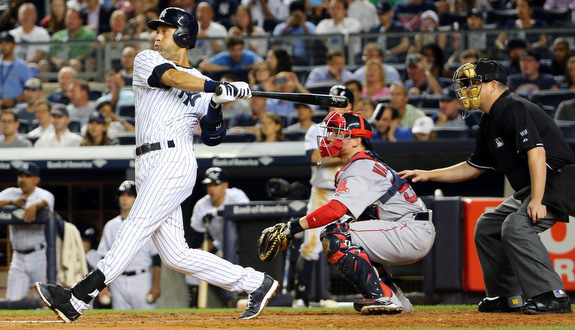 Rally To Tie
Capuano put the Yankees in a 3-0 hole following the two homers to Ortiz, but the offense did rally to tie the game up in the third inning. The bottom of the order got the rally started as Ichiro Suzuki dunked a one-out single to left, then Jacoby Ellsbury drew a walk and Derek Jeter drove a two-run double over the head of center fielder Mookie Betts. Betts, who has 56 games worth of experience at center field in his career, was understandably playing Jeter very shallow, and the Cap'n simply muscled it out over his head.
Carlos Beltran singled in Jeter with two outs to tie the game at three, and after that the Yankees had three whole base-runners until the ninth inning. Stephen Drew drew a two-out walk in the fourth, Mark Teixeira beat out an infield single with one out in the fifth, and pinch-hitter Zelous Wheeler drew a leadoff walk in the seventh. Teixeira's single was a jam shot that was perfectly placed against the shift out of pure luck, nothing more. That's three base-runners in the span of five innings with none making it beyond first base.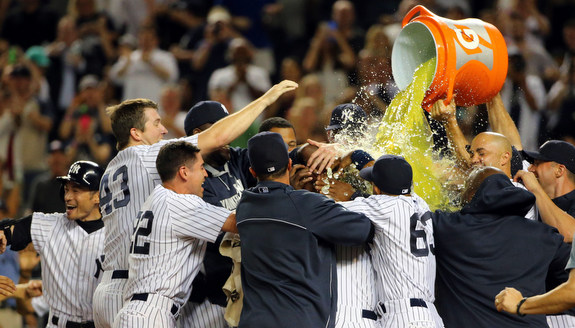 Rally To Tie, Rally To Win
The bullpen in relief of Capuano was really good. Rich Hill struck out Ortiz, Esmil Rogers allowed a hit in 1.2 otherwise uneventful innings, Josh Outman got Holt to ground out to second, and Shawn Kelley retired all four men he faced. Kelley looked really sharp. Adam Warren had a messy ninth inning (plunked Allen Craig, bobbled a sacrifice bunt attempt) but escaped without allowing a run. Five relievers combined to allow just one hit in 4.2 scoreless innings, striking out four. They held up their end of the bargain.
For once, the offense held up its end of the bargain in the bottom of the ninth. Koji Uehara has been struggling hard of late, allowing runs in four of his last five outings (eight runs total), including two homers. Teixeira started the ninth by looking at a 2-0 fastball right down the middle — what the hell man!? — but he made up for it by slamming a hanging 2-2 splitter into the right field second deck for a game-tying solo homer. Two batters later, Chase Headley lifted a hanging full count splitter into the right field bleachers for a no-doubt walk-off blast. It was a bomb. Gone off the bat. Also his second walk-off hit with the Yankees. Remember his debut? It took a super-struggling Uehara, but a win is a win, and this was a cool win.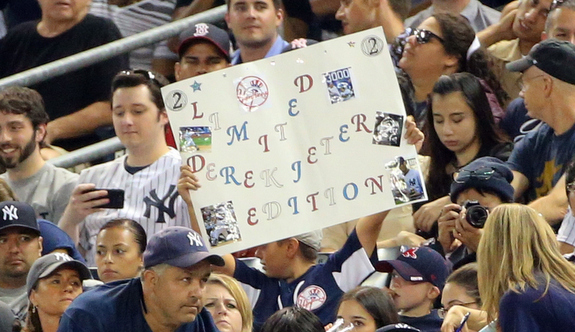 Leftovers
One night after going 4-for-4 with a dinger, Brian McCann went 0-for-4 with a strikeout. He did rip a line drive to left between the Teixeira and Headley homers in the ninth. He was the only starter who failed to reach base. Ellsbury and Drew drew walks while Jeter, Gardner, Teixeira, Headley, and Ichiro had hits. Teixeira was the only player on the team with multiple hits. Wheeler drew the walk off the bench when he pinch-hit for Drew against a lefty. The Yankees went 2-for-4 with runners in scoring position.
The nightly base-running blunder came in the seventh inning, when pinch-runner Antoan Richardson put his head down and ran to second on a steal attempt, not looking up to see Ichiro's line drive go right to Betts in center. By time Richardson realized the ball had been caught, Betts was already throwing it to first to double him up. That's not as bad as the base-running mistakes the last two nights, but it's still pretty bad.
By the way, Richardson was the 56th different player to play for the Yankees this year, tying last season's franchise record. Everyone currently on the active roster has played in a game, so if they're going use a 57th player and break that record, they'll have to call someone else up.
Once again, just so it doesn't get overlooked: the bullpen was really great. Those guys gave the offense a chance to get back in the game. Couldn't have done it without them.
Box Score, WPA Graph & Standings
The place to go for the box score and video highlights is MLB.com. You can find some other game stats and FanGraphs and the up to the minute standings at ESPN. Depending on the outcome of the currently tied Tigers-Indians game, the Yankees will be either three games (Indians win) or four games (Tigers win) back of the second wildcard spot. FanGraphs has New York's postseason odds at 4.7% at this very moment.

Source: FanGraphs
Up Next
The Royals come to town next for a three-game weekend series. That is the Yankees' last series against a non-AL East team this year. Big Mike Pineda and James Shields is the scheduled pitching matchup for Friday night's series opener. Head over to RAB Tickets if you want to catch that or any of the other five games left on the homestand in person.