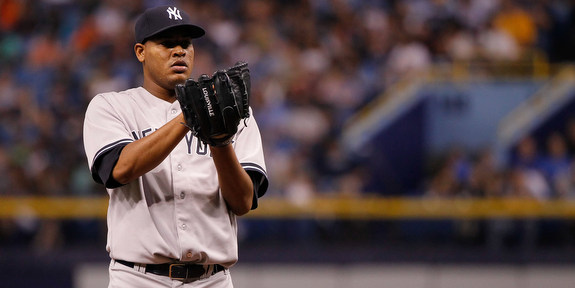 Got a bunch of injury updates to pass along prior to tonight's series finale against the Red Sox. The updates come courtesy of Meredith Marakovits, Chad Jennings, Mark Feinsand, Jack Curry, Brendan Kuty, and Dan Martin.
Masahiro Tanaka (elbow) felt fine after playing long toss earlier this week. He is scheduled to throw off a mound in the bullpen on Saturday. "He does feel better. Our doctor said he basically just had arm fatigue, and that's not abnormal for a pitcher. He does feel better. He played long toss the other day and felt good, so hopefully it's pretty soon," said Joe Girardi.
Ivan Nova (elbow) started a throwing program last week as part of his rehab from Tommy John surgery. "It was awesome to be throwing a baseball again. For me, I always worried about how I'm going to be. It feels a little weird, but once you start throwing, you're more confident," he said. Nova, who is right on schedule with his rehab, is making 25 throws at 60 feet every other day and will eventually start to stretch it out. He will spend the winter rehabbing in Tampa rather than going home to the Dominican Republic.
Martin Prado (hamstring) received some treatment yesterday and does not feel anything when he's walking. He will test the hamstring with some baseball activities today — batting practice, running, fielding grounders, etc. — to see how it responds. "I think we made a little progress and we'll see how it responds," he said. "I just want it to be one or two days and not the rest of the season. I don't feel it walking. I'm not going to play 50%. I have to be 100%."
Carlos Beltran (elbow) will have the bone spur removed as soon as the season ends and the rehab is not expected to limit him at the start of Spring Training. He'll need two months of rest before he can resume throwing and swinging a bat — Beltran will spend the winter living in New York so he can go for regular check-ups — which still gives him plenty of time to get ready for camp.
As scheduled, CC Sabathia (knee) received another stem cell injection last week. "It went well. I've got no crutches. I feel good," he said. Sabathia is expected to begin throwing in another week or two.
This isn't really an injury update, but Hiroki Kuroda admitted he skipped his usual between-starts bullpen session this week in an effort to avoid fatigue, something he's done late in each of the last two years. He added that he's thrown less between starts all season.