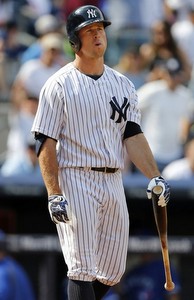 Although they mathematically still have a chance, the Yankees are not going to the postseason this year. They're six games back of the second wildcard spot with three teams ahead of them and only eleven games to play, so it would take a historic comeback to make the playoffs. I don't see this team doing anything historic other than maybe getting no-hit. There will be no October baseball for a second straight year.
The Yankees do still have those eleven games to play though, and playing meaningless baseball for nearly two weeks is not something the Yankees or their fans are familiar with. There haven't been a lot of truly meaningless games around these parts the last two decades. The focus has shifted to 2015 now and there are a few things the Yankees can do to take advantage of these final eleven games.
Shut Down Whoever Else Is Hurt
Brett Gardner just missed a few days with an abdomen strain — he's has been awful since returning, in case you haven't noticed — and Mark Teixeira's surgically repaired wrist has flared up again. There is no reason for the Yankees to push these two and have them try to play through injury. No one gets bonus points for being macho. Martin Prado and his hamstring would have fit here as well, but his recent appendectomy took care of that. I'm sure there are other players on the roster dealing with nagging injuries (Jacoby Ellsbury's ankle?), so any regulars with an injury that could somehow turn into something more severe shouldn't be playing. The only exception to this should be Masahiro Tanaka, whose partially torn elbow ligament and progressing rehab is a very unique situation.
Shut Down Dellin Betances
It goes without saying that Betances has been the biggest bright spot in an otherwise forgettable season. He went from failed starting pitcher prospect to arguably the best reliever in baseball and an important part of the Yankees going forward, regardless of what happens with David Robertson's free agency after the season. The team is counting on Betances to be a core piece of their relief crew going forward and for good reason. He has two out pitches in his fastball and breaking ball and I'm pretty sure standing in the box against him is terrifying.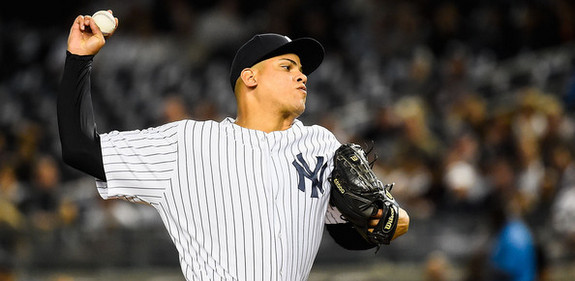 That said, Betances has thrown the most innings (87.2) and the most pitches (1,328) among full-time relievers this year, and most of those innings and pitches have been high-stress. The Yankees have clearly scaled back on his workload these last few weeks — "No, no. Absolutely not. Dellin has been used a lot too, so, no," said Joe Girardi to Chad Jennings following Sunday's game when asked if he considered using Betances for multiple innings — and understandably so. I know he threw 120+ innings several times in the minors, but throwing 120+ innings every fifth day as a starter is much different from throwing 80+ innings as a high-leverage reliever.
Watching Betances has been literally the most enjoyable thing about the 2014 Yankees. His near-bust prospect to elite reliever story makes him easy to root for. But he's also worked a lot this year. Betances also has a history of arm problems, both shoulder and elbow, so shutting him down now will allow him to get nice physical and mental break heading into the offseason. The Yankees have every reason to do whatever it takes to keep Betances healthy and effective both now and in the future. With the team out of the postseason, shutting him down before his workload grows even more makes sense.
Give Bryan Mitchell Another Start(s)
Mitchell's first career start went pretty well on Friday as he limited the Orioles to two runs on six hits and two walks in five innings while being held to an 85-ish pitch count. Considering he had not pitched in a real game in two weeks — the Yankees did have him throw a 50-pitch simulated game at some point early last week to keep him stretched out and sharp — and surely had some first career start jitters to deal with, Mitchell did a fine job.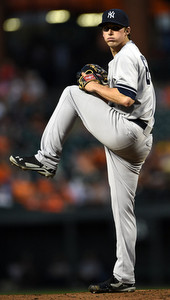 There is not a whole lot of evaluating that can be done by giving Mitchell another start or two; teams and scouts won't change their opinion of him based on those short looks (barring injury), but it is an opportunity to let him get more comfortable and gain some experience. Not much, but some, and every little bit helps. The Yankees need pitching help this winter and Mitchell is likely to in the sixth/seventh starter spot heading into the next season. Giving him a few more innings to get comfortable and build confidence is a no-brainer.
Let John Ryan Murphy Start Some Games
Murphy is a good young catching prospect and, like Mitchell, the Yankees should do whatever they can to help him get comfortable and gain experience these last two weeks. Start him seven or eight times in the final eleven games, something like that. Again, 25 at-bats or so won't (or shouldn't) change what we think about him, but they could help send him into the offseason feeling pretty good about where he stands in the organization. That's not nothing.
This isn't just about Murphy, either. Brian McCann is in the first year of his five-year contract and he's been a starting big league catcher since he was 22 years old. That's a lot of squatting behind the plate — most of it during hot Atlanta summers — and a lot of wear and tear. The Yankees would still be able to use McCann at DH, but the goal is to get him out from behind the plate to save him physically, even just a little bit. It would also reduce the risk of a foul tip to the face mask and other incidental injuries like that. Like it or not, the Yankees are stuck with McCann, so they should do whatever they can to protect their investment now that they're out of the postseason mix.
Start Contract Talks With Robertson & Brandon McCarthy
The five days immediately following the World Series constitute the exclusive negotiating period for free agents, though the Yankees will get an extra month to talk with their impending free agents by virtue of not playing baseball in October. Their exclusive negotiating period is really one month plus the five days, and they should take advantage by starting talks with McCarthy and Robertson (and Chase Headley?), two players they should try to retain for obvious reasons. The sooner they start serious negotiations, the better their chances of keeping them off the open market and away from a potential bidding war. There are still eleven games to be played, but the 2014-15 offseason begins now for New York.