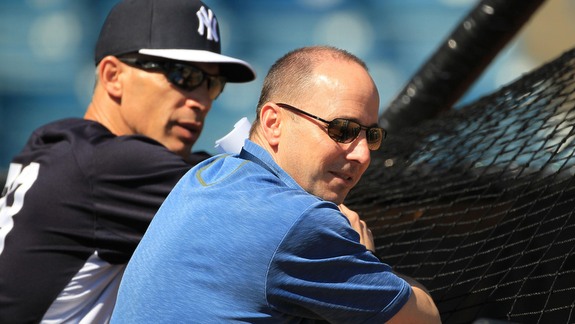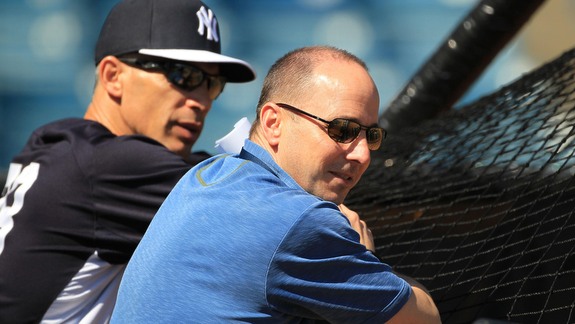 Barring some kind of Derek Jeter farewell tour miracle, the Yankees aren't going to the postseason this year. They've dug themselves too big a hole without enough games remaining to climb out of it. That's life. They're not going to play in October because their play from April through early-September says they don't belong there. If you've watched them at all this year, you know how hard it is to envision them stringing together enough wins to jump three teams and make up five games in the second wildcard race.
Now, even if the Yankees do somehow manage to sneak into the postseason, this year needs to be something of a wake-up call for the team's decision makers. I mean, last year should have been the wake-up call, but instead the Yankees doubled down on the only thing they know how to do: spend money. They tried to spend their way back into the postseason — spend their way back in while letting their best player and one of the five best in the world walk away, remember — and it failed. Miserably. They're probably going to lose more games this season than they did last year despite their offseason spending spree.
The season is close enough to being over that we can say, with certainty, the first year of the Brian McCann and Carlos Beltran contracts were disasters. There aren't enough games left on the schedule to change that now. The Jacoby Ellsbury and Masahiro Tanaka deals have worked out more than fine, at least until Tanaka's elbow started barking, but McCann and Beltran have not. When you sign a 30-year-old catcher to a five-year contract, you're doing it under the assumption Year One will be the best. Year One is over now and the Yankees aren't getting it back. It's gone. Beltran's deal is less damaging because it is shorter term but it still hurts. A lot.
For decades the Yankees conducted business the same way they do right now. They bought the best free agents available (or tried to, anyway) and by and large it worked. Free agency started in 1975, they won titles in 1977-78, had more wins than any other team in the 1980s, and dominated baseball in the late-1990s and 2000s. When you've got more money than every other team and you can simply buy the best players, why wouldn't you do it? That's the advantage of being based in New York.
That financial advantage is shrinking, however, and it has been since the luxury tax was implemented back in 2003. Aside from last year's $228M outlier, the Yankees have had an Opening Day payroll in the $180M to $210M range since 2004. The average Opening Day payroll of the other 13 AL clubs (not counting the new-to-the-AL Astros) has steadily risen from roughly $60M to just over $100M during the time. Keep in the mind that MLB's biggest payroll increases over the last few years belong to NL teams — the Dodgers, Giants, and Nationals, specifically. The payroll gap between the Yankees and everyone else isn't what it once was.
Furthermore, free agency itself has fundamentally changed as teams lock up their best players to long-term extensions years before they're eligible to hit the open market. The days of landing an in-his-prime star every winter are gone. It was only six years ago that the Yankees were able to pluck a 28-year-old CC Sabathia off the market to satisfy their pitching needs. Nowadays? Forget it. There's a reason Masahiro Tanaka landed the fourth largest pitching contract in baseball history without ever playing an MLB game. His age. Impact players in their prime are no longer available for just money.
For years we've justified huge money long-term contracts by saying you'll live with the ugly part at the end for the immediate return now. Well, the Yankees have hit the ugly part. They're at the ugly part of their long-term deals with Sabathia, Alex Rodriguez, and Mark Teixeira. McCann and Beltran didn't provide the immediate return either. That has left the team not just with unproductive players eating up a big chunk of the payroll, but little flexibility to replace them. Realistically, what are the Yankees going to do with Teixeira? Nothing. They're going to grit their teeth and run him out there until his contract ends. That's the only option.
The Yankees are caught in a cycle of relying on free agency to remain in contention. When the 2008-09 Sabathia/Teixeira free agent class started to fade, there was the 2013-14 Ellsbury/Tanaka class. The Bombers missed the postseason last year and responded the only way they know how, by spending money. The players they invested in did not provide the desired impact — back to the playoffs! — and that means the Yankees are going to do what now? Agree to another $400M worth of contracts this winter? That only continues the cycle with no guarantee of a return to contention, as we've learned this year.
Free agency is no longer a one stop shop that can turn a team around in a winter. That doesn't mean it isn't useful, it obviously is, but it can't be everything for the Yankees going forward. Not anymore. The game of baseball has changed these last few years but the Yankees have stayed the same and they're being left behind. The standings don't lie. The farm system needs to be more productive, the free agent signings they do make have to be better, and the trades have to be smarter. Remember when they added Nick Swisher and Curtis Granderson, both smack in the primes of their careers? Those moves were awesome. Taking on a bunch of money to get Vernon Wells? Not so much.
Personally, I believe the Yankees need to do a better job of focusing on depth, from the top of the roster to the very bottom. No more bad players. No more Brian Robertses and Ichiro Suzukis, who we all know aren't going to work out the day the contract is signed. Those types of moves have to stop. I know it's much easier said than done. Believe me. Also, the Yankees should absolutely bury the competition whenever another Tanaka or Jose Abreu comes along. That's where you flex your financial muscle in free agency. Not tacking on a third year so you can outbid the Diamondbacks for 37-year-old Beltran.
I don't believe any team with a huge payroll should ever have to endure a prolonged rebuild and, frankly, even if the Yankees wanted to tear it all down, they have little to move anyway. They've painted themselves into a corner and getting out won't be easy or particularly pretty. There is a very strong likelihood things will get worse before they get better. Is Brian Cashman the man to turn things around and get the Yankees back on track? I don't know but I really have a hard time believing he is at this point. He's been running the show for an eternity and a different voice may be in order. That doesn't guarantee improvement, mind you. A new GM could make things even worse, especially if ownership brings in a figurehead GM they can walk all over.
Look up and down the roster and there are five, maybe six players I can buy as being part of the solution and the next great Yankees team: Tanaka, Ellsbury, Dellin Betances, Michael Pineda, Brett Gardner, and maybe Martin Prado. I'd add David Robertson to that group if he wasn't due to become a free agent in a few weeks and I can't bring myself to include McCann in that group after the season he's had. The Yankees' entire team-building philosophy is going to have to change if they want to get back to being a perennial contender because the game is telling them it has to change. Their old way of doing business is painfully outdated and this winter is the time to start getting back up to speed, postseason or no postseason.