So much for starting the homestand off on the right foot. The Red Sox clobbered the Yankees by the score of 9-4 in Tuesday night's series opener, New York's fourth loss in their last five games. The Yankees are now 24-29 against the AL East this year, including 9-20 in their last 29 intra-division games.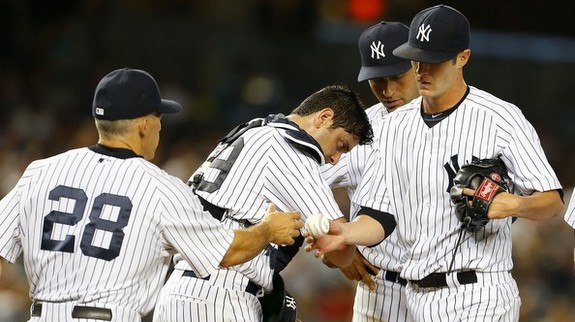 Shane Slammed
Shane Greene is one of the few reasons the Yankees can even pretend to still be in the race for the second wildcard spot. He's been really good since coming up just before the All-Star break. But Greene got destroyed on Tuesday night, allowing six runs on six hits and three walks in only three innings of work. Five of the nine base-runners reached in two-strike counts, which gives you an idea of how much he was struggling. Batters had a .175 OBP in two-strike counts against Greene coming into the game.
There's no real mystery about what happened here. Greene was simply catching way too much of plate and giving hitters plenty of pitches to hammer. The box score says 38 of his 67 pitches were strikes (57%), but that doesn't say anything about the quality of his pitches, which were awful. Even a few of his outs were hard hit. What can you do? Greene picked an unfortunate time to have his worst start in the big leagues. Now he has to shake it off and get back to where he was before Tuesday. The Yankees are falling out of the playoff race but he's still competing for a 2015 rotation spot.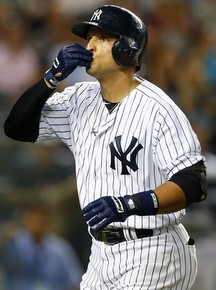 Fifth Inning Fight
Aside from Martin Prado's solo homer in the third inning, the Bombers didn't put up much of a fight against Joe Kelly in the first four innings. The homer was their only base-runner in those four innings, in fact. That all changed in the fifth thanks to a patented 2014 Yankees rally that could have been a whole lot bigger if they were able to get out of their own way.
Carlos Beltran, Brian McCann, and Prado opened the inning with back-to-back-to-back singles — McCann bunted to third to beat the shift — but the end result was runners at second and third with one out and no runs scored. Beltran got a poor read on Prado's hit over the left fielder's head and was only able to advance to third. Prado, thinking it was an easy double, took a big turn around first only to see McCann standing at second. He was caught in a rundown for the first out. Beltran got a bad read but ultimately Prado has to know what the runners in front of him are doing.
Anyway, the Yankees ran themselves out of a bases loaded situation there but Chase Headley drew a walk following Prado's single to re-load (?) the bases. Kelly then walked Francisco Cervelli to force in the team's second run. Jacoby Ellsbury lined out to short for the second out and Derek Jeter grounded out weakly to short for the third out … until Joe Girardi challenged and it was overturned, scoring a run and re-loading the bases. Jeter hit the ball so weakly that he was able to beat it out. I'm not joking.
That set things up for Brett Gardner, the number three hitter du jour and the team's best player pretty much all season. He saw five pitches from Kelly, all outside the zone, swung at one of them, and was called out on strikes. Strike three was such an awful call. Here's the strike zone plot, courtesy of Brooks Baseball: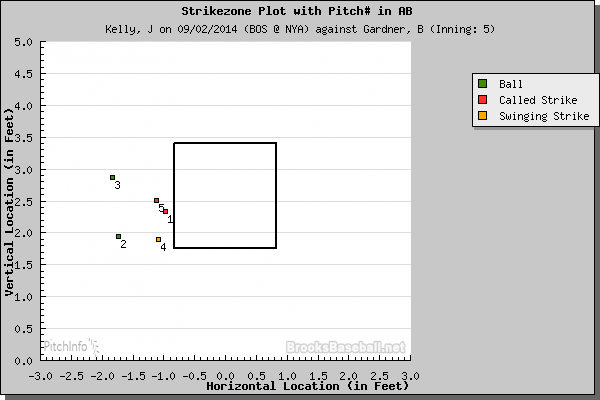 Terrible. The only actual strike in that at-bat was a strike because Gardner swung at it and missed (pitch four). YES showed an overhead angle and strike three was in the other batter's box. Home plate ump Tim Timmons had a pretty crappy zone all night (strike zone plots) but that call took the cake. Gardner slammed his bat, slammed his helmet, and got himself ejected. That only compounded the problem. I know he was mad and rightfully so, but he's way too important to get himself thrown out of a September game with his team fighting for a postseason spot. Four hits, two walks, two runs. 2014 Yankees.
Last Four Innings
After that self-stifled fifth inning rally, the game pretty much flew by. Esmil Rogers replaced Greene and served up a solo homer in the fourth, but otherwise he and three other relievers (Rich Hill, Adam Warren, David Huff) combined to retire 12 of 13 Red Sox batters from the fifth through eighth innings. Chaz Roe allowed two runs in the ninth. I've already seen enough of him to know whatever the Yankees gave the Marlins was too much. The bullpen more or less held up its end of the bargain until Roe showed up.
The offense never came, of course. It never does. The Yankees had runners on base in the sixth (one-out walk by Beltran), seventh (Prado reached on an error and Headley walked, both with no outs), and eighth (two-out walk by Teixeira) but couldn't score. McCann banged into a double play to end the sixth, Cervelli banged into a double play to short-circuit the seventh, and Beltran flew out to end the eighth. McCann hit a garbage time solo homer off the shell of Koji Uehara in the ninth for no apparent reason.
Leftovers
The Yankees had seven hits as a team. Prado and McCann had two each while Jeter, Headley, and Beltran had one each. Two of the seven (Jeter and McCann) were infield singles and another (Beltran) was a ground ball with eyes. Really knocked it around on Tuesday. Teixeira, Beltran, Cervelli, and Headley (two) each drew walks. There's your offense.
The Red Sox, meanwhile, managed to pick up 12 hits as a team even though five of the nine players in their starting lineup went hitless. Mookie Betts (three hits), Yoenis Cespedes (three hits), Daniel Nava (two hits), and Xander Bogaerts (four hits) did all the damage.
Box Score, WPA Graph & Standings
The box score and video highlights are at MLB.com. FanGraphs has some other stats and the updated standings are at ESPN. The Yankees are now five games back of the second wild-card spot and FanGraphs puts their postseason odds at 4.7%. They were only 3.5 games out of a playoff spot after 136 games last year, before they committed $500M+ to free agents.

Source: FanGraphs
Up Next
The Yankees and Red Sox will continue the series Wednesday, when Hiroki Kuroda and Anthony Ranaudo square off. RAB Tickets can get you in the door if you want to catch that game or any of the other seven games left on the homestand. There are only 16 home games left this season, you know.