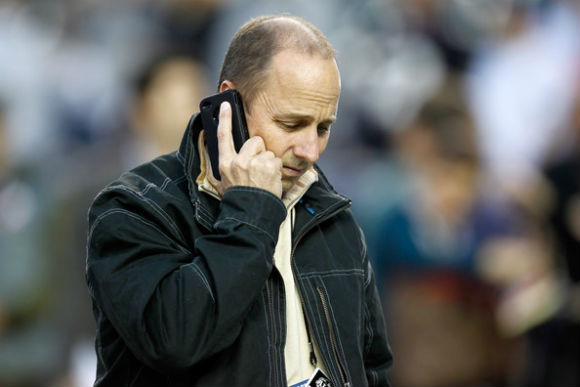 Yes, I'm swiping Mike's bit, kind of. He's invited me to do so for years, and now seems like a good time to take him up on the offer.
Brian Cashman's contract expires after this season. With the possibility of his team missing the postseason for the second consecutive year, fans have speculated that Cashman's 16-year tenure as GM could come to an end.
Plenty of fans, particularly the loudest ones, have hoped that is the case. But it appears that they will be disappointed.
Playoffs or no playoffs, the Yankees intend to offer Brian Cashman a new contract this winter, according to pretty cool guy Jon Heyman. His sources indicate that ownership doesn't blame Cashman for the way the last two seasons have unfolded.
(Perhaps because their own meddling has played a role?)
Few fanbases stand 100% behind the general manager. There's always a set of people who believe that they're the smartest people in the room, and they're vocal so they can prove it to everyone. Yet it seems that this group is larger than it was the last time Cashman's contract expired.
At that point, after the 2011 season, I fully supported bringing back Cashman. Since the inception of RAB the three of us (now four with Jay) have felt that Cashman is the guy for the job.
Now? I'm not so sure. Hence, a "thoughts on" post.
1. Where is this team headed? The Yankees had some tough decision to make last off-season. Not only did they face a depleted roster, but their far-and-away most productive hitter hit the free agent market. The time seemed ripe for a rebuilding effort.
They could have acted far differently. They could have re-signed Robinson Cano and signed Masahiro Tanaka without sacrificing the 18th pick in the draft. Instead they went in a completely different direction, trying to patch multiple weaknesses with high-priced free agents.
As Mike wrote earlier this week, the Yankees face an even tougher set of decisions this winter. Do they double down on their spending strategy to bring in Jon Lester? Do they seek out an offensive upgrade — Nelson Cruz or Hanley Ramirez? They've already committed $168 million to the 2015 team, and that covers just 10 players.
It seems kind of silly to hold back this off-season after going big and seeing little results this past season. Yet, as Mike noted, they certainly need to rethink how they operate as the team around them modify their philosophies.
The point is, in the past we've had some idea of the direction the Yankees were taking. Right now? I have none, and I don't think anyone else outside the organization does, either.
The further point is, I'm not totally sure Cashman is the guy to take the team in a different direction.
2. Is it a higher ups problem? There are plenty of young executives from other clubs the Yankees could poach for a potentially vacant GM spot. But if they're not allowed to actually make decisions, will it even matter?
The larger question is of whether ownership is truly a problem here. Yes, the Steinbrenners have opened their wallets to help the team, but are they spending that money wisely? Are they meddling to too great a degree? These are questions we have difficulty answering from the outsider perspective.
We've seen certain instances where the higher ups step in to make decisions. Rafael Soriano remains the most prominent example. Ichiro Suzuki, too. So how many decisions is ownership forcing on the team? How independently can the GM act?
The Diamondbacks just fired their GM, Kevin Towers. They'll find someone soon to fill that role. Will he have any success? It's tough to say, because, as my dear friend Leo said, Ken Kendrick still owns them. It has become pretty apparent that ownership is part of the problem here. Knicks fans have known this for far more than a decade.
If the problem does lie with the higher ups, then does it even matter who holds the GM position? In that case, having Cashman, who has been around the Steinbrenner family his entire adult life, might be an advantage.
3. Would a good candidate even want the job? Many of us have dreamt of becoming the GM. (And a few among us have delusions that we're qualified.) Who would turn down the opportunity if offered?
Plenty of people. Perhaps the most qualified candidates wouldn't find the Yankees' job attractive. Two highly regarded executives, Jason McLeod of the Cubs and David Forst of the A's, declined to interview for the Padres GM job earlier this year. Would they interview for the Yankees' gig, knowing that ownership gets involved in baseball decisions?
The absolute worst case scenario is to let Cashman walk only to hire some retread GM, because none of the elite candidates want the job. I like Kevin Towers well enough, but I don't want to see him replace Cashman as GM of the Yankees.
There's no point in letting Cashman go if they're not going to replace him with an elite GM, or a young executive on his path to greatness. Firing Cashman and then hiring (shudders) Ed Wade or Jim Bowden or Jim Hendry seems like a sure step backward. What if they're the only guys lining up to interview for the job?
4. A Theo/Hoyer situation? By most visible measures, Billy Eppler has done a fine job in the last few years, first as pro scouting director and now as assistant GM. The Padres courted him for their vacant GM position, and nearly hired him. The man is in demand. Might it be his time to shine?
The Yankees could choose to promote Cashman and move Eppler into the GM role, a situation similar to how Jed Hoyer and Theo Epstein operate in Chicago. On a practical level that might not accomplish much. Epstein surely continues to call shots in Chicago, just as Ken Williams continues to call shots in Chicago even though Rick Hahn is the GM.
At the very least, this kind of nominal move could keep Eppler in New York. Given the work he's done in the last few years and the reputation he's established, that seems desirable. The Yankees have an obstacle, in that they already have a team president. While most of us have less than perfect impressions of Randy Levine, it's not as though the Steinbrenners are just going to fire him because they want to move Cashman into that position.