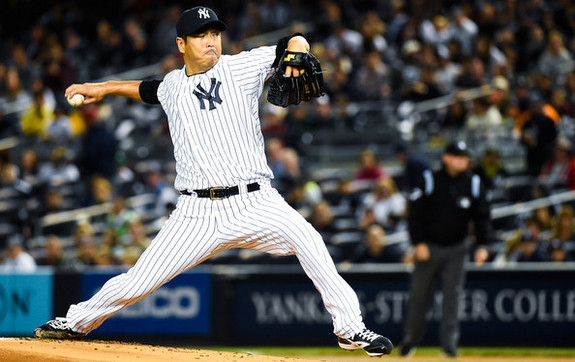 Later tonight, Derek Jeter will play his final home game at Yankee Stadium. We've known this was coming for months now but I still can't believe it. I grew up watching Jeter's career from start to finish and I'm finding it impossible to imagine a world in which he isn't the shortstop of the Yankees. I'm certain tonight will be memorable regardless of the weather forecast. Everything Jeter does is memorable.
Tonight's game will also feature another, much less celebrated farewell. Hiroki Kuroda is set to make what will likely be the final start of his Yankees career and possibly his MLB career. He has flirted with retirement in each of the last two offseasons and he's already started doing it again this year. Sure, there is a chance he could return, but the feeling all season has been that the Yankees will move on from Kuroda now that he's approaching 40 and his effectiveness is staring to wane.
It's fitting Kuroda's final start will be (understandably) overshadowed by Jeter's farewell tonight. Just about everything he's done in pinstripes has been overshadowed. The day the Yankees signed him was the also day the day they shipped Jesus Montero to the Mariners for Michael Pineda. When Kuroda re-signed with the team after that season, it was overshadowed by Andy Pettitte announcing he wanted to return for one more year. When he re-signed again this offseason, it was the same day Robinson Cano bolted for Seattle and Carlos Beltran became a Yankee.
Getting overshadowed is what Kuroda does, but the fact is he has been the team's best and most reliable pitcher since first putting on pinstripes. There were always starters getting more attention — CC Sabathia in 2012, Ivan Nova in 2013, Masahiro Tanaka and Pineda in 2014 — but Kuroda was the stalwart in Joe Girardi's rotation. He missed one start in three years with the Yankees, and that was when they shut him down after being eliminated last September and sent out a spot starter in Game 162.
Kuroda was remarkably consistent these last three seasons — 2012-14 WHIP: 1.16, 1.16, 1.17; 2012-14 FIP: 3.86, 3.56, 3.58; 2012-14 K/BB: 3.27, 3.49, 3.91 — and he was truly one of the best pitchers in baseball, even with his late-season fades in 2012 and 2013. Here is where he ranks among his peers since joining New York (min. 300 IP, 131 qualifiers):
| | Innings | Starts | ERA | ERA+ | FIP | WHIP | K/BB | bWAR | fWAR |
| --- | --- | --- | --- | --- | --- | --- | --- | --- | --- |
| Kuroda | 612 | 96 | 3.46 | 117 | 3.67 | 1.165 | 3.52 | 11.7 | 11.0 |
| MLB Rank | 12th | t-8th | 36th | t-26th | t-44th | 22nd | 29th | t-13th | 17th |
Kuroda has been no worse than a top 15-20 starter these last three years when you look at the whole picture, his effectiveness on a rate basis and the bulk innings he provided. He went 7+ scoreless innings in 14 starts over the last three years, the fourth most in baseball behind Clayton Kershaw (20), Adam Wainwright (19), and Felix Hernandez (15). In his only two postseason starts with the Yankees, Kuroda allowed two runs in 8.1 innings (2012 ALDS) and three runs in 7.2 innings (2012 ALCS). He struck out 14 and walked one.
"The next outing, I may end my career there. Who knows?" said Kuroda to Chad Jennings following his start last Friday. "For now, I still have a job to do, which is to finish this season. I don't really put too much time on (thinking about what's next). It's something I need to think about once I finish my responsibilities here."
During his three years in New York, Kuroda was consistently solid, occasionally brilliant, and rarely bad. He was almost like the position player version of Hideki Matsui, fitting the team in a way that made it seem like he had been with the Yankees for years and years. Kuroda was obviously excellent on the field but he also carried himself with class and represented the team with dignity. Forgive the cliche, but he was a True Yankee in every way.
Kuroda's tenure in pinstripes will likely come to an end tonight, overshadowed by Jeter's farewell. That's fine though. He's been overshadowed and somewhat underappreciated ever since he arrived in New York. That's his thing. Hopefully he gets a moment in the spotlight and a big ovation when he walks off the Yankee Stadium for what figures to be the final time tonight. Kuroda has been a great pitcher and a damn good Yankee these last three seasons, and he deserves a little send-off of his own.