Got six questions in this week's mailbag. The best way to send us mailbag questions or comments or links or anything else is through the Submit A Tip box in the sidebar.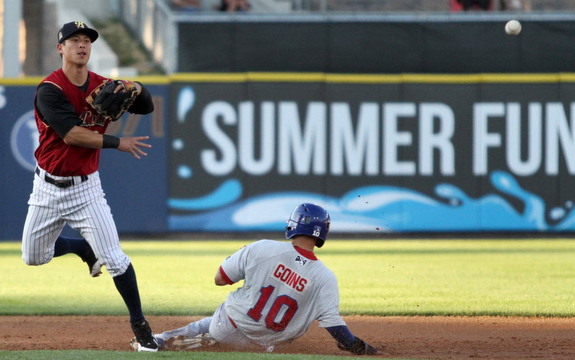 Greg asks: What kind of stats can we expected from Rob Refsnyder at the major league level in 2015?
I'm not really sure how to answer this so I'll start by saying Steamer projects a .262/.328/.390 (102 wRC+) line from Refsnyder next season, which seems reasonable enough to me. (Reminder: Projections are not predictions, they're an attempt to estimate current talent level.) The jump from Triple-A to MLB is always the toughest, though to his credit Refsnyder never really had any kind of extended adjustment period whenever he was promoted in the minors.
Chad Jennings recently spoke to a scout who compared Refsnyder to Giants second baseman Joe Panik, saying it was a "very good comparison" of "two guys making the most of their ability, and both have the knack of putting the barrel to the ball." The scout also said Panik was smoother at second base. Panik hit .305/.343/.368 (107 wRC+) with an 11.5% strikeout rate after a midseason callup this summer, and I'm pretty sure we'd all be thrilled if Refsnyder did that next year. It's worth noting Refsnyder's minor league track record is way better than Panik's as well.
I think Refsnyder's gaudy minor league numbers may have set expectations unreasonably high. If he comes up and hits like, .270/.330/.400 while playing a bit below average defensively, people are going to call him just another over-hyped Yankees prospect or whatever. It's inevitable. In reality, .270/.330/.400 would be pretty damn awesome and huge upgrade for the Yankees at second base. I think his introduction to MLB might be similar to Brett Gardner's — up and down a few times the first year before settling in the second year.
T.J. asks: I know it is unlikely that the Cleveland Indians decline Mike Aviles' option, or trade him, but wouldn't he be one of the best options out there for the Yankees, at shortstop? He also offers more infield versatility.
I would prefer Aviles more as a bench player than a starting shortstop, though he does meet the relatively low standard of "better than Brendan Ryan" though. The 33-year-old Aviles hit .247/.273/.343 (74 wRC+) for the Indians this year and he's been at that level for three full seasons now (75 wRC+ in 2012 and 79 wRC+ in 2013). He's a righty but his numbers against lefties aren't all that good (82 wRC+ since 2012), and, depending on the stat, he's somewhere between below-average and average at short. Aviles can play second, third, and left field in a pinch as well.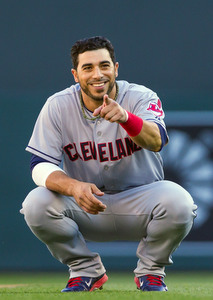 The Indians have a $3.5M club option for Aviles and that's kinda pricey for a player who has been just above replacement level the last two years, but then again guys capable of playing shortstop are hard to find. I'd be happy if the Yankees replaced Ryan with Aviles as their backup infielder, though that's a relatively small upgrade. Not something that will make a huge difference. I would much prefer bringing Stephen Drew back on a one-year "prove yourself" contract than settle for starting someone like Aviles at short. He's a pure bench player for me and has been for Cleveland the last two years.
Daniel asks: Maybe this is a stupid question since it's so unlikely. But, to me signing Adam LaRoche would be a good move for this roster. Not saying it's top priority or anything, but doesn't a modest two-year deal for LaRoche to split time with Mark Teixeira at 1B and take a few DH at-bats seem like a good idea? He is a lock to play more games than Tex, and he still is good for 25 HR and probably more in Yankee Stadium.
I don't see LaRoche as a fit at all. He'd help the offense and I'm sure he'd mash a bunch of homers in Yankee Stadium, but the Yankees don't need another full-time first baseman who soaks up DH at-bats. He doesn't fit the roster. Square peg, round hole, etc.
The Yankees need someone who can play another position — third base or right field are obvious spots — and back up first base easily. Someone who was able to do what Nick Swisher did from 2009-12, play another position full-time and sub in at first in a pinch. Teixeira, Carlos Beltran, and Alex Rodriguez are enough first base/DH types for one roster. LaRoche doesn't make any sense for this team as is.
Nik asks: Reading your Chase Headley review got me to thinking: Has there ever been a player who played for two teams on the same day? Gotten hits for two teams on the same day?
Yes! It's happened once in baseball history. On August 4th, 1982, Joel Youngblood played for the Mets against the Cubs in the afternoon and then for the Expos against the Phillies at night. He even traveled from Chicago to Philadelphia between games. Here is the box score for the first game, the box score for the second game, and the Wikipedia blurb:
On August 4, 1982, Youngblood became the only player in history to get hits for two different teams in two different cities on the same day. After Youngblood had driven in two runs with a single in the third inning for the Mets in an afternoon game at Wrigley Field against the Chicago Cubs, he was replaced in center field by Mookie Wilson, and traded to the Montreal Expos for a player to be named later (On August 16, the Expos sent Tom Gorman to the Mets to complete the deal). Youngblood rushed to Philadelphia in order to be with his new team, and hit a seventh-inning single. Interestingly, the two pitchers he hit safely against, Ferguson Jenkins of the Cubs and Steve Carlton of the Philadelphia Phillies, are both in the Baseball Hall of Fame.
Isn't that neat? Maybe it'll happen again someday.
Brian asks: Not sure if you know or can answer this one, but do you have any idea on the process for doing an MLB schedule? Just seems like a massive undertaking.
ESPN put together a 30-for-30 Short on the making of the schedule a year ago. Here's the 12-minute video (it autoplays), and here's the short version: MLB executive Harry Simmons drew up the schedule each year until the husband and wife team of Henry and Holly Stephenson were hired in 1982. They created the schedule every season until 2005, when MLB started using a computer system that randomly generates the schedule each year.
The Stephensons, who did much of the work by hand, had to deal with several division realignments and the introduction of interleague play over the years. MLB and MLBPA have a bunch of collectively bargained rules about travel and off-days and all that, plus each team had special requests each year (home for this holiday, away for that week, etc.), so yeah, it was a massive undertaking. I can't really explain how they did it, it's incredibly complex. Check out the video when you get a chance. Nowadays it seems like they just input a bunch of criteria and the computer spits out a schedule, which is how you end up with Derek Jeter playing his final game in Fenway Park rather than Yankee Stadium.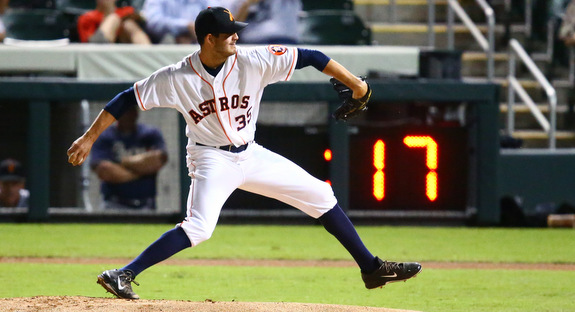 George asks: Any update on the "make the game go faster" changes from the Arizona Fall League?
Unsurprisingly, many players aren't a fan of the rule changes at this point. Players are routine-oriented and this breaks the routine they've been developing their entire life. Not being able to step out of the batter's box between pitches, being forced to make the next pitch within 20 seconds … yeah I'm sure it's an adjustment. Alexis Brudnicki recently spoke to some players about the rule changes, so check that out. Here's one quote:
"It's tough," (Dodgers prospect Corey) Seager said. "You almost feel rushed. It's not your normal (routine) where you can take your time, get your rhythm. It's kind of on somebody else's rhythm. It was a little rushed … getting on and off the field, getting your stuff done in the dugout and in the box mainly because you only have 20 seconds between pitches. You swing and then get right back in—it's a little weird."
Salt River Field is the only park with the 20-second pitch clock installed and there have only been a handful of games played their so far. Earlier this week MLB Pipeline reported games with the pitch clock (and some other rule changes) are averaging only two hours and 20 minutes, down from two hours and 51 minutes last year. Knocking a half-hour off the average game time is a pretty big deal, though we are talking about a small sample thus far.
I'm sure some of these rules will be changed and others will be eliminated before they are implemented at the MLB level. I'm sure there will be more complaints from the players, but there's almost no way to shorten games without forcing them to make some kind of adjustment to their routine. Even shortening up commercial breaks between innings will be a big change for them. Hopefully MLB keeps at it and they come up with some solutions. Games are just too long nowadays.