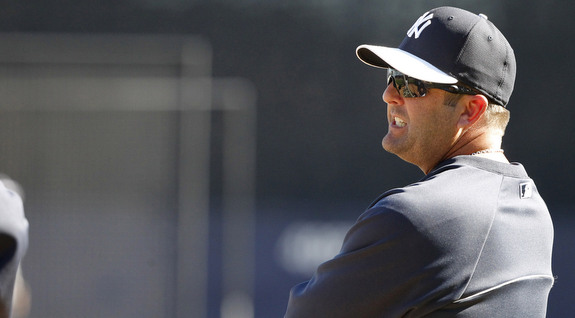 The Yankees re-signed GM Brian Cashman but fired both hitting coach Kevin Long and first base coach Mick Kelleher late last week. The rest of the coaching will remain though there's a possibility they will be shifted around into new roles. We'll just have to wait and see. The dust is still settling following those moves, and here are some random thoughts for the time being.
1. I'm going to start with Kelleher because this will be short and, frankly, I have no idea what's going here so I'm not even going to pretend to try to understand this move. What does the first base coach do anyway? He keeps track of the pitcher's time to the plate and the catcher's pop time, and … holds onto Brett Gardner's oven mitt thing in case he reaches base? Outside of Davey Lopes, who turned the Phillies (2007-10) and now the Dodgers (2011-present) into elite base-running teams, I couldn't even name any first base coaches around the league. I'm much more interested in Cashman's "global perspective" comment — he gave that quote after being asked about replacing Kelleher — than the actual decision to let Kelleher go. What could that comment mean? I can understand targeting players with marquee value and stuff like that, but coaches? Do they want a Japanese-speaking coach? Another Spanish-speaking coach? Does Cashman simply mean they want a more well-rounded coach? This whole first base coach thing fascinates me. I'm oddly looking forward to seeing how this plays out.
2. I don't think there is any way we can accurately evaluate coaches as fans. The only tangible decision a coach makes that we actually see is the third base coach sending runners. That's all. Yeah, we see the pitching coach walk to the mound, but who knows what he's saying? Just about every task a coach performs happens behind the scenes and we don't have access to that stuff. Even if we did, I'm pretty confident in saying we still wouldn't be able evaluate it properly. Was Long the reason the offense underperformed so much this year? Maybe. It's very possible. I happen to think giving nearly 1,800 plate appearances to Brian Roberts, Derek Jeter, Ichiro Suzuki, Alfonso Soriano, and Stephen Drew was a much bigger problem than Mark Teixeira being unable to beat the shift a few dozen times. Those five guys accounted for almost 30% of the team's plate appearances in 2014. Did you know that? That's a lot. And let's not ignore the obvious here. It's not like Long was handed the script to Breaking Bad and came back with The Chevy Chase Show. They had a great offense under his watch from 2007-12 and a not so great offense once the personnel changed in 2013-14. He didn't have much to work with the last two years. Anyway, Long has been scapegoated — he was a goner as soon as Cashman re-signed, someone had to take the fall — and at this point many so many people have decided he was the problem that there's no way to discuss this move objectively.
3. Despite George Steinbrenner's very famous hirings and firings (and occasional re-hirings and re-firings), scapegoating coaches is not something the Yankees have done all that much in recent years because they simply haven't had to. People get fired when things go bad and and awful lot has done right for the Yankees over the last 20 years or so. Whenever they have changed coaches, it was usually because someone left for a job elsewhere, like Willie Randolph (third base coach to bench coach to Mets manager), Lee Mazzilli (first base coach to Orioles manager), and Don Mattingly (hitting coach to bench coach to Dodgers bench coach). Aside from canning pitching Dave Eiland a few years ago — that seemed to have more to do with off-the-field problems than anything — and replacing the awful Bobby Meacham as third base coach in 2008, getting rid of Long is the first time the Yankees have let a coach go for team performance reasons since before Joe Torre was hired. The Yankees will hire someone to replace Long and a bunch of people will inevitably praise the hiring when, really, no one will know nothing about anything. Remember how great the Orioles looked when they hired Leo Mazzone away from the Braves? Same idea. Other teams do this stuff all the time but a whole generation of Yankees fans will experience it for the first time.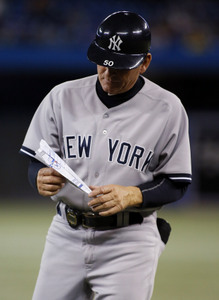 4. Thanks to these two moves as well and the imminent retirement of VP of Baseball Ops Mark Newman and defection of senior advisor Gordon Blakeley, the Yankees are undergoing quite a bit of administrative change this winter. There's also talk there will both other changes in the player development system aside from Newman, with a few other long-time executives on the hot seat. The player development issues have been going on for a while — the Yankees do produce a few useful arms and trade chips each year, but at this point they need more than role players, they need some impact players — and it's time for a change there even though we don't really know who is really responsible for what. As fans, all we know is the system isn't producing enough. We don't know why. Are they drafting the wrong players? Do their hitting instructors stink? Do they not spend enough time teaching changeups? Who in the world knows. But there is a lot of change going on in the front office and on the coaching staff this winter, and while we can't really know how much these guys are to blame, I'm glad to see some changes are being made. The status quo wasn't working.
5. One thing that won't change is Cashman. I'm not at all surprised he's coming back but I also thought the chances of a GM change were higher this year than they have been at any other point in his tenure. It wouldn't have been surprised me at all if the Yankees didn't retain him or if he left on his own. I'm fine with Cashman staying because a) I do believe he knows the team needs to get younger before they can get back to being a perennial contender, b) he consistently comes out ahead in trades, and c) his loyalty to the Yankees is unwavering. I never worry he'll make a rash, knee-jerk decision in an effort to save his job. There are a lot of GMs out there looking out more for themselves than their teams. I think Cashman knows what needs to happen. He just hasn't been able to put it into motion for whatever reason. I think this will be his last GM contract with the team — it's a coincidence Cashman's and Joe Girardi's current contracts expire at the same time (Cashman's been signing three-year deals for 15 years now), but it will make for a mighty interesting 2017-18 offseason — regardless of whether things go good or bad. Then again, I'm pretty sure I said the same thing three years ago.