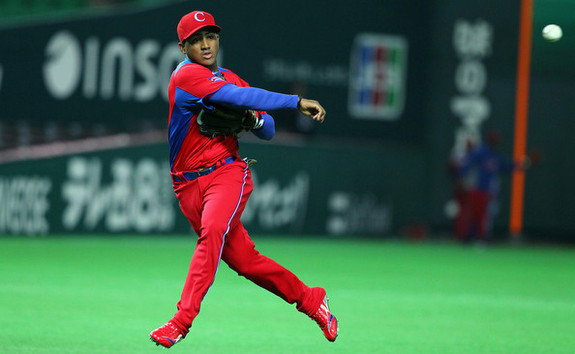 According to Ben Badler, second baseman Andy Ibanez has left Cuba and will pursue a contract with a big league team. He still needs to establish residency in a foreign country, be unblocked by the Office of Foreign Assets Control, and officially be declared a free agent by MLB before he can sign. That process will take several weeks and months.
Ibanez, 21, was the youngest player on Cuba's roster during the World Baseball Classic last year, though he only received one at-bat in the tournament. He hit .267/.377/.435 with more walks (33) than strikeouts (28) in 280 plate appearances this past season after winning the Cuban league's equivalent of the Gold Glove as a rookie two years ago.
Balder (subs. req'd) ranked Ibanez as the eighth best prospect left in Cuba last month — recently defected second baseman Jose Fernandez ranked third — and said he "doesn't have any premium tools or star upside" while noting his value is in his athleticism and all-around game. He's said to be a very good fielder and able to get the bat on the ball consistently.
It's worth noting that because of his age and limited experience in Cuba, Ibanez will be subject to MLB's international spending restrictions. The Yankees went bonkers this summer and way overspent their bonus pool, so they will not be allowed to sign a player to a bonus larger than $300,000 during the 2015-16 and 2016-17 signing periods. Something tells me $300,000 won't cut it.
However, if Ibanez goes is declared a free agent before June 15th, he'd count against the current signing period. The Yankees are already way over their pool and would be able to offer him whatever they want without worrying about some spending cap. It took Rusney Castillo six months to be declared a free agent after defecting and Yasmany Tomas only four months. That doesn't necessarily mean Ibanez will be eligible to sign before June 15th, but it looks like it has a good chance of happening.
Anyway, Ibanez is more like Jose Iglesias and Jorge Soler than Castillo and Jose Abreu because he's so young. He's not someone the Yankees could stick right into the lineup next year — Badler says Ibanez would likely have to start his career in High-A or Double-A. There's no word if the Yankees or any other team have interest in him, but we're still a few weeks away from that. Needless to say, teams are always looking for young and athletic middle infielders.