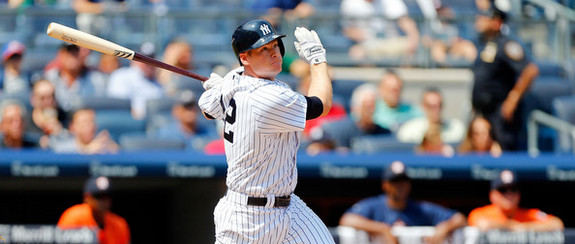 According to Jon Heyman, the Yankees are not willing to give third baseman Chase Headley anything longer than a three-year contract. Obviously this could all be posturing at this point. Heyman says the Giants have contacted Headley after losing Pablo Sandoval to the Red Sox earlier this week, and supposedly the Indians, Blue Jays, and Padres have shown some level of interest as well.
If the Yankees are truly only willing to go three years for Headley, then in all likelihood they'll be playing Martin Prado at third base in 2015. Heyman says Headley rejected a three-year, $39M extension from San Diego back in the spring, so you know he's aiming higher. Sandoval, who is a comparable player, just got five years with an option for a sixth. Headley's probably going to get a bunch of three years offer and wind up signing with the first team to step forward and offer that fourth guaranteed year.
Playing Prado at third base is not bad in and of itself, but I see Headley at third and Prado at second as a way better plan than Prado at third and either Jose Pirela or Rob Refsnyder at second. The more Major League caliber players, the better. Whenever someone inevitably gets hurt, Prado can change positions to cover for the injury and then either Pirela or Refsnyder can take over at second. The Yankees can't count on Alex Rodriguez to play third at all. At least not until he shows he can do it in camp.
The best third baseman scheduled to hit free agency next year is David Freese. The best the year after that will be 37-year-old Adrian Beltre. Headley is the best third basemen who will be available for nothing but money for the foreseeable future. If the Yankees aren't comfortable with going more than three years for him, fine, but the only way they'll get a better player in the next two or three years is by dipping into their farm system and making a trade.
Should the Yankees give Chase Headley more than three years?