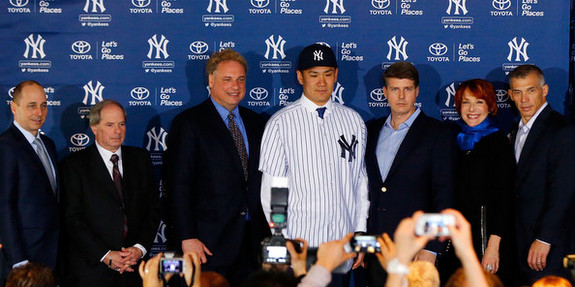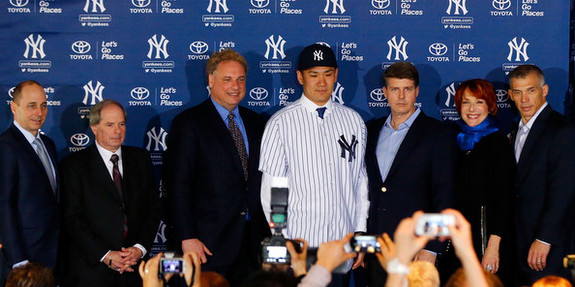 As we inch closer to wrapping up our 2014 Season Review series, it's time to look at the decision-making and the guys calling the shots. GM Brian Cashman is the most public figure, though he has two assistant GMs (Jean Afterman and Billy Eppler) plus an army of advisors and scouts and numbers crunchers doing grunt work. Both Hank and Hal Steinbrenner as well as team president Randy Levine have gotten involved in roster decisions over the years too. That happens with every team. No GM truly has autonomy in any sport or industry. Let's review the team's notable roster building decisions over the last year.
The 2013-14 Offseason
Last offseason focused on the free agency of Robinson Cano. It was by far the largest item on the team's plate, perhaps the largest since Alex Rodriguez opted out of his contract following the 2007 season. The Yankees signed Cano to one team-friendly contract way back in 2008 and reportedly his former agent Scott Boras and current representatives at Roc Nation were unwilling to discuss another below-market deal before free agency. (Remember when they asked for $305M last May?) I can't say I blame them. Cano turned into a star and this was his chance for a massive payday.
But, even before the situation with Cano was settled, the Yankees agreed to sign Brian McCann to a five-year contract. The deal was agreed to on November 23rd and became official on December 3rd. During that time the team held firm with their seven-year, $175M offer to Cano. As far as we knew, no other team was coming close to that number. Little did we know the desperate Mariners would swoop in, offer a ten-year deal worth $240M, and lure Cano away from New York. Joel Sherman explained how things played out last December:
The Yankees and the Cano camp had initial contact last offseason and got a bit more serious in spring training. The Yankees made an opening bid in the seven-year, $160 million range. In May, the Cano camp said it wanted 10 years at $310 million and that shut down talks until the offseason.

The Yankees climbed to $165 million after the season. Cano came back saying he wanted $28 million for nine years — $252 million – with a vesting option for a 10th year. When there was little further movement, the Yankees grew pessimistic the gulf could ever be closed. They were planning to be aggressive in the offseason anyway, but they decided they needed to sign players or else the prices would inflate further if Cano left and agents sensed the Yankees were desperate. Which is why they were so bold with Brian McCann and Jacoby Ellsbury – and several others they have yet to sign.
Reportedly the Yankees knew they were going to lose Cano on Friday, November 29th, so they jumped into action and had a deal in place with Ellsbury by Tuesday, December 3rd. Cano's deal with Seattle was not reportedly agreed to until that Friday, December 6th. Later that night the Yankees agreed to sign Carlos Beltran. As Sherman explained, the team wanted to take care of business before word of Cano's defection got out and prices soured, so it's clear Ellsbury and Beltran were their Plan B. According to Jon Heyman, "they were all on board" with the McCann, Ellsbury, and Beltran contracts, meaning Cashman and ownership.
That plan sounds great, but did it actually work? Top Boras clients never sign in early-December, so you know they met his high asking price for Ellsbury. Boras always takes his top clients deep into the offseason before striking a deal, so he must have been thrilled with the team's offer for Ellsbury to sign so soon. Beltran, meanwhile, reportedly had three-year offers in hand from the Diamondbacks and Royals worth pretty much exactly what he took from the Yankees. If the team did save money by acting fast and agreeing to deals with Ellsbury and Beltran before word got out Cano was leaving, it seems like it was a very small amount.
Of course, every last dollar mattered to the Yankees last offseason because they were still trying to get under the $189M luxury tax threshold, so even saving a small amount was important. It wasn't until MLB and NPB changed their posting agreement in December that the team decided to go over the threshold. The new system allowed Masahiro Tanaka to receive an enormous contract, all of which counted against the payroll for luxury tax purposes. His contract would have been much smaller — perhaps one-third of what he actually received — under the old system and not put the team on the hook for a big luxury tax hit.
Alex Rodriguez lost his appeal and was suspended for the entire 2014 season on January 13th, which wiped his salary off the books for the year. The Yankees agreed to sign Tanaka about ten days later, and once that happened, getting under the luxury tax threshold was impossible, even with A-Rod off the books for 2014. "The decision to go over 189 was for one player and that was Tanaka, and I have no regrets about that because he's going to be everything that we saw in the first three months of the season. He's going to be great," said Hal Steinbrenner a few weeks ago.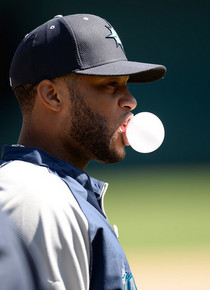 The Mariners made it very easy to say goodbye to Cano given the magnitude of their offer but the bottom line was that the Yankees lost an elite player, something they couldn't afford to lose after 2013. They tried to replace him with McCann, Ellsbury, and Beltran, though only McCann actually filled a glaring roster need. Ellsbury was redundant with Brett Gardner and Beltran's days of playing the field everyday were pretty much over, meaning he would have to share time at DH on a team that already had Alfonso Soriano — who had to play right field because of the signings, a position he had never played before — and Derek Jeter.
After missing the postseason and losing their best player, the Yankees tried to squeeze a few round player pegs into square roster holes. The McCann and Tanaka signings made perfect sense given the club's needs, but the same wasn't true of Ellsbury and Beltran in my opinion. Tanaka's injury is unfortunate but pitchers get hurt. It happens. McCann had a disappointing 2014, yet out of everyone in the regular lineup, he's the only guy you could say underperformed reasonable expectations coming into the year. Beltran having the year he had wasn't something that was completely unforeseen. (Same goes for Soriano, Jeter, and Mark Teixeira.) Ellsbury had a fine year but not a seven-year, $153M contract player kind of year.
I think — and this is just my opinion, you're welcome to disagree — letting Cano go was the right move, especially given the Mariners' offer. The Yankees have too many bad contracts on the books and I felt at some point they have to break the cycle and stop adding more to the pile. The 31-year-old second baseman asked for ten years seemed like a good starting point. That said, if I had known Plan B was sinking seven years into Ellsbury — especially with the Gardner extension on the horizon — and three years into Beltran, I would have rather just seen them keep Cano. He's a substantially better player than those two (combined!) and fills a position of real need. Hindsight is 20/20, of course.
In-Season Moves
Midway through the season — less than that, really — the Yankees had some very obvious needs due to injuries and ineffectiveness. The rotation was hit hard by injury, as CC Sabathia (knee) and Ivan Nova (elbow) didn't throw a pitch after early-May and Michael Pineda (back) missed three months after making just four starts. The infield was a mess, though because Teixeira and Jeter were locked in at first and shortstop, respectively, second and third bases were the only places to upgrade. Even the outfield needed help because Soriano played himself into retirement and Beltran was hurt.
The Yankees addressed most of their needs before the trade deadline through a series of shrewd moves that cost them very little organizationally. First they improved the third base situation by trading for impending free agent Chase Headley. The cost: Yangervis Solarte and High-A righty Rafael DePaula. Solarte was found money — the Yankees signed him as a minor league free agent, got about two good months out of him, then turned him into an established player via trade. DePaula was a classic lottery ticket arm, the kind every team should be willing to trade at the deadline. (The Padres did not protect DePaula from the Rule 5 Draft, by the way.)
Next the Yankees turned Vidal Nuno, a soft-tossing lefty they plucked out of independent ball who is wholly unequipped for life as a starter in an AL division full of small ballparks, into Brandon McCarthy, who pitched like an ace for two months. The pitching like an ace part was pretty unexpected, and that's why he only cost Nuno. Had the Diamondbacks known McCarthy was capable of pitching that well, they would have asked for a lot more. And I'm guessing the Yankees and several other teams would have paid it too.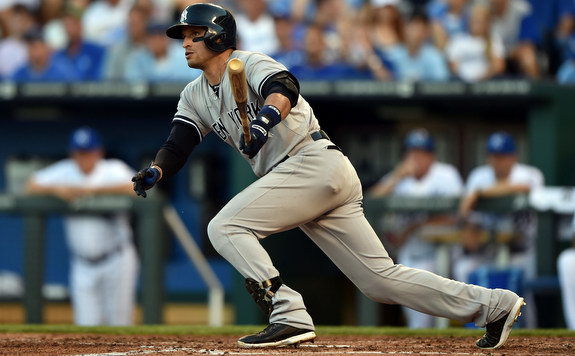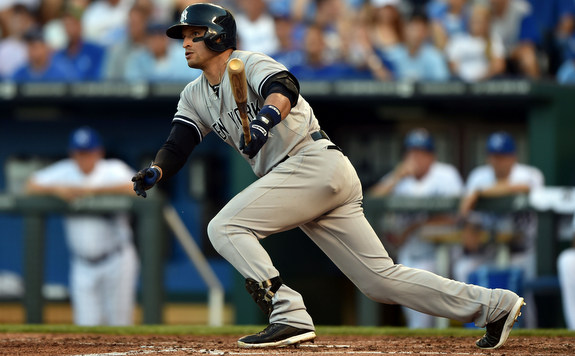 Then, on trade deadline day, the Yankees sold high on slugging prospect Peter O'Brien and used him to get Martin Prado, who wasn't a rental. He is signed for $22M through 2016, which is a pretty sweet deal in today's market, even if he doesn't continue to produce at the 145 OPS+ clip he put up after the trade. O'Brien has huge power and that's hard to find, but there are serious questions about whether he has the plate discipline to tap into that power at the next level. He also doesn't have a position. His best position is the batter's box. The Yankees used O'Brien when his prospect stock was at its highest and turned him into 2+ years of a bonafide big leaguer who filled a need. That's the kind of trade the team needs to make more of.
The club's last trade was basically a change of scenery swap, a my spare part for your spare part deal. What made it so interesting was that it was a rare Yankees-Red Sox trade, the first since the Mike Stanley deal back in 1997. The Yankees sent Kelly Johnson to the Red Sox for Stephen Drew, who was going to play second base for New York. The trade didn't work out as hoped but it didn't cost the Yankees a potential long-term piece and Drew didn't have an onerous long-term contract, so who really cares. Took a shot in the dark and missed. Such is life.
It's been a long time since the Yankees made a really bad trade, a Mike Lowell for three guys you don't remember deal. I mean really, really bad. I guess the last one was Tyler Clippard for Jon Albaladejo back during the 2007-08 offseason. That was ugly. Am I missing any other obvious recent bad deals? I don't think so. Anyway, point is Cashman seems to have a knack for making good trades and getting tangible help for the MLB team would sacrificing much in return. I'm sure someone will sit around and keep tabs on Solarte's and Nuno's WAR and eventually declare those trades a loss, but the point is guys like Solarte and Nuno are very expendable, and the Yankees used them to get a really good players even for only a short period of time.
The trade deadline went much better for the Yankees than last offseason, though ultimately it wasn't enough to get them back into the postseason. Their thought process seemed to be very different in each instance too — over the winter they wanted to act aggressively to get Ellsbury and Beltran before word got out Cano was leaving, but during the season they showed more patience and waited for prices to drop into their comfort zone. One strategy worked out really well. The other … not so much. Perhaps that's why he Yankees seem to be taking a slow and deliberate approach this offseason, because being aggressive didn't work as hoped last year.