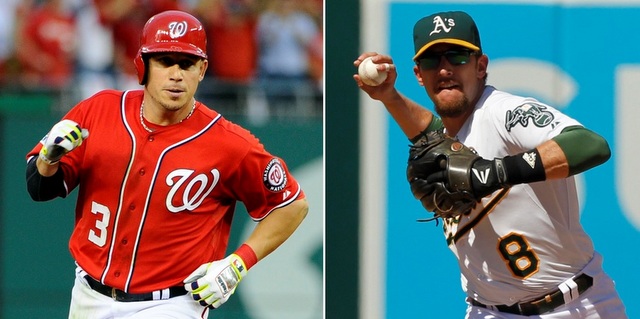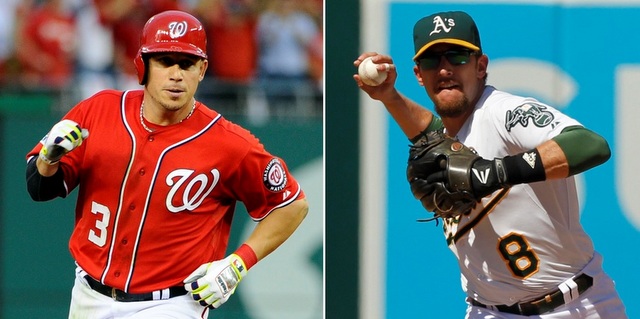 According to Pete Caldera, free agent infielders Jed Lowrie and Asdrubal Cabrera have "not gained much traction" with the Yankees this offseason. The winter has actually been rather quiet for both Lowrie and Cabrera so far even though most of the top free agent bats are already off the board. Neither player received a qualifying offer, by the way.
Lowrie, 30, hit only .249/.321/.355 (93 wRC+) with six homers in 566 plate appearances for the Athletics this past season. He had a great April (154 wRC+) but only mustered a 77 wRC+ the rest of the way. Lowrie is a switch-hitter who has been much better against righties the last three or four years, and he seems to have gotten over the injury problems that plagued him earlier in his career.
Cabrera put up a .241/.307/.387 (97 wRC+) batting line with 14 homers and ten steals in 616 plate appearances for the Indians and Nationals in 2014. He's younger than you may realize — Cabrera turned 29 just last month — and, unlike Lowrie, he's a switch-hitter with no significant platoon split the last few seasons. In two of the last three years, Lowrie and Asdrubal have been roughly equal at the plate:

Source: FanGraphs — Jed Lowrie, Asdrubal Cabrera
Now, the thing is neither Lowrie nor Cabrera is a shortstop these days. They're both below-average defensively — Cabrera has a knack for flashy highlight reel plays that has inflated the perception of his defense — and better suited for second base at third point of their careers. Cabrera played second for Washington at the end of the season and Lowrie did it a whole bunch earlier in his career.
For what it's worth, the FanGraphs Crowdsourcing results peg Lowrie and Cabrera for essentially identical three-year contracts worth $30M or so. Neither is a perfect solution for the Yankees but they need infielders badly. If the trade market comes up empty — that's where it appears they are focused at the moment — and the team's unwillingness to give Chase Headley more than three years pushes him out of town, these two guys are probably the best of what's left. Yuck.