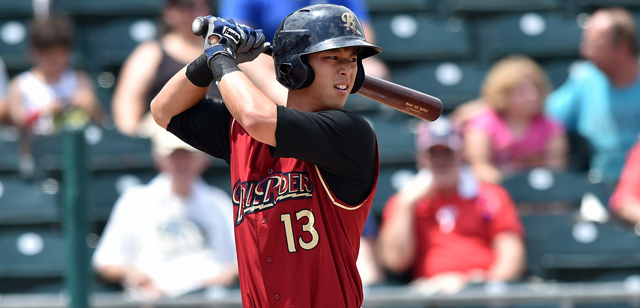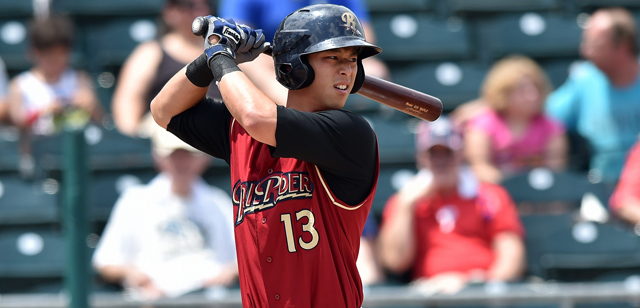 Rob Refsnyder | 2B
Background
Refsnyder, who will turn 24 in Spring Training, was born in South Korea and adopted by a family in Orange County when he was only three months old. He played football and basketball in addition to baseball at Laguna Hills High School and was named Pacific Coast League MVP in baseball as a senior and twice in football. Despite all that, Refsnyder was not much of a pro prospect — Baseball America (subs. req'd) did not rank him among 190 California prospects for the 2009 draft — so he followed through on his commitment to Arizona after going undrafted out of high school.
As a freshman, Refsnyder stepped right into the starting lineup and played everyday for the Wildcats, and immediately became one of the team's best hitters. He hit .344/.397/.440 with nine doubles, two homers, 14 walks, and 31 strikeouts in 57 games that spring while playing some second and third base but mostly left field. Refsnyder went 4-for-10 in three games as Arizona was knocked out of the postseason in the Regionals, though he was named to the All-Region Team. The overall performance earned him an All-Pac 10 Team Honorable Mention as a freshman.
Refsnyder played in all 60 of the team's game as a sophomore — almost all of them in right field — and hit .320/.371/.498 with 13 doubles, six homers, 16 walks, and 31 strikeouts. Although the Wildcats were again eliminated in the Regionals, Refsnyder was named to the All-Pac 10 First Team and ABCA West Regional First Team. He played for the Wareham Gatemen of the Cape Cod League that summer and hit .308/.406/.436 with nine doubles, four triples, 17 walks, and 26 strikeouts in 39 games.
Refsnyder was one of the best players in the country as a junior, putting up a .364/.453/.562 batting line with 19 doubles, eight homers, 14 steals, 34 walks, and only 26 strikeouts in 65 games. He again spent most of his time in right field. Arizona blew through the Regionals and Super Regionals — they went 5-0 and outscored their opponents 61-20 — to advance to the College World Series. Arizona won all five of their games in the CWS to win the National Championship. Refsnyder homered in the first game of the CWS and went 10-for-21 (.476) in the five games overall, which earned him the College World Series Most Outstanding Player Award.
Baseball America ranked Refsnyder as the 369th best prospect in the 2012 draft class that spring. The Yankees selected him in the fifth round, with the 187th overall selection, and he signed quickly for the full slot $205,900 bonus.
Pro Career
Although they had plans to move him from the outfield back to second base (his high school position), the Yankees let Refsnyder play out the 2012 season in the outfield after signing. They sent him straight to Low-A Charleston after the draft and he hit .241/.319/.364 (91 wRC+) with four homers and eleven stolen bases in 46 games for the River Dogs.
The Yankees moved Refsnyder to second base and sent him back to Low-A Charleston to start the 2013 season, though he was quickly bumped him up to High-A Tampa after hitting .370/.452/.481 (173 wRC+) with seven steals in 13 games for the River Dogs. Refsnyder put up a .283/.408/.404 (140 wRC+) line with six homers and 16 steals in 117 games for Tampa after the promotion. All told, he hit .293/.413/.413 (143 wRC+) with 32 doubles, six homers, 23 steals in 29 attempts, 84 walks, and 82 strikeouts between the two levels in 2013.
Refsnyder started the 2014 season with Double-A Trenton and hit .342/.385/.548 (~159 wRC+) with 19 doubles and six homers in 60 games before the organization moved him up to Triple-A Scranton. In 77 games with the RailRiders, Refsnyder hit .300/.389/.456 (137 wRC+) with 19 doubles and eight homers. His combined batting line for the 2014 season was .318/.387/.497 (~146 wRC+) with 37 doubles, 14 homers, nine steals in 18 attempts, 55 walks, and 105 strikeouts.
Scouting Report
Refsnyder is listed at 6-foor-1 and 205 lbs., and he stands out for his simple and balanced setup at the plate. He knows the strike zone and his combination of hand-eye coordination and level swing allow him to spray line drives to all fields. Refsnyder, a right-handed hitter, did focus on going the other way in college and during his first full year as a pro, though this past season he did a better job of pulling the ball with authority when he got a pitch to drive. Here are his 2013 (on the left) and 2014 (on the right) spray charts, courtesy of MLB Farm: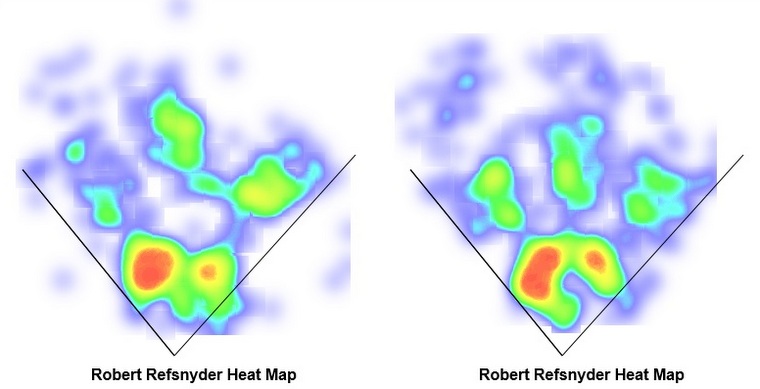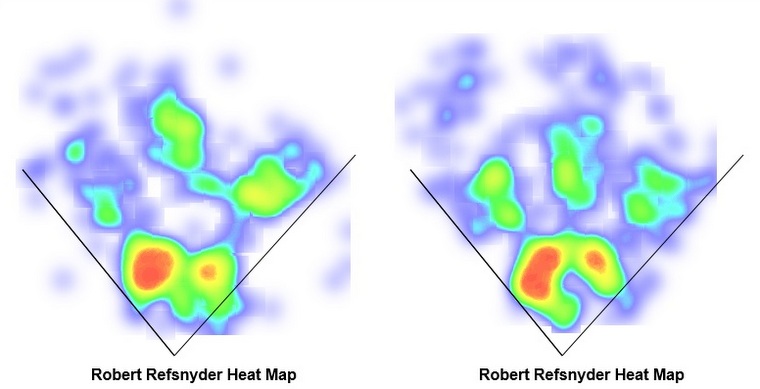 Refsnyder has some power but most of it figures to be into the gaps for doubles at the next level. He isn't much of a runner either despite the nice pre-2014 stolen base totals and success rate. He's a high-contact hitter who knows how to get on base, which fits the traditional number two hitter mold rather well. Here's some video:
In the field, Refsnyder remains rough at second base but he has improved since turning pro, particularly around the bag and on double play pivots. His movements in the field are choppy and he still shows some indecisiveness when it comes to charging a ground ball or waiting back. Some of that is simply due to a lack of experience, though Refsnyder isn't particularly quick on his feet.
Refsnyder draws high marks for his makeup and work ethic, and others like Robinson Cano and Chase Utley worked their way to become above-average defenders at second after being below-average elsewhere early in their careers. That's not to say Refsnyder will definitely turn himself into an asset in the field, just that it has happened in the past when it looked like it wouldn't.
2015 Outlook
Perhaps moreso than any non-reliever prospect I've profiled over the years, Refsnyder's landing spot at the start of next year will depend heavily on what the big league team does this offseason. If the Yankees manage to bring in a second or third baseman this winter, Refsnyder will go back to Triple-A and wait for a call-up. If the Yankees don't bring in a second or third baseman, then Refsnyder will compete for the second base job in Spring Training (Martin Prado would presumably play third) with someone like Jose Pirela and/or some non-roster invitees. Either way, it seems like Refsnyder will make his Major League debut at some point in 2015, perhaps as soon as Opening Day.
My Take
I really like Refsnyder and want the Yankees to give him a chance to be their everyday second baseman at some point next summer, but I also think the hype has gotten out of control at this point. That's not to say I don't think he'll be a quality big leaguer — there a lot between future star and future bust, you know — just that I'm not sure how much of an impact he can have a low-power hitter and below-average defender at second, especially when he first makes the jump to MLB. There's a lot to like about Refsnyder, particularly his potential to hit for a high average with a good on-base percentage. He'll have to make some big strides to contribute anything more than that though.