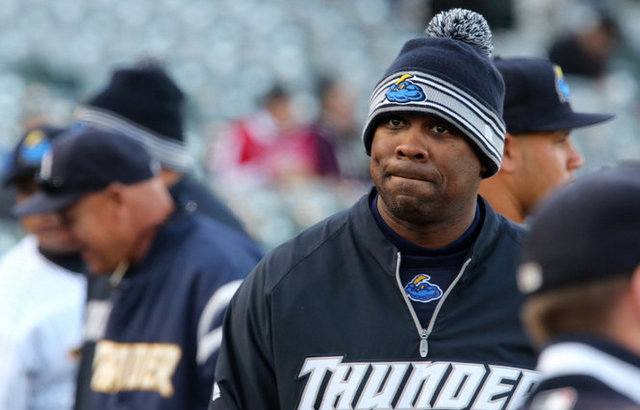 Tuesday: While speaking with reporters at the Winter Meetings on Tuesday, Brian Cashman said the Yankees have not decided to hire Thames as the assistant hitting coach and called the report "false." He said they need to hire a hitting coach first, which the team is still not close to doing. Same with the first base coach position.
Saturday: According to Anthony McCarron and Bill Madden, the Yankees are planning to hire Marcus Thames as their assistant MLB hitting coach. There's still no word on who they will hire as the actual hitting coach, but the Daily News scribes says long-time minor league hitting coordinator James Rowson is the favorite right now.
Thames, 37, last played with the Dodgers back in 2011. He spent 2013 as the hitting coach at High-A Tampa and 2014 as the hitting coach at Double-A Trenton. Thames was reportedly considered for the hitting coach job, though it's unclear if he ever actually interviewed. Seems kinda weird that they've already picked an assistant hitting coach before an actual hitting coach. Of course they could already have a hitting coach lined up and we just don't know about it.
As for the first base coaching job, McCarron and Madden say minor league field coordinator Jody Reed is the current favorite for the job. He was a coach and coordinator in the farm system from 2007-10 and also in 2014. Reed was with the Dodgers from 2011-13. McCarron and Madden also say the Yankees have interviewed Willie Randolph for the first base coaching job. Randolph was the team's third base coach from 1994-2003 and their bench coach in 2004.
I'm glad the Yankees are embracing the hitting coach/assistant hitting coach system and it'll be cool to see Thames on the staff. He's awesome. It'll be ready cool if Randolph comes back as well. Everyone loves Willie. There's no word on when the Yankees will officially hire a hitting coach and a first base coach, and at this point I think I'm more interested to see how long they can go without naming coaches than I am to see who they actually hire.